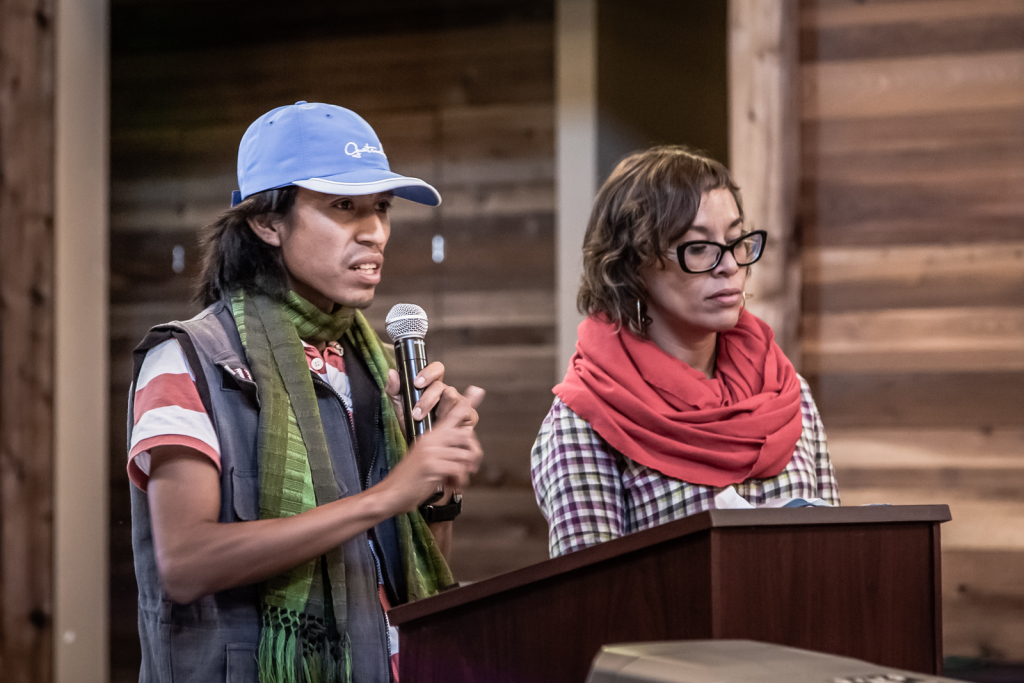 Every fall, NISGUA organizes a U.S. speaking tour featuring one of the resilient and inspiring organizations that we work with in Guatemala. Whether focusing on issues of justice and accountability or the defense of life and territory, our annual speaking tour aims to connect Guatemalan human rights defenders and the movements they represent with people across the U.S. who also struggle for self-determination, respect for the earth, and the liberation of their communities.
On the tour, we aim to create people to people connections by engaging with students, people of faith, communities, and organizations who seek to learn from the incredible work happening in Guatemala to end impunity, achieve justice, and preserve the culture and life of their communities. Our fall speaking tour is one concrete way that we respond to the calls from our Guatemalan partner organizations to take action and increase U.S. awareness of the human rights situation in Guatemala as well as the consequences of harmful U.S. economic and political policies in their territories.
Join us from October 7 – 24!
This year's speaking tour, "Guatemalan Women Healing Toward Justice: the case of Sepur Zarco," features Maudí Tzay of the Alliance to Break the Silence and End Impunity. Through her work as a psychologist and a member of the Community Studies and Psychosocial Action Team (ECAP), Maudí has played a crucial role in integrating healing practices into movements for social and environmental justice in Guatemala. Most recently, Maudí has been working in a multidisciplinary team to support the women survivors of Sepur Zarco in their landmark case against former military personnel for crimes of sexual slavery and systematic sexual violence. NISGUA is excited to accompany her on a tour of the Southwest and Western U.S. to celebrate the victory in the case of Sepur Zarco and build cross-border connections toward a global movement to end sexual violence. Join us at an event near you!
10/7 – Tucson, AZ
10/8 – Nogales, AZ
10/9-10/11 – Austin, TX
10/12 – 10/14 – San Francisco Bay Area
10/16-10/17 – Portland, OR
10/18 – Olympia, WA
10/19 – Bellingham & Seattle, WA
10/20-10/21 – Seattle, WA
10/23-10/24 – Los Angeles, CA
Click here for a detailed itinerary!
Read about the October 2015 speaking tour:  "Tahoe on Trial: Guatemalan Communities Stand Up to Defend Land and Life."