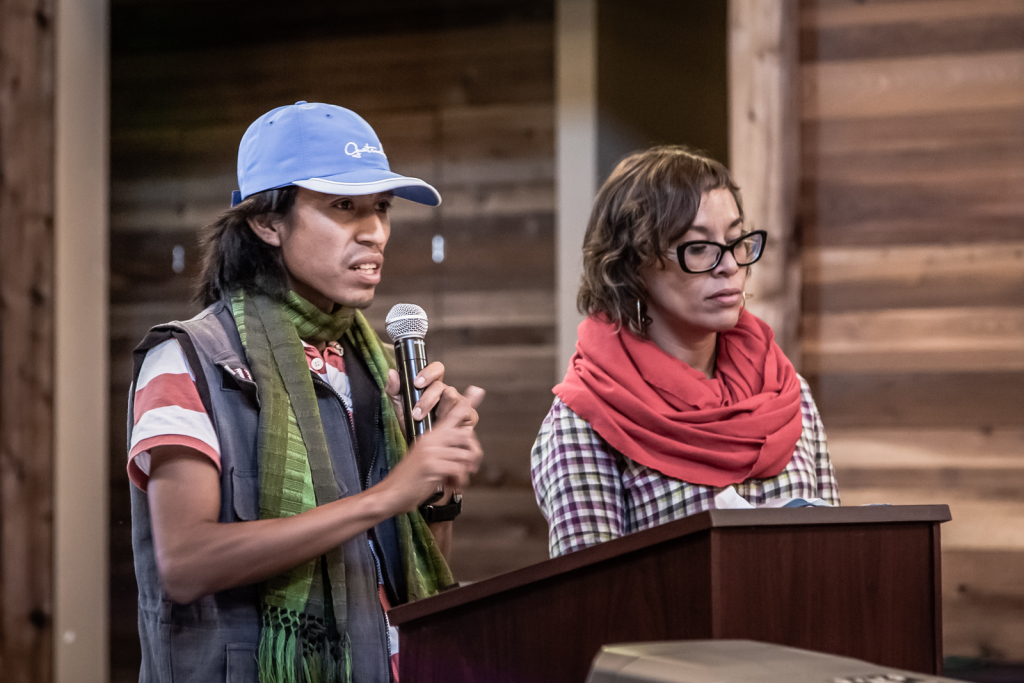 Every fall, NISGUA organizes a U.S. speaking tour featuring one of the resilient and inspiring organizations that we work with in Guatemala. Whether focusing on issues of justice and accountability or the defense of life and territory, our annual speaking tour aims to connect Guatemalan human rights defenders and the movements they represent with people across the U.S. who also struggle for self-determination, respect for the earth, and the liberation of their communities.
On the tour, we aim to create people to people connections by engaging with students, people of faith, communities, and organizations who seek to learn from the incredible work happening in Guatemala to end impunity, achieve justice, and preserve the culture and life of their communities. Our fall speaking tour is one concrete way that we respond to the calls from our Guatemalan partner organizations to take action and increase U.S. awareness of the human rights situation in Guatemala as well as the consequences of harmful U.S. economic and political policies in their territories.
Join us from October 9 – 26!
This fall, we're excited to welcome Alex Escobar Prado as the featured speaker for this year's tour, "Guatemalan Youth in Defense of Land and Life!" Alex is an activist, educator, and a member of the Guatemalan environmental justice organization Youth Organized in Defense of Life (JODVID). Born out of the struggle for community self-determination and resistance to Tahoe Resources' Escobal silver mine in southeastern Guatemala, JODVID uses the arts and popular education to mobilize youth in local and regional movements to protect the environment and defend territory.
As a representative of the youth movement in resistance to mining in the Santa Rosa and Jalapa regions, Alex will share stories and perspectives from his community's struggle to assert their self-determination and defend their territory against transnational corporate power. Visiting the Midwest and East Coast, the tour will be a unique opportunity to learn about the essential role that Guatemalan youth play in building movements for social justice and liberation, and to hear firsthand accounts of the environmental and community impacts of mining in Guatemala. The tour will also create an opportunity for direct exchange with youth activists in the U.S. fighting for social justice in their communities.

Confirmed tour stops include:
October 9 – 10: Chicago, IL
October 11 – 12: Oberlin, OH
October 13: Keshena, WI – Menominee Indian Reservation

October 16 – 17: Viroqua / La Crosse, WI
October 19 – 20: Washington, D.C.
October 21: Cleveland, OH
October 23 – 25: San Francisco Bay Area, CA
Read about the October 2016 speaking tour: "Guatemalan women healing towards justice."
Read about the October 2015 speaking tour:  "Tahoe on Trial: Guatemalan Communities Stand Up to Defend Land and Life."