NISGUA partnered with Jalapa-based youth organization, Youth Organized in Defense of Life (JODVID), for a 16-day U.S. speaking tour, "Guatemalan Youth in Defense of Land and Life." Together we helped raise awareness about the community and youth forces that have organized in resistance to Tahoe Resources' Escobal silver mine in southeastern Guatemala and the human rights abuses that surround the project.
As a representative of the youth movement in resistance to mining in the Santa Rosa and Jalapa regions, Alex shared stories and perspectives from his community's struggle to assert their self-determination and defend their territory against transnational corporate power. Read more about environmental defenders in NISGUA's 2017 report.
In collaboration with volunteers and activists in Illinois, Wisconsin, Ohio, California, and Washington, D.C., youth environmental activist Alex Escobar spoke at 28 events in 9 U.S. cities. Events included strategic meetings with state actors in the nation's capital; exchanges with activists fighting against environmental racism in Chicago; residents of the Menominee Indian Reservation in Wisconsin fighting a proposed iron mine in their territory; young organizers engaged in environmental and queer activism in rural Wisconsin; and an art exchange with Latinx youth in San Francisco's Mission neighborhood, among others.
We hosted our first-ever virtual exchange using the Zoom teleconference app, gathering 26 participants in the U.S., Canada, and Guatemala for a conversation with Alex Escobar on youth activism, closing our 2017 speaking tour. You can watch the recording here.
Horizontal exchange with community and youth organizations
This year on tour, NISGUA and our partners organized several events in which Alex met with local Latinx and environmental student activist groups along with local community organizations fighting for migrant rights and against mining and environmental racism. Together, we were able to make cross-border connections in a global struggle against oppression.
Little Village Environmental Justice Organization (LVEJO) gave Alex a tour of Chicago's historic latinx community, La Villita. LVEJO has stood with community members in reclaiming cultural identity and recuperating healthy and pollution-free community spaces.
Events with Guatemala solidarity communities and grassroots organizations
NISGUA is grateful to have been able to deepen connections with some of the many Latin America and Guatemala solidarity communities that we have organized with over the last three decades.
The Chicago Religious Leadership Network (CRLN) on Latin America works in solidarity with social movements in Latin America and with latinx and migrant rights movements in Chicago. They also take action locally, most recently by putting pressure on Mayor Rahm Emanuel to truly make Chicago a sanctuary city, in practice and without loopholes that allow local police to cooperate with ICE.
They organized several university visits and a community event with the University Church Guatemala Partnership.
Cleveland's InterReligious Task Force organized a Fair Trade Teach-In and Expo in which speakers and participants explored alternative and non-exploitative economic models. Alex was featured as a keynote speaker in which he shared about the ways that communities have stood in resistance to extractive industry projects in Guatemala.
Center for Environmental International Law (CIEL) and Earthworks organized a lunch with environmental organizations in Washington, DC.
Several NISGUA sponsoring communities organized local events on tour. These community groups are essential part of NISGUA's Guatemala Accompaniment Program and supports volunteers who are accompanying organizations and environmental defenders like Alex.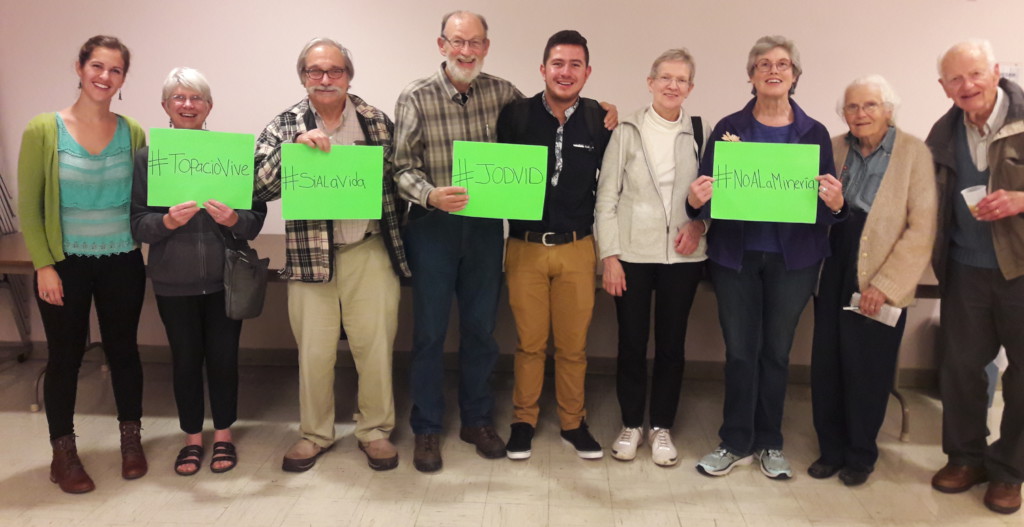 Thank you Santa Elena Project of Accompany (SEPA) members from Oberlin, Ohio (pictured above); Kickapoo – Guatemala Accompaniment Project supporters from Viroqua, Wisconsin; United Universalist Church of Arlington – Partners for Arlington and Guatemala in Arlington, Virginia for the decades-long commitment and continued collaboration.
Check out our Facebook page for more pictures from NISGUA 2017 tour.