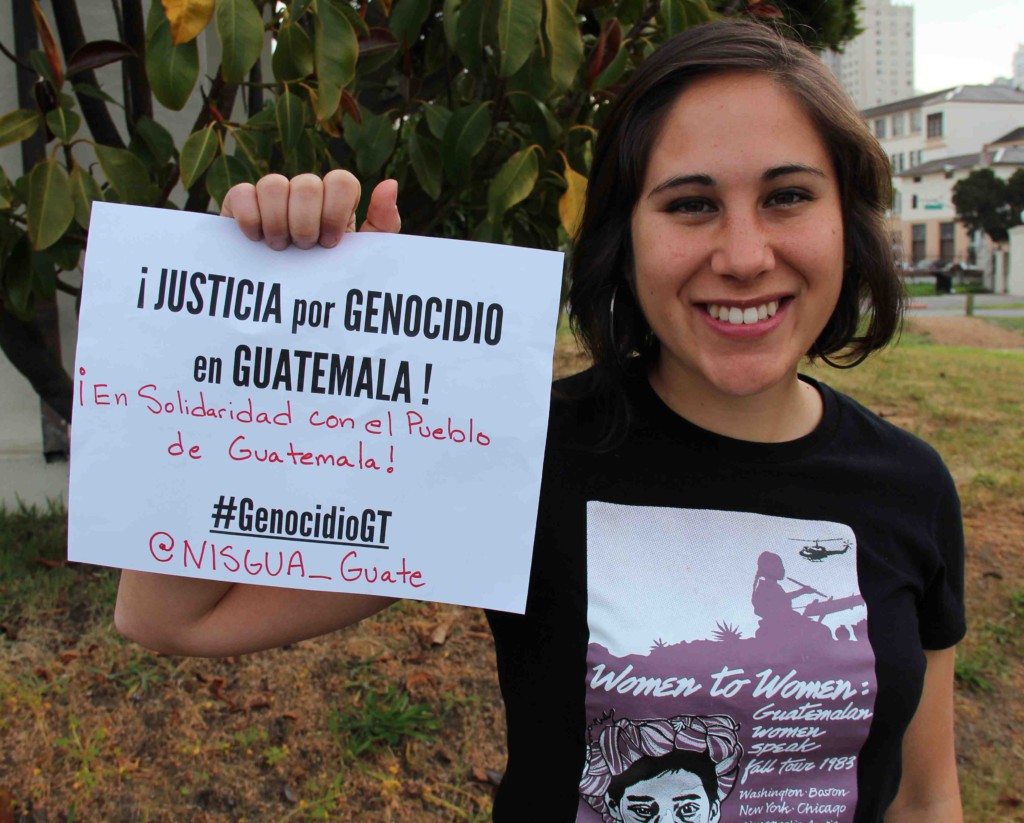 The Network in Solidarity with the People of Guatemala (NISGUA) works to build and strengthen ties between the people of the United States and Guatemala in the global struggle for justice, human dignity, and respect for the Earth. With four staff and two offices – one in Oakland, CA and one in Guatemala City – NISGUA uses international human rights accompaniment, strategic communications, and grassroots advocacy to support the work of Guatemalan social movements waging struggles for community self-determination, historical memory, and transitional justice. With over 36 years of experience accompanying social movements in Guatemala and coordinating activism in the U.S., NISGUA's work creates lasting change by cultivating long-term relationships grounded in mutual trust and shared struggle.
Our Mission
NISGUA works for real democracy in Guatemala and the U.S. and strengthens the global movement for justice. NISGUA builds mutually beneficial grassroots ties between the people of the U.S. and Guatemala and advocates for grassroots alternatives to challenge elite power structures and oppressive U.S. economic and foreign policy.
To achieve our mission, NISGUA distills information, analysis, and perspectives from Guatemalan grassroots organizations and NGOs, and channels them to activists across the U.S., to sister advocacy organizations, and to Congressional offices and the press. We design and organize U.S. grassroots advocacy campaigns in response to the needs on the ground, and where it is strategic for NISGUA to play a role. Through annual Guatemalan speakers tours and on-the-ground support to delegations to Guatemala, we build U.S. understanding of the challenges facing the Guatemalan people, help build the "spokesperson" capacity of our Guatemalan partner organizations, and strengthen people-to-people ties across borders.
Our History
For nearly four decades, NISGUA has been one of the primary organization linking people in the United States with the people and the struggles for justice in Guatemala.  We formed as an organization in 1981 to coordinate local activism on Guatemala in the United States in order to end U.S. government support for Guatemala's brutal military regime and to further Guatemalan efforts to create a democratic society based on socio-economic justice and human rights. At the time, the 36-year internal armed conflict in Guatemala was at its most violent. In 1981 alone, the U.S.-sponsored military government killed or disappeared 19,000 civilians. NISGUA emerged as one of the first organizations that dared voice strong and continuous criticism of the U.S. government's implication in these crimes. The situation in Guatemala – and in the United States – has changed since 1981, but NISGUA is still one of the strongest and steadiest grassroots voices for responsible U.S. policy in the region.
Amanda Kistler chairs the NISGUA Board of Directors, which she joined in 2011. She worked as a human rights accompanier in 2008-2009, serving one year in Rabinal, Baja Verapaz, and a second based out of Guatemala City. Amanda grew up in the Needham Sponsoring Community, has served on GAP Council, and continues to organize with NISGUA locally in the Washington, DC area. Amanda directs Communications and Development at the Center for International Environmental Law (CIEL) in Washington, DC, where she has worked since 2010. Amanda has also coordinated CIEL's international campaigns in support of indigenous and campesino communities defending their rights against large-scale mining projects throughout Latin America.
Jillian Tuck joined the NISGUA board in 2014, and currently serves as its secretary. Her involvement with NISGUA began in 2006 when she worked as a human rights accompanier in Rabinal. She's played multiple roles since then– serving on GAP Council, organizing speaking tours, and participating in the Guatemala News and Information Bureau sponsoring committee. Jillian currently lives in Bangkok, Thailand, where she works to bring laws into compliance with human rights standards and supports grassroots organizations in accessing philanthropic spaces.
Phil Neff has been a member of the NISGUA board since 2016. He first served as a human rights accompanier in the Ixcán during 2008, and joined the NISGUA staff as Accompaniment Coordinator during 2010-2012. Phil lives in Seattle, where he has organized various NISGUA speaking tours and events. He works as Project Coordinator for the University of Washington Center for Human Rights.
Cat Norris joined the NISGUA board in 2014. She served as an accompanier with GAP in the Ixil in 2005 and as a member of NISGUA staff 2005-2007. Cat lives in San Antonio, TX with her family, including two small children. When she's not occupied with little people, she works as an immigration attorney with Texas RioGrande Legal Aid, assisting folks in both removal proceedings and affirmative immigration matters.
Jerry Kohler is the treasurer of NISGUA, joining the board in 2011.  He is a semi-retired CPA with the career experience of owning a small accounting firm and then moving to full-time teaching of accounting at the community college level.  His daughter, Kim, was an accompanier for NISGUA from 2006-2008. He currently resides in Santa Rosa, CA.
This year, our work continued to focus on drawing deeper connections between struggles for social and environmental justice across borders. Guided by the belief that social movements in Guatemala and the U.S. are mutually strengthened by relationships built through international solidarity, we've looked for ways to integrate internationalism into our local activism while continuing to stand with Guatemalan communities fighting for justice and self-determination. As we look forward to 2018, we remain committed to building accountable, long-term solidarity with Guatemalan communities and creating essential links between their struggles and movements for justice and liberation in the U.S.