In 2018, NISGUA created opportunities for horizontal exchange, for political education, and for growing into a lifelong commitment to organizing for a just world. This year, as communities faced heightened repression in both Guatemala and the U.S., we grounded in our conviction that we can mutually strengthen global struggles for liberation by sharing collected wisdom and resources across borders. Through grassroots gatherings, international accompaniment, actions, and advocacy, our network created opportunities for exchange and mutual support.
In the coming year, we will continue to educate, organize, and advocate for changes demanded by Guatemalan Indigenous and campesino leaders. We will connect movements in the US and Guatemala around the issues that affect both. We will create opportunities for organizers to gain the skills for a lifetime of globally-informed activism. Will you join us?
"Wherever there are politically-conscious Indigenous people with the resources to defend themselves, there's the chance to create connections…Whenever we meet up with other communities, we see that they are in struggle too. We have to listen to them and exchange ideas. That way, the powerful will realize that it's not just a small number of people getting organized – it's the whole country, the whole world." – Víctor Caal Tzuy, Association of Communities for Development, Defense of Territory and Natural Resources (ACODET)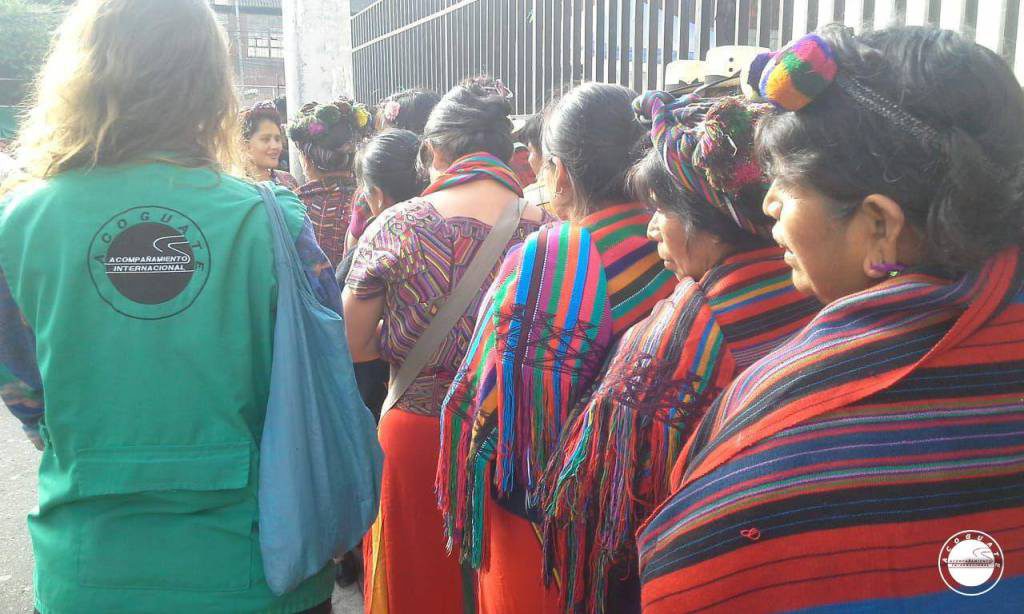 A NISGUA accompanier stands with Ixil genocide survivors, as they wait to enter the court. This year, Guatemalan courts declared once again that yes, the military committed genocide against the Ixil people.