As part of its visit to Las Cruces, New Mexico, NISGUA's fall 2018 speaking tour, "How to Stop a Dam with Indigenous Resistance," participated in a four-day symposium of events dedicated to facilitating direct exchange between Indigenous water protectors. NISGUA tour partner, Maya Mam community leader José Gómez of ACODET (Association of Communities for Development and the Defense of Land and Natural Resources) participated.
The symposium attracted around 560 participants, and at least 16 Indigenous Nations were represented in the various events, including Mexica, Apache, Zuni Pueblo, Diné, Pikani, Maya (several groups), Eastern Shoshone, Quechua, Acoma Pueblo, Jemez Pueblo, Cochiti Pueblo, Zia Pueblo, Cherokee, Choctaw, Ysleta del Sur, and Tortugas Pueblo. All events were organized by Kayla Autumn Myers, a NISGUA organizer who is mixed-race Eastern Shoshone and Celtic. Myers accompanied ACODET with GAP in 2015 in the Ixcán region where ACODET is based and shares her reflections on the events here.
All photos by Chantelle Yazzie.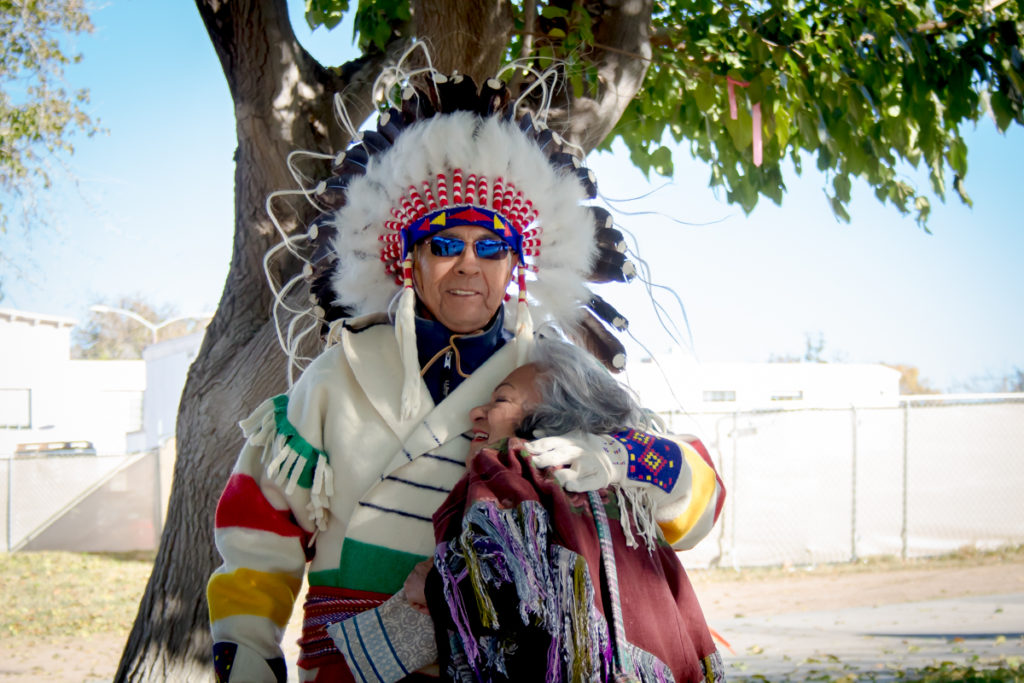 "Indigenous Symposium: Water Protection" was a gathering meant to strengthen ancestral ties created before borders existed and to reignite a sense that we are all relatives on Mother Earth meant to care for her. Over four days and 11 events, we tackled the difficult and multi-faceted topic of Indigenous water protection, which touches on every aspect of our lives. In talking about water, we spoke to the social struggles in our communities, from addiction to missing and murdered Indigenous women. We spoke of the energy industry that uses Indigenous lands to extract coal, oil, and hydroelectric power and how the burden of excessive energy use in the modern world is shouldered by Indigenous peoples. The phrase "check your energy privileges" was often voiced. We spoke about the history that has led us to the point of a water crisis and continues to divide people with racist policies and militarized borders–a history that entrenches the diseases of patriarchy, capitalism, and racism. There was consensus that the work to protect our sister water is more than an occupational choice; it is a vital necessity on Indigenous lands.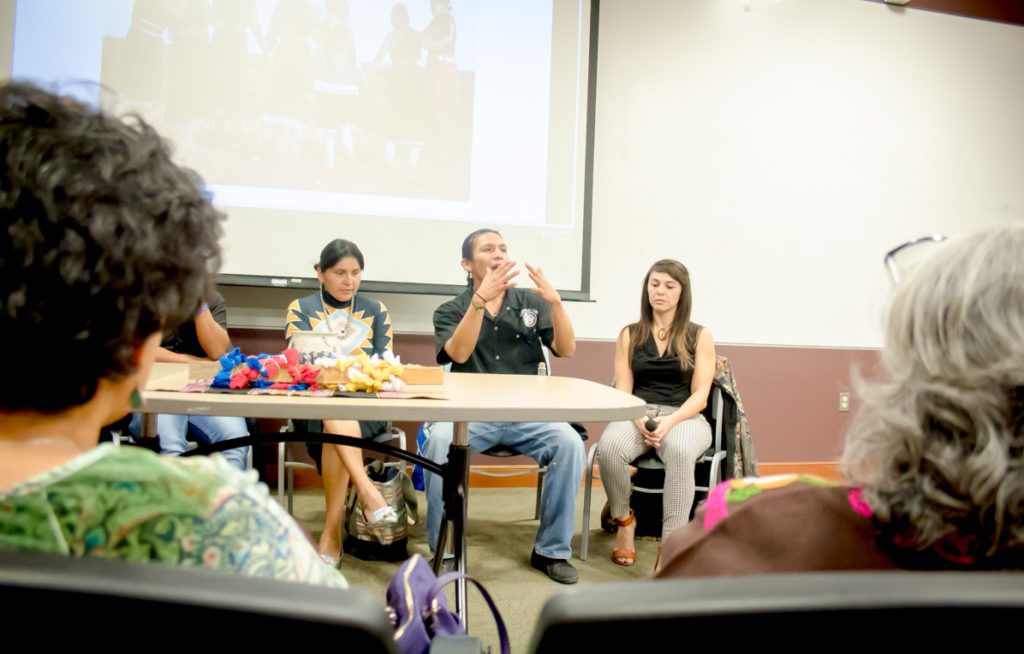 However, the power of the symposium was that while we addressed the struggles, there was an intentional focus on solutions and strategies being employed by Indigenous peoples today. There were concrete ideas put forth and examples of successes, as well as failures and how we can learn from them. In the solutions that we heard, we also felt the permeance of water in our everyday existence. Some of the ideas shared were the power of involving youth in our work, the need to reach out and educate our communities and report back to them, the importance of creating ties across tribes, both internationally and in New Mexico, and the overarching importance of ceremony and tradition in all of our work.
Students, faculty, and community members were able to listen and learn but also had plenty of spaces to connect and speak with Indigenous leaders, even getting involved. There was a sense of openness and safety for creating real relationships and networking. The space resulted in inspiring people to carry on in their work, take action for the first time, or dig deeper into their studies. We were inspired together through a diversity of events, in size and structure, that allowed all different kinds of people to learn and participate. The Symposium started with intentional ceremonies and ended with a celebration of traditional dance, food, art and music, creating a container for connection and inspiration.
Here are the voices of several of the symposium participants talking about the impact for them:
Dr. Don Pepion – NMSU Professor, Blackfeet Ceremonialist (facilitated, organized, and attended events) speaking about the Water Protectors Panel:
"This is a very powerful panel presentation by some committed and passionate people who are taking meaningful actions to preserve and protect Indigenous people! Thanks for sharing one of the most meaningful panel presentations I've heard in my 18 years at NMSU!"
Maria Claudia Montesinos – Organizer for the Symposium, Frontera Water Protection Alliance, Indigenous Quechua from Peru:
"The indigenous water protector symposium brought us together as native brothers and sisters to hear each other take care of each other and find new inspiration to feed our hearts, our communities and our organizing efforts. So many came out to hear us, support us and celebrate water and a love for our Earth Mother. Our special guests, Maya relatives from Guatemala, helped us to see and support them in their work to maintain their culture and its endangered relationship to a homeland. Detained migrant youth, all 10 happened to be female, were able to join us and share food, music and a space that cared about their needs as Indigenous survivors on the move. Jose catalyzed all of that healing with his visit and we are changed and deeply grateful. Urpillay Sonqollay, with all of my heart.
José Gómez- Maya Mam community leader and Coordinator for ACODET in Guatemala (featured guest and panelist):
"The encounter with the Indigenous water protectors in Las Cruces was important. To know that it is not only in Guatemala that Indigenous peoples are carrying this struggle, but also the different Indigenous peoples in the United States are struggling. They also know the importance of water in people's lives. They know the worry is great that every day there is less of this vital liquid and it is commercialized by big business and this increases the risk that many Indigenous peoples are left without access to water. It was impactful to have the presence of many Indigenous peoples in this encounter, it shows that, in the capitalist system, to defend water is to defend life."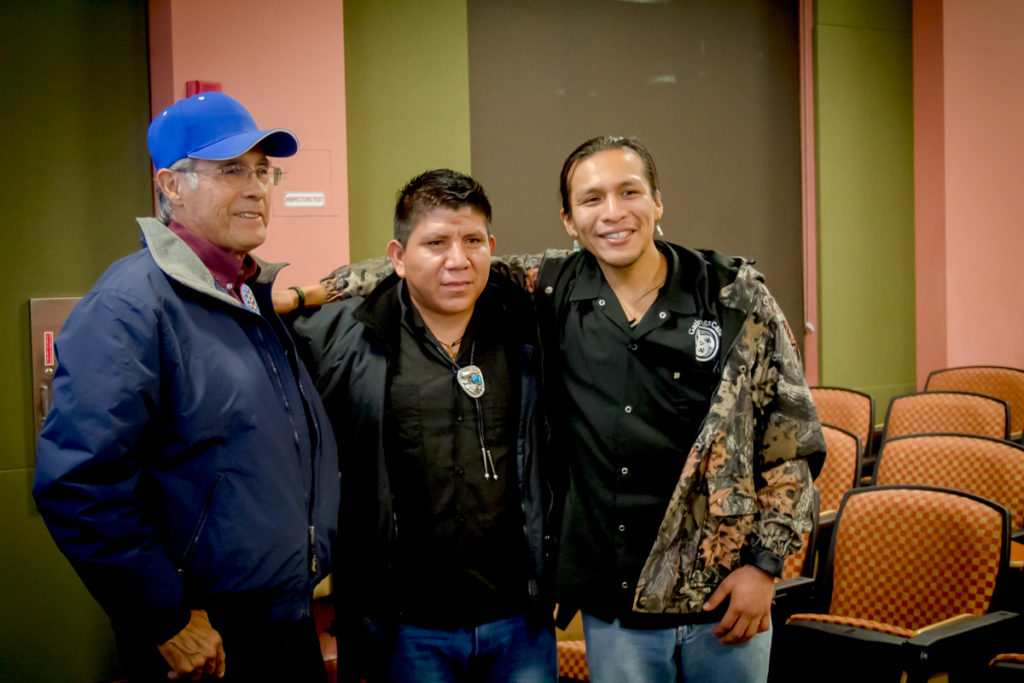 Charlene Juanico – Student in Fish and Wildlife Conservation Ecology and Administration and Public Policy, from the Zia Pueblo, Acoma Pueblo and Jemez Pueblos (attended and participated in events, will go to Guatemala as a delegate on the Indigenous Environmental Leadership Exchange):
"As far as the Guatemala Conference, it really warmed my heart that there are people that are willing to go out of their way and help other Indigenous tribes and their situations especially because that is something that I want to do with my own career. My main focus is to protect the wildlife, the land, and the water amongst the Indigenous tribes in the United States and outside the United States. There needs to be somebody that has the power to say 'no, this is their land, leave their land alone whether you like it or not.' Just knowing the fact that there are people willing to make a difference is very meaningful to my heart."
Tiffany Charley – Student in Horticulture and Plant and Environmental Sciences, Indigenous Diné (attended and participated in events, will go to Guatemala as a delegate on the Indigenous Environmental Leadership Exchange):
"I found it highly inspirational to witness the work of José Gómez and his group. I think it is incredibly important and powerful to engage the public in order to create change and fight back against entities that have money and power. So, witnessing his presentation and his successful work in gathering signatures and votes of everyone in his community is very impressive. It is the sort of groundwork that may be needed here in the United States. There are many battles that need to be fought against large corporations or entities of power in order to do what is right for the planet. I think that we are very individualized due to the way our society is structured and it will take work to create a consensus among communities. It is very important to see successful efforts (so far) such as this one to serve as inspiration and an example for the rest of us."
Antonio Garcia – Student in Health and Social Services, Indigenous Mexica/Apache (student intern for all events and will be a delegate on the Indigenous Environmental Leadership Exchange):
"I think that the Indigenous Water Symposium was not just a way to raise awareness on campus among students but it made a statement about Indigenous presence. Often times we are an invisible people and therefore our issues are overlooked. This symposium said we are still here and we are fighting for our future generations. It unified Indigenous people not only from across the state but from all over the Americas, and not only Indigenous people but all people because as human beings it is our birth-given right to have water and a healthy planet. That is what we continue to stand for."
Grace Igwe – Student in Environmental Science and Mechanical Engineering (volunteer for several events):
"Thanks for letting me come to and help with the symposium! It was such an amazing experience! Me and Autumn (another student volunteer) both got teary-eyed at one point because the positive energy in the museum and auditorium were so overwhelming it just made us tear up. Rarely do you get to feel such positive souls meeting up at one time like that, so it was beautiful! I especially felt so surrounded with the love that everyone had for each other and the strangers they didn't know, and the love they had for their land and water when the prayer was given by our Zuni Pueblo elder. 
I took something from this event. It made me stronger in my drive and passion and I can't necessarily articulate what the "somethings" I gained are, but it was meant for me to attend the talk and panel discussions, I know that!"