Like many of you, we have spent this week reeling with pain from the murder of seven-year-old Jakelin Ameí Rosmery Caal Maquin while in Border Patrol custody. Her death is not a tragic anomaly as U.S. officials claim, but a murder that happened as a direct result of U.S. foreign and domestic policy. We honor Jakelin, Claudia Patricia Gómez González, Jose Antonio Elena Rodriguez, Roxsana Hernández, and all lives lost to U.S. imperialism by taking action to support land defenders fighting for their right to stay in their homes.
Jakelin was from Raxruhá, a Maya Q'eqchi' community in Alta Verapaz, a department that suffered among the highest number of massacres committed by U.S.-supported Guatemalan soldiers during the Internal Armed Conflict. As is true for all places where genocide attempted to extinguish Mayan life, Alta Verapaz is now the site of massive natural resource extraction projects. These internationally imposed mines and dams are the latest step in centuries of colonial displacement of Indigenous peoples. Today and every day, our Guatemalan partners affirm that for people to be able to stay in their homes, they must be able to defend Indigenous and campesino life and territory.
TAKE ACTION: Stand with Indigenous communities demanding respect for self-determination!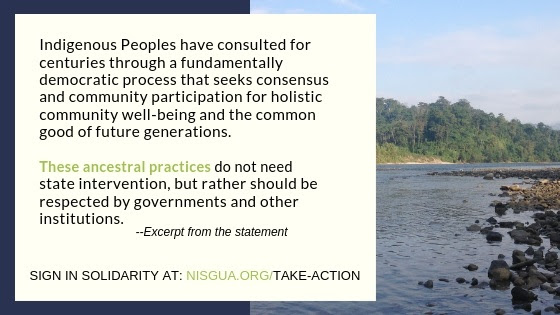 Even while many are forced to flee, communities are fighting to change the conditions created by U.S. policy and protect their right to stay. Honor Jakelin through solidarity with Indigenous land defenders who are organizing for self-determination and respect for the Earth:
Our partners in ACODET have prepared a statement on current threats to the self-determination of Indigenous peoples in Guatemala. At the authors' request, NISGUA is seeking co-signatures in support of the statement from Indigenous and Indigenous-descendent individuals, tribes, and Indigenous-led organizations in the U.S., Canada, and beyond. To add your personal or organizational co-signature, email Guatemala Programs Coordinator Becky Kaump.
We are also calling on non-Indigenous allies to express solidarity with the statement by signing our online petition.
TAKE ACTION: Support asylum seekers
The current exodus of Central American asylum seekers is not the first time people have sought safety in numbers on the journey to the U.S., nor will it be the last. While some who have power believe that the current crisis on the border can only be solved with violence, we know that there are many life-affirming and just ways to support asylum seekers.
Here just a few examples of organizations worth supporting:
The violence facing Central American refugees is fundamentally based in racism. For addition educational materials to help you talk about the racism that drives deaths like Jakelin's, please see:
Indigenous immigrants face additional danger when the state fails to provide adequate interpretation services. For Mayan interpretation resources, check out former GAP accompanier and attorney Katharine Gordon's website. If you need further Indigenous language interpretation resources, please contact us at info@nisgua.org.