For decades, NISGUA has used grassroots speaking tours as a tool to build cross-border, people-to-people connections between social movements in the U.S. and Guatemala. With the support of scores of volunteers, activists, and organizers, NISGUA speaking tours have cultivated deeper understandings of the common forces our communities are up against, as well as the nuances of working under distinct conditions in distant places. We continue the tradition to cultivate long-haul solidarity with frontline organizations and activists, and because we believe that our movements are strengthened by mutuality, shared learning, and relationships that transcend borders. Our hope is that the power of relationship activates a new generation of solidarity activists and reveals novel opportunities for organizing.
In advance of our fall 2018 speaking tour, "How to Stop a Dam with Indigenous Resistance," we sat down with some of the lead organizers for each city to learn more about why NISGUA speaking tours matter to them. These are just a few of the people who make our tours possible. Learn more about the current tour, including the local partnerships each organizer is cultivating, here. To follow the tour virtually, RSVP to the event on Facebook.
NOVEMBER 3-7: SEATTLE, WA
Phil Neff – Human Rights Researcher, NISGUA Board Member, Former NISGUA Staff & Volunteer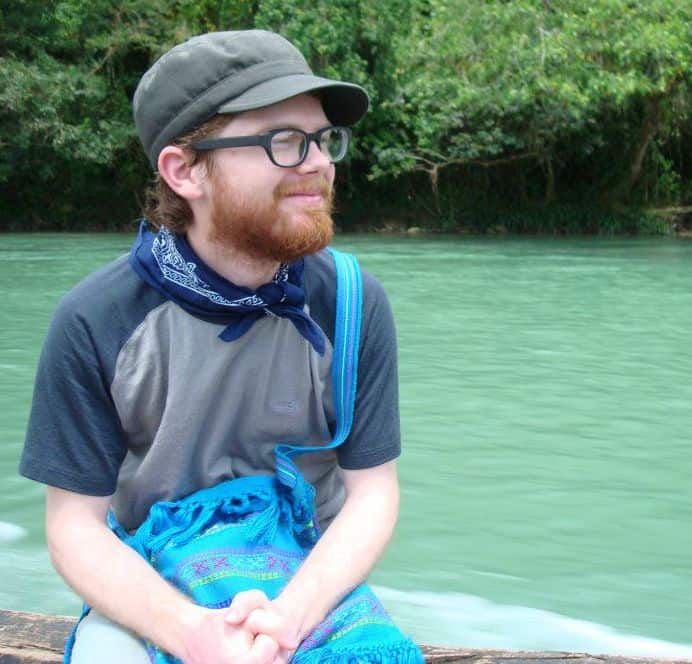 "In a global political climate of rising xenophobia and authoritarianism, solidarity and mutual exchange between people and communities working for justice is crucial. The front lines of these struggles are everywhere, and Guatemalan social movements offer profound examples of resistance to state repression, colonialism, and environmental destruction while building a world based on human dignity and well-being." – Phil
Phil Neff has been a member of NISGUA since 2007, when he served as a volunteer international human rights observer with the Guatemala Accompaniment Project (GAP) in the Ixcán region of Guatemala. During 2010-2012 he joined NISGUA staff as GAP Coordinator, and since 2016 he has been a member of NISGUA's board. He lives in the Seattle area where he has been active in campaigns for worker, tenant, and immigrant rights. He works at the University of Washington Center for Human Rights on research projects supporting human rights groups in El Salvador and Washington State.
NOVEMBER 8-11: DENVER, CO
Rebeca Zúniga-Hamlin – Director, Denver Justice & Peace Committee (DJPC)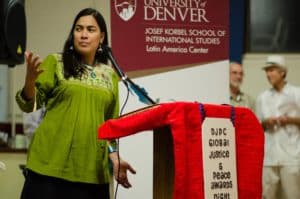 "As a Nicaraguan woman from a Miskitu Indian background who grew up in Guatemala, I have a deep connection to the country and the struggles of the people there. I think it's very important to bring those voices to the US public to raise awareness of the injustices that the US government is responsible for and to bring justice to the demands of the Guatemalan people. For DJPC, who has collaborated with NISGUA for a long time, this is an opportunity to build stronger alliances in our solidarity work and to deepen our understanding of environmental justice struggles–how all of us in different places in the world have similar struggles against transnational corporations, how they affect our lives, and how we build international organizing to challenge them." – Rebeca
Rebeca Zúniga-Hamlin is a mother and women's right advocate. Born in Nicaragua, Rebeca grew up in both Nicaragua and Guatemala, and has been committed from a young age to political action on behalf of marginalized people. Her own mixed background – Nicaraguan Miskito Indian and white North American – has allowed her to commit to the long-term struggle for social justice, challenging unfair economic and criminal systems that affect immigrant communities. Recognizing the necessity of language access for immigrants across national and social backgrounds — to realize human rights, access services, and more — Rebeca has served as a translator and interpreter providing humane and culturally aware services to people in need. She currently lives in Denver, Colorado where she serves as Director of DJPC, a grassroots organization that advocates and educates for human rights in Latin America. She has served on the board of the New Orleans East Louisiana (NOELA) Health Clinic since 2010, the School of the Americas Watch council since 2017, and the American Friends Service Committee West Executive Committee since 2017.
NOVEMBER 13-15: LAS CRUCES, NM
Kayla Autumn Myers – Anthropologist, Former GAP Accompanier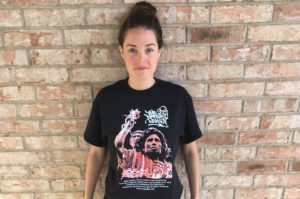 "Despite negative media, racist policy making, and increasing militarization in the Borderlands, the people here see this place as one defined by coming together, not being ripped apart. We strive to tell the stories of our real lives here (safe, strong communities that hold each other up) and of the struggles that we face as communities (from tyrannical immigration policies to pipeline projects and lack of access to water). We are a community of Indigenous peoples, immigrants, academics, Dreamers, and Water Protectors. We seek to come together with communities facing similar struggles and gain strength and inspiration from them. We refuse to end our ancestral conversations and exchanges because of border politics and we are excited to see what this sharing together will birth in our transforming world." – Kayla
Kayla volunteered with GAP as a Human Rights Accompanier in 2015, where she accompanied communities in the Cobán and Ixcán regions, supporting the work of ACODET. She then enrolled in graduate studies in Anthropology at New Mexico State University (NMSU) and used her ties to the local community and campus to bring the work that she so loved in Guatemala into her life in the United States. In 2017, she brought the photography exhibition "Defending Truth and Memory: The Path Towards Justice in Guatemala" to the NMSU campus along with featured Guatemalan photojournalist Roderico Diaz. This event showed her the zeal that she has for organizing local events and inspired her to host the tour stop for ACODET and NISGUA on the NMSU campus in November of 2018. This time, Kayla is organizing as a graduated professional employed at NMSU as an Anthropologist.
NOVEMBER 16-17: TUCSON, AZ
Laura Von Dohlen – Educator, Activist & Former GAP Volunteer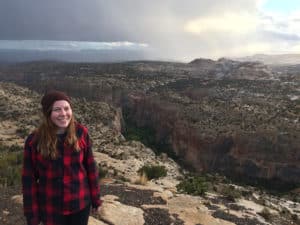 "I'm excited for community organizers and land defenders from Guatemala to come and share their work in my community, because it's important for us all to connect the dots of the struggles we're a part of and see how closely tied they are to each other. To not only learn from each other but to give each other the space to really feel heard and to provide moral support to keep up the fight. Different communities coming together to collaborate, share, listen, laugh, strategize, can give amazing strength to keep moving forward." – Laura
Laura von Dohlen spent a year in Guatemala as a human rights accompanier with GAP in 2011. During that time doing accompaniment work, she was taught how closely the struggle for justice in Guatemala was tied to migration, which influenced her to move to the U.S./Mexico border region upon her return. She has been living in Tucson, Arizona, occupied Tohono O'odham land, since 2012, providing humanitarian aid in the desert, providing legal services to unaccompanied minors in immigration detention, doing political prisoner support work, teaching some, but mostly learning.
Katie Sharar – Educator, Activist & Former GAP Volunteer
"I believe it is important to facilitate exchanges with Guatemalan and local social movement leaders because we have so much to learn from one another. Though regional struggles are certainly distinct, there are also significant global trends, and I believe it is important to include perspectives from organizers, activists, and wise folks from all places with all kinds of lived perspectives." – Katie
Katie has lived and worked in the US/Mexico borderlands since 2003, with brief stints in Austin and Guatemala, where she volunteered with NISGUA. She has lived in Tucson since 2008. In that time, she has studied at the University of Arizona, taught liberal arts college students through the Earlham College Border Studies Program, and worked with adult education students at Pima Community College. She currently works as an educator with the Kino Border Initiative in Nogales, Arizona and Nogales, Sonora. In addition, she has been lucky to work with and learn from a lot of different community organizations and local partners about the work for justice, its struggles, and its joys.