In these times of intensifying repression and political upheaval, our social movements urgently need to share concrete lessons and strategies for organizing to defend land and life. The Latin American solidarity movement has a powerful contribution to make in strengthening global justice struggles by facilitating direct exchange between leaders and communities most impacted by global systems of oppression. NISGUA's fall speaking tour aims to do just that.
This November, NISGUA is planning events throughout the Western and Southwestern U.S. to lift up lessons from successful organizing in Guatemala's Ixcán region, where Indigenous communities have resisted the imposition of the Xalalá Dam for over a decade. The tour will feature Maya Mam organizer José Gómez, a representative of the Association of Communities for Development and the Defense of Land and Natural Resources (ACODET) who will speak about their long-term work to build community power in the face of corporate-led development. At the request of ACODET, events will prioritize direct exchange with Indigenous communities fighting for social and environmental justice.
NISGUA is currently planning events in Washington, Colorado, New Mexico, Arizona, and Texas and are seeking additional partnerships in the U.S. West and Southwest. To learn more about the tour or to make proposals for local organizing, contact NISGUA's U.S. Programs Coordinator, David Imhoff, or call our U.S. office at 510-763-1403.
As Indigenous people, creating international links with communities from other countries strengthens our struggle for the protection and stewardship of our common resources. Having solidarity between peoples helps us acquire information about the capitalist system's plans against our people and allows us to advocate for ourselves. This is especially true for the Q'eqchi people in the northern region of Guatemala, who are struggling to defend their territory and common resources." – José Gómez, ACODET
About ACODET:
ACODET is a grassroots coalition of indigenous communities spanning three departments in Guatemala's rural Ixcán region. For over a decade, ACODET has successfully organized to halt the construction of the proposed Xalalá megadam, which if constructed would displace multiple campesino communities, the majority of whom are indigenous Maya.The proposed hydroelectric project was suspended in 2014 by the Guatemalan government, but threats to the environment and community remain; national and international companies continue to seek ways to push people off the land and exploit nature for profit. Today, ACODET monitors mega-development projects that continue to threaten their territory and works to strengthen equitable and culturally pertinent organizational leadership through popular education initiatives with ancestral authorities and women's committees in each community. Read more about ACODET in NISGUA's Spring 2018 Report "Water is Life: How to Stop a Dam through Indigenous Resistance." (Also available in Spanish.)
About the speaker: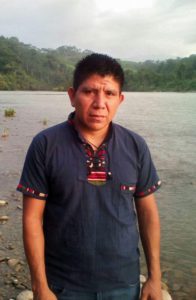 José Gómez is a Maya Mam leader from Guatemala who has been a member of ACODET since 2012, first as a community representative for Copal AA La Esperanza in the municipality of Cobán, then as the association's spokesperson, and now as a member of the Coordination Team.
As a co-coordinator, Mr. Gómez is the liaison between national, regional, and local actors to channel information about the status of megaprojects in the territory.  At the local level, Gómez coordinates with community representatives, women's committees, and local development councils from each member community to unify the organization's community defense strategy. As head of ACODET's security team, Gómez coordinates the Analysis and Early Alert Commission, which monitors risks faced by environmental defenders by facilitating information gathering and implementing appropriate security measures.
On the national level, Gómez coordinates with an alliance of other ancestral authorities to strengthen strategies to promote the rights of Indigenous peoples and the protection of nature. Together, this network has carried out various activities, including a series of exchanges with communities from Rio Negro. Most recently, he helped to coordinate meetings with U.N. Special Rapporteur on the Rights of Indigenous People Victoria Tauli-Corpuz during her 2018 visit to Guatemala.