No a los acuerdos de tercer país seguro con Centroamérica
En julio de 2019, el ministro de Gobernación de Guatemala y el secretario interino del Departamento de Seguridad Nacional firmaron un Acuerdo de Cooperación de Asilo, también conocido como "acuerdo de tercer país seguro". Esto ocurre luego de que la Corte de Constitucionalidad guatemalteca ordenara al expresidente Morales no firmar el acuerdo sin la aprobación del Congreso. Morales mandó a firmar al ministro de Gobernación luego de que Trump amenazara con prohibir a la población guatemalteca la entrada a EE.UU., aun con visa, y con fijar impuestos a las remesas. Poco después, El Salvador y Honduras firmaron acuerdos similares.
En virtud de estos, EE.UU. puede deportar migrantes que buscan asilo a Guatemala, Honduras y El Salvador aunque no provengan de esos países. Al deportar personas a países que no son los propios, y donde pueden afrontar peligros, EE.UU. les niega protección y vulnera el derecho internacional de refugiados.
"La gente huye de Guatemala a causa de la imposición violenta de los proyectos extractivos y el saqueo de sus bienes naturales sin consulta. Ahora, los EE.UU. pretende expulsar a los migrantes que buscan asilo hacia los territorios indígenas, sin consulta. El estado guatemalteco ni siquiera cuida de los guatemaltecos, ¿cómo va a cuidar de los migrantes que los EE.UU. quiere botar?"
– Rubén Herrera, Asamblea Departamental de Huehuetenango (ADH)
Debido a la pandemia, el 17 de marzo el gobierno guatemalteco anunció una suspensión temporal de vuelos llevando les migrantes deportades desde los EE.UU. hacia Guatemala bajo los acuerdos del tercer país seguro. Esta suspensión no ha terminado los acuerdos con Guatemala, El Salvador, y Honduras, y los deportaciones están programadas para reanudar tan pronto como "se establecen protocolos sanitarios." Con nuestras organizaciones aliadas, continuaremos exigiendo "No a los acuerdos de tercer país seguro con Centroamérica!" y mantendremos solidaridad con migrantes que están afectados desproporcionadamente por esta pandemia. Horriblemente, las deportaciones "normales" aún siguen a Guatemala. Haz clic aquí para tomar medidas contra esta y otras formas de violencia relacionadas con la pandemia.
Para detener a estos acuerdos inhumanos e ilegales, necesitamos todo el poder del pueblo. Súmate!

Lamentamos que no hemos podido traducir todos los recursos y las páginas aquí. Basado en nuestro compromiso a la justicia de idioma, seguiremos actualizando a la información en la medida de lo posible. Si tienes una duda inmediata, favor de escribirnos a info[at]nisgua.org.
Despite state efforts to obscure information about the agreements, resources exist. We recommend:
El 10 de junio tuvimos el honor de coordinar un webinar "Desde EE.UU. a Centroamérica: Asilo, Deportaciones, y COVID-19" con cinco panelistas de Centroamérica y EE.UU. quienes son expertas en migración y líderesas poderosas en los movimientos sociales. Las panelistas hablaron sobre los ilegales e inhumanos Acuerdos de Cooperación de Asilo (ACAs), conocidos también como acuerdos de tercer país seguro. También hablaron sobre las deportaciones durante la pandemia, las cuales han tenido un gran impacto en algunos sistemas médicos del Sur Global que ya faltaban los recursos suficientes.

 Hoy, estamos felices de compartir la grabación del webinar con subtítulos en inglés basados en los subtítulos en vivo y la interpretación simultánea durante el webinar.

A causa del brote de COVID-19, decidimos cancelar todas las actividades en persona de nuestra gira de 2020. Estamos muy agradecides por todes les anfitrionas en Nuevo México, Arizona y Los Ángeles que han estado organizando y planeando eventos durante los últimos meses. Y, por supuesto, apreciamos mucho al apoyo y liderazgo del Asociación Pop Noj.
Como internacionalistas que buscan construir solidaridad a través de las fronteras impuestas por el estado, tenemos los recursos necesarios para momentos así, para que nuestro aprendizaje, organización y acción pueda seguir. Estuvimos hondrades brindar a cabo un seminario virtual el 16 de abril con la oradora de nuestra gira, Silvia Raquec Cum.
Se puede mirar el seminario virtual aquí o en Facebook: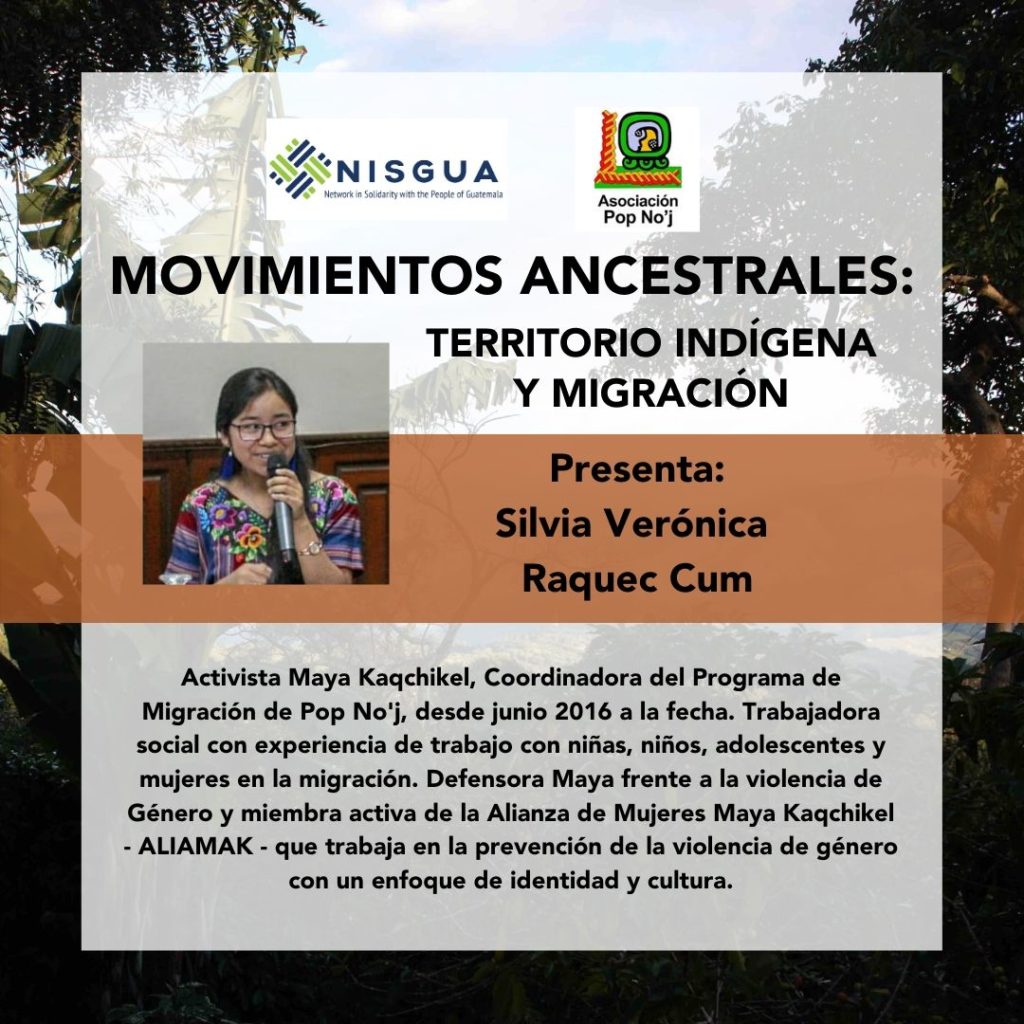 "Los Acuerdos de Cooperación de Asilo, también conocidos como "los acuerdos de tercer país seguro", firmados entre los EE.UU. y los países del norte de Centroamérica (Guatemala, El Salvador y Honduras) en 2019, amenazan la seguridad y dignidad de las y los migrantes, y son una violación a la soberanía de dichos países. El congreso estadounidense debe hacer todo lo posible detener la implementación de dichos Acuerdos de Cooperación de Asilo."
Esta petición está abierta para firmar. La petición final con firmas será entregado a miembras y miembros estratégicos del congreso estadounidense. Favor de divulgarla ampliamente!
Necesitamos una buena demostración del poder popular para frenar estos acuerdos. Contacta a tu congresista por correo o llamada para instar a que:
Se desfinancien los acuerdos. La totalidad de congresistas debería prohibir el uso de fondos para la implementación de estos acuerdos. Los subcomités de asignaciones a cargo de presupuestos para el Departamento de Estado y el de Seguridad Nacional deberían incluir lo siguiente en el proyecto de ley de asignaciones 2021: "En ningún caso se utilizarán estos fondos para la implementación de los Acuerdos de Cooperación de Asilo entre EE.UU., Guatemala, El Salvador y Honduras".
Se exija más información. La totalidad de congresistas debería exigir más información sobre la firma, el financiamiento, y la implementación de estos acuerdos.
Se tome partida. La totalidad de congresistas debería demostrar su oposición a los acuerdos por representar estos una amenaza a la seguridad, a la dignidad humana y a la soberanía centroamericana.
Este enlace te llevará a la plataforma de CISPES desde la cual podrás contactar a todes tus congresistas con un solo clic. Ya hemos preparado el correo también! Gracias por tomar acción en contra de estos acuerdos ilegales e inhumanos. Actualmente la plataforma está en inglés, la traduciremos a español lo más pronto posible.
Aunque no debe ser así, contactar al congreso puede ser intimidante. Estamos aquí para apoyar. Este botón te llevará a mandar un correo a info[arroba]nisgua.org
Quiénes son blancos específicos para la campaña?
House of Representatives Appropriations Subcommittee, Department of Homeland Security:
Senate Appropriations Subcommittee, Department of Homeland Security:
House of Representatives Appropriations Subcommittee, State Department:
Senate Appropriations Subcomittee, State Department
House of Representatives Judiciary Committee:
Senate Judiciary Committee:
House of Representatives Foreign Affairs Committee:
Senate Foreign Affairs Committee:
Letters to the editor and op-eds are important tools to educate community members and create public dialogue. With your help, we can publish in dozens of newspapers across the U.S. To learn more about letters to the editor and op-eds, check out these resources by the American Association of University Women (AAUW) and Community Toolbox.
To strategize where to publish more letters to the editor or op-eds, we need to hear from you! Please let us know where you submitted and if you were published. This button will take you to email claire[at]nisgua.org.
Here is a sample letter to the editor or op-ed that you can use as a template. Please feel free to use any part of this letter that serves you. We recommend that you use this draft as a scaffolding of the facts, and that you heavily adapt it to be more attention-grabbing and relevant for your local audience. You can find out about how to submit op-eds from your local newspapers or magazines. Thank you so much for engaging with this material and for supporting our campaign in this way! With our organized voices and actions we can inspire collective change. 
---
Newspaper/Magazine name
Address
Date
To the Editor:
In July of 2019, the Guatemalan Interior Minister, Enrique Degenhart, and the acting Secretary of the Department of Homeland Security, Kevin McAleenan, signed an Asylum Cooperative Agreement (ACA), also known as a "safe third country agreement." This came about after political pressure and threats of economic sanctions from the Trump administration. The agreement allows for the U.S. to deport asylum-seekers to Guatemala, even if they are not from there. A few weeks later, the U.S. signed similar agreements with Honduras and El Salvador. These covert agreements are part of a larger strategy that the Trump administration uses to deny people the right to migrate and apply for asylum. By deporting asylum-seekers to countries they are not from and to places where they may face danger, the U.S. denies them protection and violates international refugee law, including Articles 13, 14, and 15 of the Universal Declaration of Human Rights.
The U.S. signed the ACAs despite the fact that Guatemala, El Salvador, and Honduras are unable to respond to the needs of their own citizens, let alone those of the thousands of asylum-seekers for whom the U.S. is legally responsible. In 2018, 62,000 Salvadorans and Hondurans sought U.S. asylum, and in 2019, the majority of migrants detained at the U.S. southern border were Guatemalan, many of whom are Indigenous. Moreover, this instability is due in large part to the destabilizing nature of U.S. foreign policy in northern Central America, which has promoted violent resource extraction, enabled mass corruption, and further militarized the region.
Additionally, the ACAs either ignore or do very little to address the fact that none of these countries have asylum systems built to address an imposed influx of asylum-seekers. More than 900 migrants from Honduras and El Salvador have been deported to Guatemala under the agreement. Of these, less than 20 people have sought asylum there. Due to the COVID-19 pandemic, the ACAs have been suspended, but they could be reinstated at any time. Despite going against its own public health recommendations, the U.S. continues standard deportations, putting deportees and their countries gravely at risk. [Standard deportations are a rapidly evolving situation. Please email claire[at]nisgua.org for the most updated information to include in your letter]
We must demand that Congress defund the agreements, demand more information about the signing and implementation of them, and take a stand against the agreements as a threat to safety, human dignity, and Central American sovereignty. Concerned people can get involved by 1) educating themselves and others, 2) signing a petition against the agreements, and 3) contacting their congresspeople. To learn more about this campaign, please visit www.nisgua.org/take-action.
Sincerely,
Name
Organization
Email
Phone number