[español abajo] NISGUA joins comrades across Guatemala and the world in grief at the loss of Rubén Herrera, who transitioned early this morning. Rubén was a life-long community leader, land defender, mentor to young organizers, and strong ally to women. He devoted his life to the peoples of Huehuetenango, founding and coordinating the Departmental Assembly of Peoples of Huehuetenango (ADH), a grassroots articulation of Indigenous and Campesino peoples that powerfully defends land, water, and Indigenous rights. Many generations of NISGUA comrades had the honor of accompanying Rubén and learning first hand from his revolutionary principles and praxis. We stand in solidarity with Rubén's family and the ADH, who will continue on the struggle for human dignity in his name.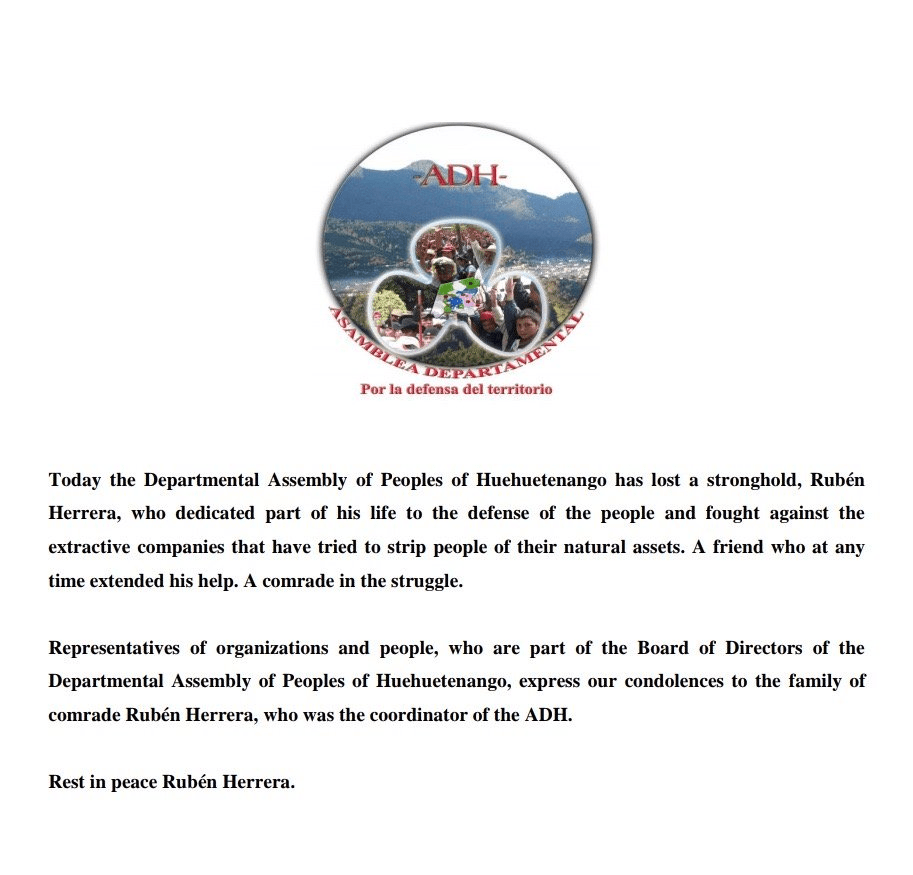 Como NISGUA, nos unimos a nuestros camaradas en Guatemala y en el mundo en el duelo ante la pérdida de Rubén Herrera, quién transicionó temprano esta mañana. Rubén fue durante toda su vida un líder comunitario, defensor del territorio, mentor de jóvenes organizadores y un fuerte aliado de las mujeres. Él dedicó su vida a los pueblos de Huehetenango, fundando y coordinando la Asamblea Departamental de Pueblos de Huehuetenango (ADH), una organización de base de pueblos Indígenas y campesinos que poderosamente defienden la tierra, el agua y los derechos de los pueblos Indígenas. 
Muchas generaciones de camaradas de NISGUA tuvieron el honor de acompañar a Rubén y aprender de primera mano de su praxis y principios revolucionarios. Estamos en solidaridad con la familia de Rubén y con la ADH, quienes sabemos que continuarán en la lucha por la dignidad humana en el nombre de Rubén.