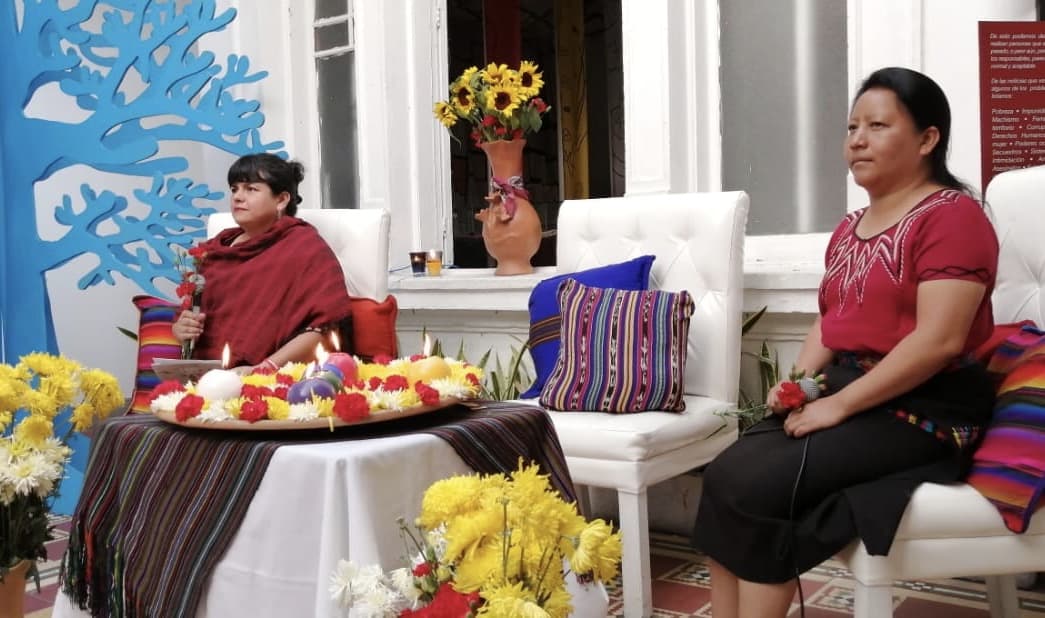 Fabiola García and Miriam Pixtun from CALDH during the live-streamed presentation of the virtual exhibition. Photo credit: CALDH //Fabiola García y Miriam Pixtun de CALDH durante la presentación en vivo de la exposición virtual de la Casa de la Memoria Kaji Tulam. Foto por: CALDH
(Español abajo)
Dear friends and comrades,
We continue walking into 2021, recognizing the great labor and unstoppable resilience of communities, despite the significant challenges that the pandemic brought to us. This month, we invite you to visit the virtual exhibition of the House of Memory Kaji Tulam and to read updates on how the attacks on judicial independence are  being reinforced.
At the same time, with a great heaviness in our hearts, we denounce the attack against one Xinka territory defender. We also invite you to read the statements released by ACODET and the ADH, which provide information about the context that land defenders are facing in Guatemala. Finally, don't forget to sign our petition demanding the suspension of Title 42 expulsions and deportations!
Querides amigues y compañeres: 
Seguimos caminando en el 2021, reconociendo el gran trabajo y la imparable resiliencia de las comunidades, a pesar de los importantes desafíos que trajo la pandemia. Este mes te invitamos a visitar la exposición virtual de la Casa de la Memoria Kaji Tulam, así como leer sobre los recientes ataques a la independencia judicial.
Al mismo tiempo, con gran pesar en el corazón, denunciamos el ataque contra un defensor del territorio Xinka. También te invitamos a leer las declaraciones emitidas por ACODET y la ADH, las cuales brindan información sobre el contexto que enfrentan los defensores de la tierra en Guatemala. Finalmente, ¡no olvides firmar nuestra carta de petición exigiendo detener las expulsiones del Título 42!