Straigth from NISGUA's archives, we invite you to read this letter written by Kayla Myers, who was an accompanier in Guatemala from November 2014 to November 2015.
Dear Family and Friends,
I write you with a feeling of gratitude. Your messages of support and kindness give me such strength and writing to you all helps me remember why we do this work as a connective humanity. I hope, as always, that this message finds you well and with energy! I begin with a declaration from the Indigenous community:
"We have survived the oppression, we are proud of our Indigenous youth!"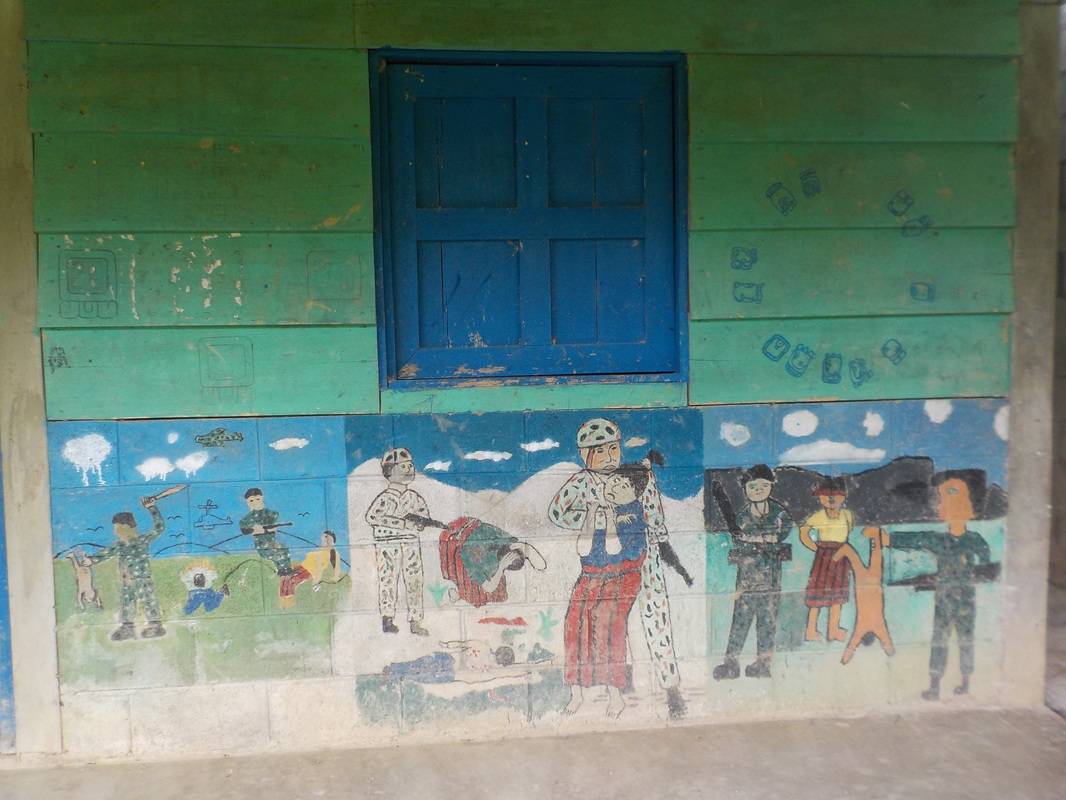 A wall in a school rooom painted by youth for a historical memory class. Photo Credit Kayla Myers.
I heard this declaration and saw this colorful sight on International Indigenous People's Day sitting in a community center echoing with giggles and squeals of wiggling children. The children represented over 13 different ethnic groups from Guatemala. In this riverside community, we were invited to share a celebration of life and culture with the children and grandchildren of survivors of a genocide that threatened the physical and cultural extermination of their families just 30 years ago. As children chanted "Resistir para Vivir! La Vida es Lucha!" (Resist to Live! Life is Struggle!) I realized the genocide has not stopped touching these lives.
Since I last wrote, we visited several communities affiliated with the Association for Justice and Reconciliation (AJR) who together with the Center for Human Rights Legal Action (CALDH) filed the first charges of genocide in 2001. These communities are home to survivors, their families, and witnesses in the genocide case. In one home, sitting over an afternoon lemonade with a mother and watching her youngest son play with his new marbles, the natural thread of conversation turned into an update on other family members. This thread wove a history of a brother scared into a state of madness and lost, a mother who refuses to return to Guatemala, and a father beheaded during the conflict. This tapestry included her own history of hiding and fleeing for months in the jungle then scraping together a living as a refugee in Mexico.
The trauma in many homes was as real as a guard standing in the corner restricting movement and breath of those inside; without reparations or justice the communities feel "abandoned." They are working to make a new life from the ashes and blood of massacres and many are facing sickness, the effects of trauma, poverty, and the remnants of discrimination and violence.
Genocide is not a part of the history of Guatemala; genocide is part of the school day, the family afternoon, and the daily life.
The roots of the conflict began in the historic oppression and racism against Indigenous peoples since the days of colonization. It became real with several government and military plans initiated between 1982 and 1983 by then head of state Efraín Ríos Montt. He first launched the National Plan of Security and Development linking socioeconomic development to the "extermination" of subversive elements. Indigenous people became these "elements."
Plan Victoria 82 is another example of a plan at the time. It was a response to the guerrilla movement at the time that was based in the same regions of the country as many Indigenous communities and was designed to exterminate the internal enemy through scorched earth policy and massive violence applied quickly and effectively. Other military documents revealed that the definition of "internal enemy" was the "entire Indigenous population."  Thus, because of ethnic identity and the location of their land, Indigenous people were set to be exterminated by
the military of Guatemala.
Efraín Ríos Montt was convicted of genocide and crimes against humanity on May 10th 2013; becoming the first ex-head of state in the history of the world to be charged with genocide within the country's own justice system. However, impunity in the justice system reigned and just 10 days later the Constitutional Court overturned the sentence, releasing Efraín Ríos Montt. Since that date, the legal struggle for justice and a genocide ruling has continued with stops and starts.
A retrial was set for January 11th of 2016. With a diagnosis of chronic dementia, the 89-year old ex-dictator is no longer required to be present in court but will have a representative stand in. He is also exempt from facing prison with such a diagnosis but could face an alternative sentencing in a hospital or similar institution. Why must this long struggle to prosecute an old man with dementia continue*? What difference does this case make in the actual lives of Guatemalans? I will leave that answer to the voices of the survivors:
"The thousands and thousands of victims will never abandon this struggle. We have to see it through. There are multitudes of victims by my side demanding that I speak out for justice and so I am going to speak out. In no moment will this [struggle] be abandoned. We have already made huge strides… I thank the people from other countries that are here surrounding us. I thank them. We are not alone because there are people that are supporting us."
A female survivor and member of the AJR, December of 2014
The precedents of justice must be set and upheld if Guatemala is ever to find healing, peace, and equality. The stories of survivors, like those I have met, must be told and retold or they will be buried in the continuance of oppression. We must share the stories as a connected humanity.
Yet, after being witness to the stories of horror and sitting in the struggles of re-building after genocide, my body was heavy and my spirit wary of ever opening to more stories. It was at the end of the trip when we arrived in that riverside community on that day of pride for Indigenous Peoples all over the world. It was there that I saw the search for healing, peace and equality being strengthened in Indigenous youth. The youth there are learning their true history and that their identity is important to the world; that their language, spirituality, worldview, dance, music, and medicinal practices are valuable and beautiful.
They declared in sure voices to the community that day that they have the right to practice their culture and have a right to a life free of discrimination and oppression. Their declarations filled that community center and the memories of their parents, grandparents, and great-grandparents were conjured by the tapping of bare feet performing traditional dances.
As I sat in that plastic chair with my camera in hand, the music of the Marimba began to lift me. The wiggling, giggling bodies surrounding me were joyous life and the serious yet soft faces of the young people as they bowed to each cardinal direction during their dances showed me the balance of light and dark that is our existence among earth, air, and water. Circling with arms filled with flowers, incense, or corn they created a natural
lifting energy. They lifted their voices:
"Que Viva el Pueblo Indigena!"
Thank you for reading this message, I encourage questions or thoughts! I would love to hear from you.
In solidarity,
Kayla Myers
*On Sunday, April 1, 2018, former Guatemalan de facto dictator Efraín Ríos Montt died of a heart attack. At the time of his death, he was being retried for genocide and crimes against humanity.  On September 26, in a split decision, Guatemala's high risk court found José Mauricio Rodríguez Sánchez, former Head of Military Intelligence under Ríos Montt, not guilty of genocide and crimes against humanity. The panel of three judges ruled unanimously that the evidence presented, which included testimony from over 100 Maya Ixil survivors, thoroughly proves that Guatemala enacted genocide against the Ixil people in 1982-1983. In their acknowledgement, the court specifically named Ríos Montt and his high command in what was essentially a postmortem conviction of the former dictator.