On May 10, 2013, former Guatemalan de facto dictator José Efraín Ríos Montt was found guilty of genocide and crimes against humanity and sentenced to 80 years in prison. The conviction is the first in the world to charge an ex-head of state for genocide in the national court system of the country in which the crimes took place. This marked the culmination of 12 years of dedication and determination by the Association for Justice and Reconciliation (AJR) and their legal team, the Center for Human Rights Legal Action (CALDH)
Just 10 days later, Guatemala's highest court, the Constitutional Court, voted in a 3-2 decision to annul trial proceedings that took place after April 19, 2013 – effectively overturning the historic sentence and sending the case back to a retrial. Guatemala's legacy of impunity has once again reared its head: deeply rooted power structures undermine the will of the survivors, the competence of the judges, and the integrity of the process.
The road toward justice has been long, and it will undoubtedly continue to twist and turn. While it is unclear how the case will proceed, the wave of emotions following the verdict that engulfed the courtroom and moved the world cannot be erased. The testimonies of survivors who bore witness to the terror and violence that destroyed their communities will not be forgotten.
Episode 24 of Skylight Picture's "Dictator in the Dock" shows the May 10, 2013 verdict against Ríos Montt – the moment he is found guilty of genocide and crimes against humanity. See other episodes from the trial by visiting Skylight Pictures.
"When the trial started, I was pleased because I knew that the truth had reached the people of Guatemala, and not just Guatemala but the world… They were able to annul the sentence politically but historically no one will take it away from us, the sentence remains in our hearts."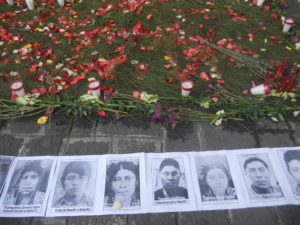 Members of the Association for Justice and Reconciliation share their reflections in 2017 as Ríos Montt is tried for genocide again.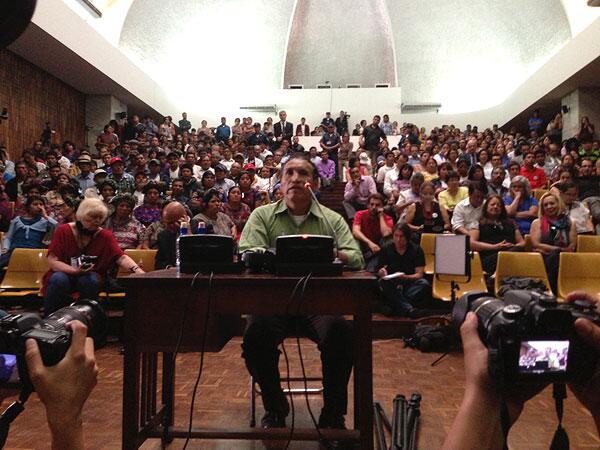 Our complete collection of daily coverage from inside the courtroom, during the 27-day trial that led to a guilty verdict against Ríos Montt in 2013. Photo credit: Xeni Jardin.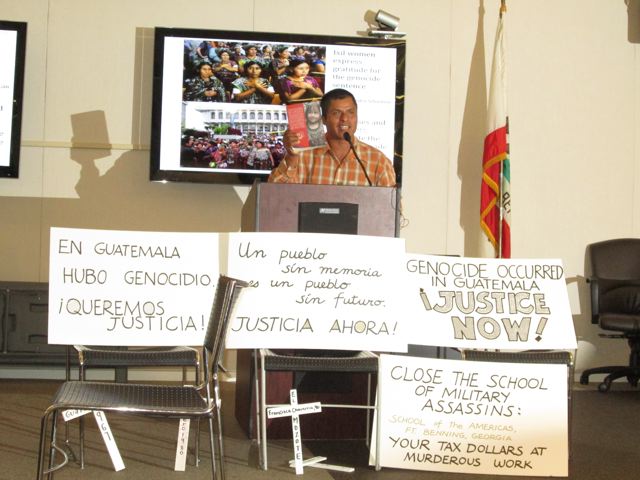 Over the course of three weeks in 2013, AJR President Anselmo Roldán met with over 1,000 individuals in 13 cities in some 40 speaking events during the 2013 NISGUA tour.
In Solidarity
In the lead-up to the 2013 genocide trial, hundreds of members of the NISGUA network voiced their support for survivors and members of the Association for Justice and Reconciliation and pledged to follow all trial proceedings and call for justice for genocide. We gathered 215 photos and 1,767 pledges from across the United States and many other parts of the world.