Solidarity with Indigenous migrants: Stop pandemic deportations and Title 42 expulsions of asylum seekers!
Migrants, especially Black and Indigenous peoples, have long been oppressed by an immigration system made to serve white supremacy and capitalism. After four years under an explicitly white nationalist administration, the U.S.'s immigration bureaucracy is either actively violating human rights or simply not functioning – an act of violence in itself. While the Biden administration does not have the progressive vision we need, it opens space for tangible change in the lives of millions of people. After a year of coordinating with over 40 Central and North American organizations in a campaign against the Asylum Cooperative Agreements (ACAs), deportations during the pandemic, and Title 42 expulsions of asylum seekers, we are well poised for concrete wins in 2021.
Deportations always violate human rights, and the long-term goal for social movements should be to stop them altogether. However, there is an even more urgent need to stop deportations during the pandemic. Experts estimate that from March 2020-February 2021, over 80,000 people have been deported to Latin America and the Caribbean.
Our Indigenous and Campesino partners are concerned that deported people are forced to return home to largely poor and rural communities. Lack of public health support from the U.S. and Guatemalan governments (including racism and classism in vaccine distribution) means that these deportees may bring COVID to communities that would otherwise be relatively safe due to their isolation. President Biden declared a partial 100-day moratorium on deportations on his first day in office, which a court later halted. Deportations continue and must be stopped. 
In March 2020, the Trump administration weaponized a Center for Disease Control and Prevention (CDC) order that shut the door to asylum seekers arriving at the U.S. southern border. There are currently almost no legal pathways for refugees to apply for asylum at the border. Instead, the U.S. has been transferring asylum seekers to Mexico or their countries of origin without a chance to seek protection. This violates laws protecting due process and non-refoulement (not forcibly returning people to countries where they may face persecution).
Through an executive order on February 2, President Biden ordered a "prompt review" of the CDC order and Title 42 rule. However, the administration and the Congress have not shown the political will to actually stop expelling asylum seekers. Pressuring them is vital to stop these inhumane and illegal expulsions. 
Take action! Sign the petition here.
Indigenous peoples of Abiayala (the Americas, in colonial terms) continue to face the destructive results of ongoing Doctrine of Discovery-based colonialism: imposed resource extraction, impunity for crimes against humanity, systemic poverty, robbing of ancestral lands, and more. Because national governments fail to uphold their human rights obligations, Indigenous peoples are forced to migrate in disproportionate numbers to seek those protections.
U.S. immigration agencies are violating international human rights standards for Indigenous peoples, including the right to exist as distinct peoples, the right to speak their primary language, and the right to due process (UNDRIP, ILO Con. 169, ADRIP, UN ICCPR). The U.S. government is engaging in a form of statistical genocide by omitting identity and language data of Indigenous migrants and misclassifying them as "Hispanic". The Department of Homeland Security (DHS) and its immigration enforcement agencies (CBP, BP, and ICE) are attempting to erase Indigenous migrants even when Indigenous migrants represent peoples and cultures that predate the nation states they migrate from. This discrimination against Indigenous peoples and their rights to language access violates their legal right to due process through every stage of the U.S. immigration system.
President Biden has taken steps to address some urgent needs in the immigration system, but deportations and expulsions continue. Previous and current administrations have failed in their legal duty to protect the human rights of all migrants, particularly Indigenous peoples. The Biden administration needs to recognize, consult, and directly engage with the leadership of Indigenous and Black migrants. To fulfill their duty, we call on the Biden administration to:
Immediately cease all deportations during the pandemic, which have contributed to spreading COVID-19 to otherwise relatively safe Indigenous communities,
Immediately cease all expulsions of asylum-seekers under Title 42, which disproportionately impact Indigenous children and Black refugees,
Require that CBP, BP, and ICE document Indigenous identity and language at first contact with migrants at the border, and ensure rigorous interpretation and translation to Indigenous languages at every stage in the immigration processes,
Rigorously include established Indigenous leaders and groups in all consultation and decision-making spaces related to migration,
Create an Indigenous human rights legal framework and agency-level protocols to enforce it,
Recognize Indigenous peoples rights and governance structures as legitimate and sovereign,
Rollback Trump-era policies that limit the refugee definition and restrict asylum eligibility, which impact Indigenous women and families,
Investigate the involuntary and uninformed sterilization of women in detention and identify Indigenous survivors among them.
For more information, please see:
NISGUA thanks the following groups for their support in writing this petition and gathering these resources: International Mayan League, Indigenous Languages Office @ Alitas Shelter, Giovanni Batz, Comunidad Maya Pixan Ixim, Center for Gender and Refugee Studies, Latin America Working Group, Asociación Pop No'j.
"On our own terms: Indigenous perspectives on forced displacement & immigration systems"
WHEN: July 1 // 3 PM PT // 5 PM CT // 6 PM ET
REGISTRATION: bit.ly/PropiosTerminos
PANELISTS: Floridalma Boj Lopez (Maya K'iche'), Gerónimo Ramírez (Maya Ixil), Natali Segovia (Quechua/Peruvian)
TAKE ACTION: bit.ly/IndigenousHumanRightsAction
INTERPRETATION: Spanish & English, Maya Mam (Todos Santos Cuchumatan) recording will be available after the webinar
CLOSED CAPTIONS: Spanish & English
MODERATOR: Edna Sandoval, NISGUA
*This webinar will be recorded in all three languages and shared with everyone who registers. We will send the Zoom link before the webinar*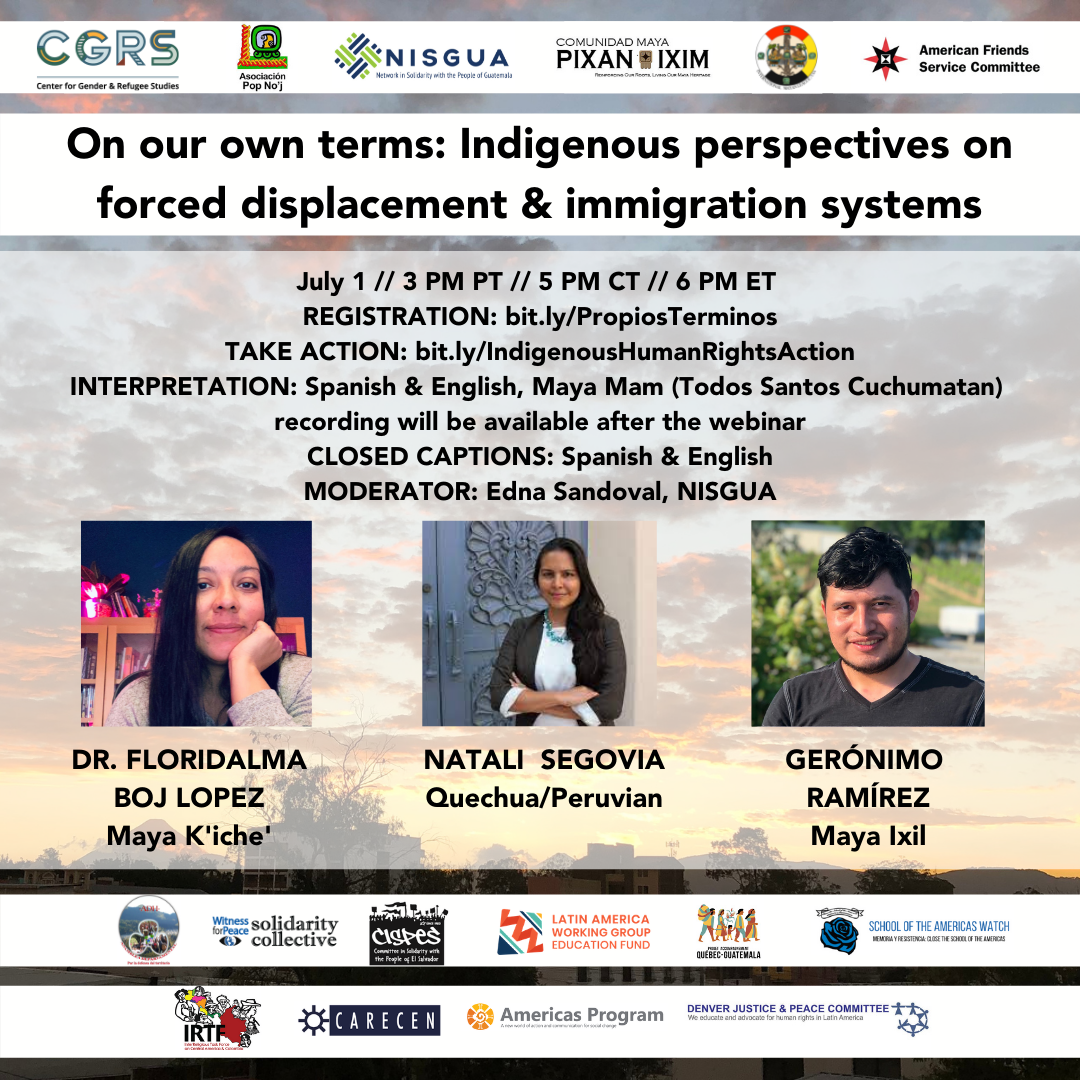 Thank you for watching for our webinar "Indigenous Peoples' Human Rights in Migration"! We thank our amazing panelists Juanita Cabrera Lopez (Maya Mam), Luis Marcos (Q'anjob'al Maya), Giovanni Batz (K'iche' Maya) for their moving speeches. Thank you also to all the sponsoring organizations (logos attached), especially American Friends Service Committee (AFSC) for their financial support. Finally, thank you to our interpreters, closed captioners, and graphic notetaker for making the webinar as accessible as possible.