For the past six weeks, I have had the honor of interning with NISGUA. I first became familiar with NISGUA's work via Oberlin Students in Solidarity with Guatemala (OSSGUA). I transferred to Oberlin in the fall of 2020 and was excited to learn about ExCo (Experimental College), a program in which students have the opportunity to teach a course of their choosing to interested Oberlin students. I enrolled in a course led by OSSGUA entitled "Conflict and Resistance in Guatemala." The class focused heavily on the Internal Armed Conflict and its legacy, especially as pertains to historic and ongoing U.S. imperialism in the country. In the Spring, I joined OSSGUA as a member, and we worked closely with NISGUA to organize a couple different events, including "Fighting for Water and Life: How Indigenous resistance stopped the Xalalá Dam," a Zoom event featuring José Gómez of the Association of Communities for Development and the Defense of Land and Natural Resources (ACODET). 
Towards the beginning of my internship with NISGUA, I watched "Indigenous Peoples' Human Rights in Migration," a webinar hosted by NISGUA back in March, and formulated some discussion questions based on it as part of a toolkit for potential house parties. A house party consists of gathering with members of your community to watch and discuss the above webinar, helping to fundraise for NISGUA, and taking action against pandemic deportations. If you are interested in hosting your own house party, click here. 
Around this same time, on June 7th, Vice President Kamala Harris visited Guatemala, in part to address the root causes of migration from Central America to the U.S. As such, for the past month or so, the U.S. role in causing forced migration from Central America has been at the forefront of my mind. At a news conference with Guatemalan President, Alejandro Giammattei during her visit to Guatemala, VP Harris, without any hesitation, told potential migrants in Guatemala and neighboring countries "Do not come. Do not come." She continued by saying that one of the priorities of the Biden administration would be to "discourage illegal migration." 
Harris faced backlash for her comments, with many criticizing both her callous attitude towards migrants and her failure to acknowledge the U.S.' own role in contributing to forced migration and displacement in Guatemala, as well as in Central America more broadly. Essentially, VP Harris continued a favorite tradition of the U.S. government– completely evading responsibility for disastrous situations they themselves created and blaming the very people who have been most severely impacted by US imperialist and neocolonialist endeavors for any struggles their communities might face as a consequence.
In the case of Guatemala, it was the CIA and the Eisenhower administration that overthrew the democratically-elected president of Guatemala, Jacobo Arbenz, in 1954, instituting a brutal military regime in his place. In the forty years that followed, particularly during the Reagan administration, the U.S. government played an active role in funding, arming, and training Guatemalan military forces as they terrorized and slaughtered hundreds of thousands of Guatemalan civilians, particularly Mayan peoples. 
U.S. involvement in Guatemala did not end in 1996 with the signing of the Peace Accords, however. Rather, the U.S. continues to exert a tremendous degree of influence in Guatemala, often in ways that are insidious and largely hidden from the general public. In her book Border & Rule: Global Migration, Capitalism, and the Rise of Racist Nationalism, Harsha Walia draws a number of crucial connections between U.S. involvement in Central America and what is commonly referred to as an "immigration crisis" or "border crisis," writing that, "The US border crisis is… more accurately described as a crisis of displacement generated by US policies" (39). She also explains that, "A long arc of dirty colonial coups, capitalist trade agreements extracting land and labor, climate change, and enforced oppression is the primary driver of displacement from Mexico and Central America" (3). 
Relatedly, in the NISGUA-hosted webinar I mentioned above, Dr. Giovanni Batz refers to the rise of extractive industries (mining, hydroelectric plants, etc.) in Guatemala as the 4th invasion/the new invasion. He identifies the three previous invasions as Spanish colonization, the arrival of coffee plantations and the exporting of agricultural products, and the Internal Armed Conflict, in that order. 
Walia's and Batz's analyses are especially important to understand in the wake of both VP Harris' comments on her visit to Guatemala, as well as the Biden Administration's newly released "US Strategy for Addressing the Root Causes of Migration in Central America." The twenty-page document makes no mention of the disastrous legacy of U.S. interventionism in the region, with VP Harris instead writing in the document's cover message that, "For decades, our nation has engaged in Central America. Often well intentioned, the engagement has often not been consistent." The strategy is also noticeably vague; for example, while it is claimed that "Likeminded government actors, as well as multilateral banks, private companies, foundations, civil society organizations, and international organizations, are interested in partnering on efforts to address the root causes of migration" (5), no entities are explicitly named, beyond the governments of Mexico, Japan, and Korea, and the UN. 
Notably, there are repeated suggestions of making Central America a more business-friendly place, with the term "private sector" appearing twenty-three times in just twenty pages. The strategy refers to the "private sector" as a historically "underutilized partner," with a firm declaration that "our Administration is calling on U.S. and international businesses to invest in the region… 12 have done so. Private sector investment not only boosts economic opportunity… it also incentivizes regional governments to create the conditions on the ground to attract such investment" (2). These twelve businesses from outside Central America that have already invested in the region are not named in the document, leaving us with no knowledge of which spheres these businesses operate in, what the nature of their investments is, nor what their motives are for investing in Central America. 
Unsurprisingly, there is also zero acknowledgement of the catastrophic role the "private sector" has played in many countries in the region, nor is there consideration for what people themselves in Central America may desire in regards to the degree of involvement of the private sector in their own communities. Instead, the strategy describes U.S. partnership with the private sector as a means to "support business-enabling environments that create decent work," with "decent work" being a reference to one of the UN's sustainable development goals (9). While it can be seen as a positive that the strategy mentions creation of jobs that provide "decent work," rather than simply job creation more broadly, it is unclear whether the partnering businesses themselves have any commitment to actually providing decent work, as well as what the U.S. government's vetting process of potential private sector partners would look like. 
Another part of the strategy that stood out to me was the U.S. government's simultaneous pledges to "support the development of well-trained civilian law enforcement…that…provide effective, accountable services with respect for the rule of law and human rights" and to "increase capacity of law enforcement…to address the unique transnational and national threats to the region" (15). These statements must be assessed in the context of the U.S.'s own inherently white supremacist and ultra-militarized policing institution, as well as the U.S. government's militarization of both the U.S.-Mexico border and immigration enforcement practices in Central American countries. Walia points out that the US actively "trains and funds immigration enforcement in El Salvador, Guatemala, Honduras, and Mexico through the Grupo Conjunto de Inteligencia Fronteriza" (89) and has "deployed border agents and investigative forces into Guatemala to restrict migration" (90). Regardless of the fact that civilian law enforcement/community policing often retains the same fundamental characteristics and structure of more traditional or militaristic policing, it seems highly unlikely that the U.S. government would have a genuine interest in demilitarizing law enforcement in Central America; both past and present U.S. actions would indicate quite the opposite.
While the Biden administration's policies and actions do not give me much hope, I am deeply grateful for NISGUA's ongoing commitment to meaningful solidarity work, and to the countless Indigenous resisters fighting back daily against neocolonialism, forced displacement, land dispossession, neoliberalism etc. In particular, I want to thank the speakers of the two NISGUA-hosted webinars I recently had the honor of attending: Juanita Cabrera Lopez (Maya Mam), Luis Marcos (Q'anjob'al Maya) and Giovanni Batz (K'iche' Maya) from "Indigenous Peoples' Human Rights in Migration,"  and Floridalma Boj Lopez (Maya K'iche'), Gerónimo Ramírez (Maya Ixil), Natali Segovia (Quechua/Peruvian) from "On Our Own Terms: Indigenous Perspectives on Forced Displacement & Immigration Systems." I feel that the wisdom and knowledge shared by them enabled me to more fully contextualize and understand the Biden administration's strategy and other recent discourse surrounding the "border crisis" than I would have otherwise been able to.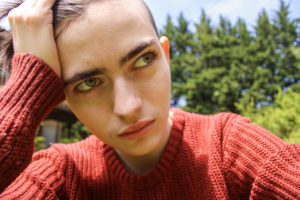 Kai Philippe is a rising senior at Oberlin College, where they are involved with Oberlin Students in Solidarity with Guatemala (OSSGUA). They are studying politics and international affairs, and have been interning with NISGUA for the past two months.