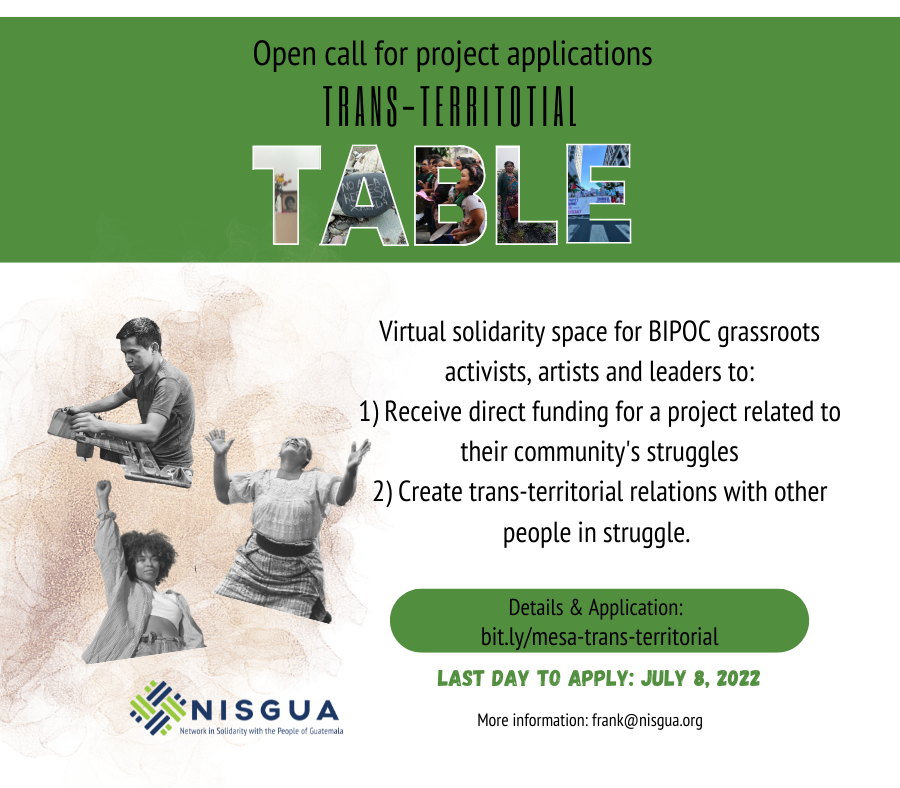 Are you in the struggle to defend territory, community, and life? Do you create art to help us dream of other worlds? Do you write and research to articulate analyses and imaginaries of justice and resistance? Are you guided by love for your people, for the water, the air, the land? Then we invite you to apply to the Trans-Territorial Table. We call on organizers, activists, artists, leaders from the community, from the grassroots, from the heart.
The Trans-Territorial Table is a virtual space to forge rebellious relationships, to build an organized and active trans-territorial diaspora, and to redistribute resources to Black, Indigenous, and racialized leaders and grassroots groups in Guatemala and the US for your projects of transformation.
The purpose of this space is for grassroots groups and leaders to propose projects, connect with each other, and hold a knowledge exchange–of your projects, resistances, challenges, strategies, tactics, angers, joys, dignities, and more.
To apply click here: http://bit.ly/mesa-trans-territorial
After completing this brief application, the accepted participants:
1) Will participate in the Table for 5 months (August-December).
2) Will participate in 4 collective virtual meetings, at the beginning of each month (2-3 hours).
3) Will participate in 2 individual virtual meetings with the organizers to coordinate access needs, special requests, and logistical support (2 hours).
4) Will receive a stipend of between US$200 and US$600 (depending on proposal) to facilitate a project that supports and amplifies the struggles in which they participate (for example: a mural, report, website, documentary, book, community action, travel, research, etc.).
5) Will present the project publicly at the NISGUA 2022 end-of-year fundraising event.
Important notes:
* Language interpretation will be provided.
* The final project can be presented in any language (for example: Maya Mam, Garífuna, English, etc.).
* NISGUA will not ask for authorship of the projects nor that they be included as co-authors. Permission will only be requested to be able to share the project on our virtual platforms and at the end of year event.
* Closing of application: Friday, July 8th, 2022.
If you have any questions, please contact us at: frank@nisgua.org