Ruby Tedeschi (she/elle/ella)  former NISGUA Internacionalista, recorded this update during their time as a volunteer with NISGUA. Turn the volume up and enjoy!
Dear Friends and family
I enjoy talking a whole lot more than I enjoy writing so I attached a voice recording with a little update about my experience here in Guatemala. Plese click in the link below for the full audio.
As you listen you will find corresponding photos and links included below!
The history of US involvement in Guatemala is quite complex. For a brief overview, I invite y'all to check out this letter written by Claire Bransky. If you are interested in diving in still further I would encourage you to read I, Rigoberta Menchú and Bitter Fruits.
Military Diary Case
In relationship to the Caso Diario Militar, this photo shows an artistic demonstration, organized by family members, displaying the faces of many of the people disappeared, tortured, assaulted, and murdered by the state. This took place on May 4th just before Judge Gálvez made the decision to send the 9 ex-military and police officers to stand trial.
Photo by: NISGUA
To see more of the artwork from H.I.J.O.S. Guatemala please visit their Instagram or Twitter pages.
To learn more about the Caso Diario Militar and to hear about the latest updates in this case and other transitional justice cases visit Verdad & Justicia and FAMDEGUA on Twitter.
Click here to read a recent report about the case and threats against Judge Gálvez.
Cumbre Plurinacional del Día del Agua
These are photos of some of the art included in the Cumbre Plurinacional del Dia de Agua. The first photo shows the blue fabric that was held up by many to emulate a river, it was really beautiful!
Just a little reminder that access to clean water and the struggle to protect it is happening all over the place. So I encourage you to do a little research about what might be happening near you!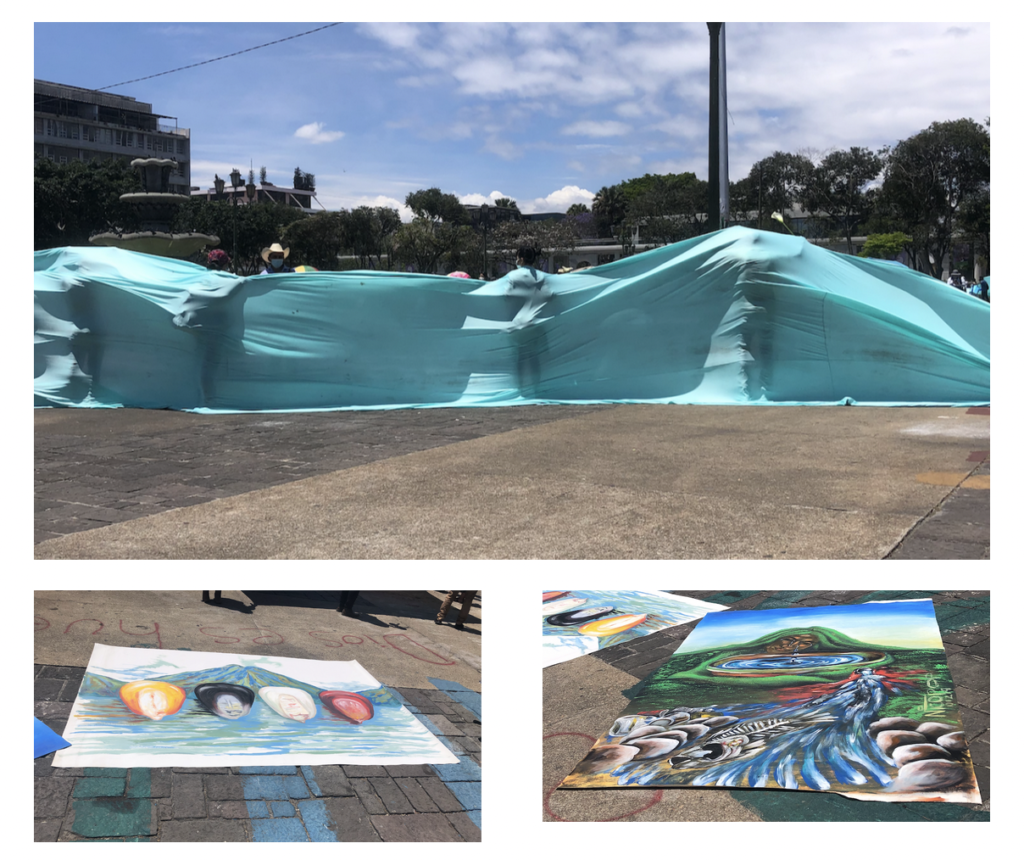 Photos by: Ruby Tedeschi
International Women's Day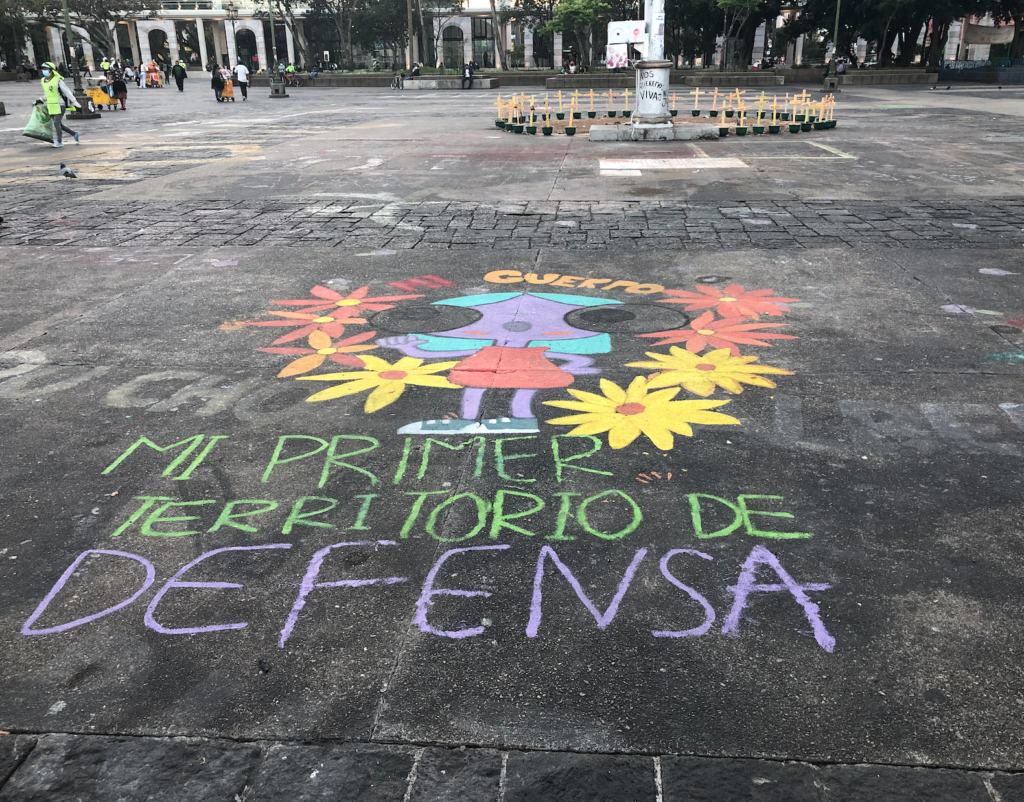 Photo by: Ruby Tedeschi
These are photos of some of the art put up by folks on March 8th. The first is chark art with a caricature that says "My body, my first territory of defense" in Spanish.
As many of you are already aware the attacks against bodily autonomy in the US are intensifying with the leaked supreme court decision and all the anti-trans legislation moving forwards.  If you are interested in taking action to support access to safe abortions as well as learn more about the history of anti-abortion movements in the US please visit the Keep Abortions Safe website. This website includes a list of Abortion funds as well as a little information on anti-trans legislation and the racist history of the anti-abortion movements and laws in place that specifically impact the bodily autonomy of Black and Indigenous folks.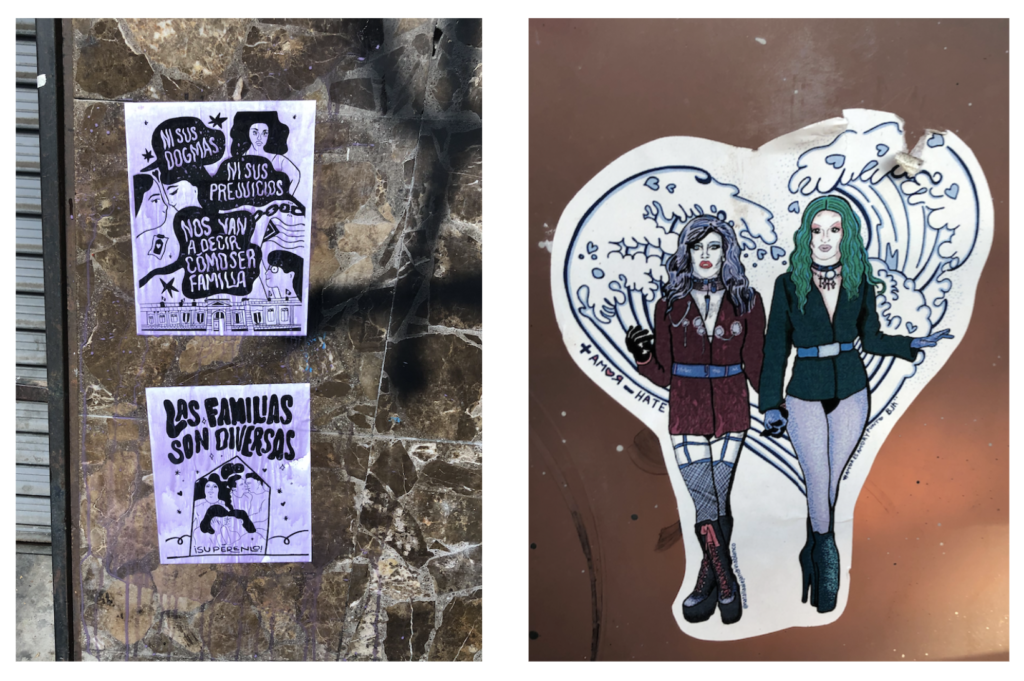 Photos by: Ruby Tedeschi
Thank you all for listening to my update! I am so grateful to have so many amazing people in my network and life!
Love you all,
Ruby