Isa Villalon, NISGUA internacionalista, wrote this letter upon their return to the United States in March, 2020. Since her return, Isa has been organizing with Abolish ICE Denver.
I wasn't able to send out my last friends and family letter before I left Guatemala. Now, as you may know, I am back in the US. Sending this out now feels a little bit out of place, considering that a large part of it was written in what now feels like a different world, a different time period. Yet, this world we are living in today isn't a different place. During this pandemic people are still experiencing the same injustices that they always have, the same oppressive cycles are still affecting the same people disproportionately.  So, the work we are doing will continue. We will adapt, pivot and rebuild, but we will not digress.
Just as they have for everyone, these last few weeks have changed a lot for me. On Friday, March 13th, I  accompanied the Association of Justice and Reconciliation (AJR) to  the Ixil Genocide Trials. That day, while we sat and ate lunch, cable news in the restaurant announced that the first case of COVID-19 had been identified in Guatemala. We watched the news, shrugged, and went right back to our conversations. But from that point on, every hour of every day was brought on with a little more collective concern. Things were changing rapidly and everything was becoming increasingly uncertain. On Sunday, a close friend had to make the extremely difficult decision to leave the country due to health concerns. Later that evening, the Guatemalan government announced its borders would be closing at midnight the following day. And by Monday, March 17th, I had to pack my life up and get on a flight 3 hours after buying my ticket. I feel anger, sadness, powerlessness and shame in leaving. Abandonment of my life there. A loss of community. A mourning for the ones I love. Deep concern for their safety. I also know that this all needs to be held in perspective–the virus is going to affect everyone but on a sliding scale, and in vastly disproportionate ways.
As we have seen repeatedly throughout history, in times of shock comes an increase in collective care, but also an increase in militarization, capital exploitation and privatization. Since the first case was announced in Guatemala, the country has only become more militarized, and, just as it has here, inequality has become that much more overt. The Guatemalan government responded by imposing a 4pm-4am curfew. All services deemed "inessential" have been shut down, as well as all public transportation. The informal economy, where 75% of Guatemala's workforce makes a living, has greatly slowed, causing millions of people to be uncertain about where they will get their next meal. Assemblies and freedom of movement have been completely restricted. The Xinka Parliament, a resistance movement against the Escobal Mine, has, for the last two years, maintained a 24-hour road encampment, blocking the entrance to the mine. As a result of the implementation of a curfew, they have had to make the extremely difficult decision to disband the encampments in order to protect public health. A few hours north, the Swiss-owned Guatemalan Nickel Company (CGN) mine, ordered to suspend operations last July, has continued to ignore the court order as well as the current curfew orders mandated in response to the COVID-19 health crisis.
COVID-19 has taken over our lives.  It has made everything else seem inconsequential, and larger struggles feel impossible to hold. Here in Colorado, we are all called in solidarity to quarantine. Yet, most people, in the US and internationally, cannot quarantine. Most people cannot stop working. Most people do not have the financial capacity to stock up on two weeks of supplies. The virus will kill many, but I fear that hunger will kill more.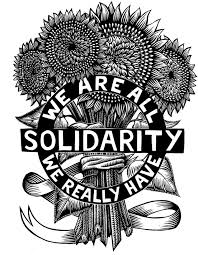 "Solidarity Sunflower" by Roger Peet from just seeds collective
COVID 19 is not just a health issue. It is a political issue that is tied up in economic systems that prioritize corporate greed over public safety and social systems that leave our most vulnerable populations unhoused and uncared for. Previously colonized countries will feel the burden of the economic fallout the heaviest. Immigration and Customs Enforcement (ICE) has continued to raid neighborhoods and mass incarcerate migrants in for-profit prisons. Although international travel has been barred, deportations have not. Women are being forced to quarantine with abusive partners and access to sexual and reproductive health services are being frozen.
Movements for housing, public health care, LGBTQ+ rights, women's rights and economic reform are all fundamental to how we respond to the COVID-19 crisis. Every single movement towards liberation is interconnected, and we need mutuality, human solidarity, and grassroots movements now more than ever.
As the globe becomes more militarized, resistance has become more dangerous. The involvement of and contribution from women and femmes in these resistance movements and solidarity networks is significant and increasing, as are the threats that they face. Our compañeras in Latin America are fighting every day, despite grave risks, to secure a future free of resource privatization, militarization and exploitation. This has not changed in the COVID-19 context.
This letter was written in conjunction with a series I have been working on to highlight the struggles of seven different human rights defenders and to commemorate their lives.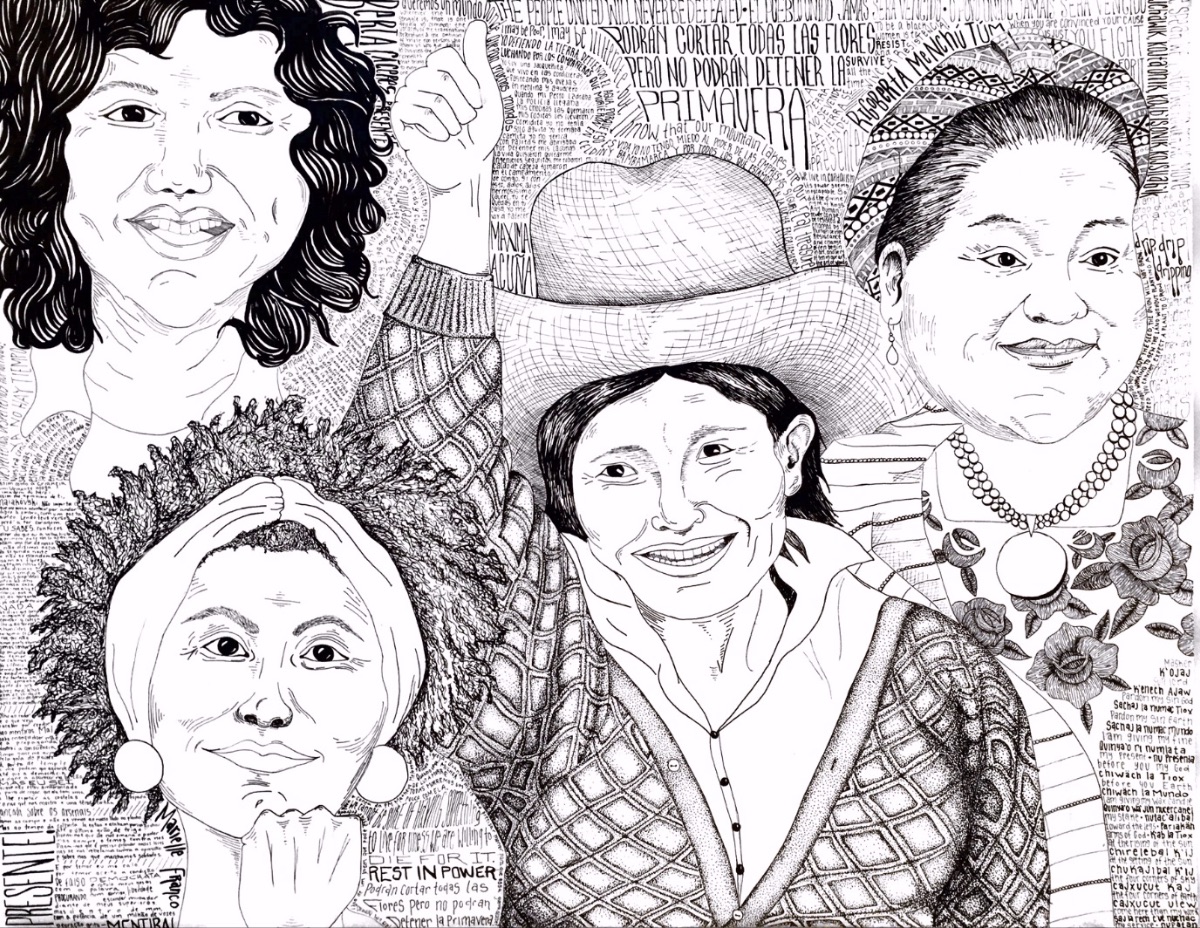 March 3rd was the four-year anniversary of Berta Cáceres' (top left) murder. The following day, March 4th, would have been her 49th birthday. Berta Cáceres was a Lenca Indigenous leader who fought in Honduras for land rights, for women's rights, against capitalism, neocolonialism, US imperialism and militarization. In 2006, she led one of the country's largest peaceful resistance movements (COPINH) against the development of the internationally funded Agua Zarca Dam, which was set up to be one of the largest dams in Honduras. The dam would have displaced thousands of families and essentially dried up the Gualcarque River, which is sacred to the Lenca people and provides sustenance for surrounding crops. Cáceres was shot and killed in her home in 2016 by US trained special forces that had been contracted by the dam company. Although seven perpetrators have been convicted for her killing, there has been no justice against the intellectual architects of her murder.
March 14th marked the two-year anniversary of Marielle Franco's assassination. Marielle Franco (bottom left) was a queer, Black human rights activist, feminist, and politician. She championed economic justice, racial and gender equality, and the demilitarization of the police force in Brazilian favelas, where, just as in the US, police violence disproportionately affects the Black community. She fought tirelessly for LGBTQ+ rights in Brazil, the most dangerous country in the world for transgender women. Marielle stood up for the poorest and most marginalized, and for that she was murdered. She was assassinated in 2018 by two retired military police officers that made up part of a local militia group known for carrying out paid killings for the wealthy and powerful. The two police officers that were convicted for her killing had close ties to the President of Brazil's, Jair Bolsanaro's, family.
Máxima Acuña (middle) is a Peruvian environmental activist who is fighting against the development of one of the world's largest open pit gold and copper mines. In the face of defamation, assault, criminalization and intimidation by Newmont Mining corp., ( based out of Denver) she has successfully led a community resistance that has halted the construction of the mine. You can learn more about her here.
Rigoberta Menchú (right) is a K'iche Mayan human rights activist that was instrumental in the peace process following Guatemala's Internal Armed Conflict. She grew up working on plantations and lost most of her family due to poor working conditions and the Internal Armed Conflict. She has been a prominent voice promoting Indigenous rights, Indigenous feminism, and peasant worker's rights in Guatemala. At 33 she won the Nobel Peace Prize. She has been an advocate for justice, reconciliation and historical memory regarding the Internal Armed Conflict and genocide against Guatemala's  Indigenous Mayan people. She just recently brought to court and won the first racial discrimination case ever in Guatemala against five members of the Guatemalan Republican Front, one of the parties in power during the genocide.
The day after we commemorated the fourth anniversary of Berta Caceres' assassination, another land defender in Guatemala was murdered. Her name was Dominga Ramos. She was part of CODECA (Committee for Campesino Development), a human rights organization and political party that fights for improving wage and working conditions for farmers, land reform and nationalization of electric companies in Guatemala. Members of CODECA have faced some of the highest rates of assassination and criminalization in the country. Fourteen members of CODECA were murdered between 2018 and 2019. Every single one of these murders has been met with impunity.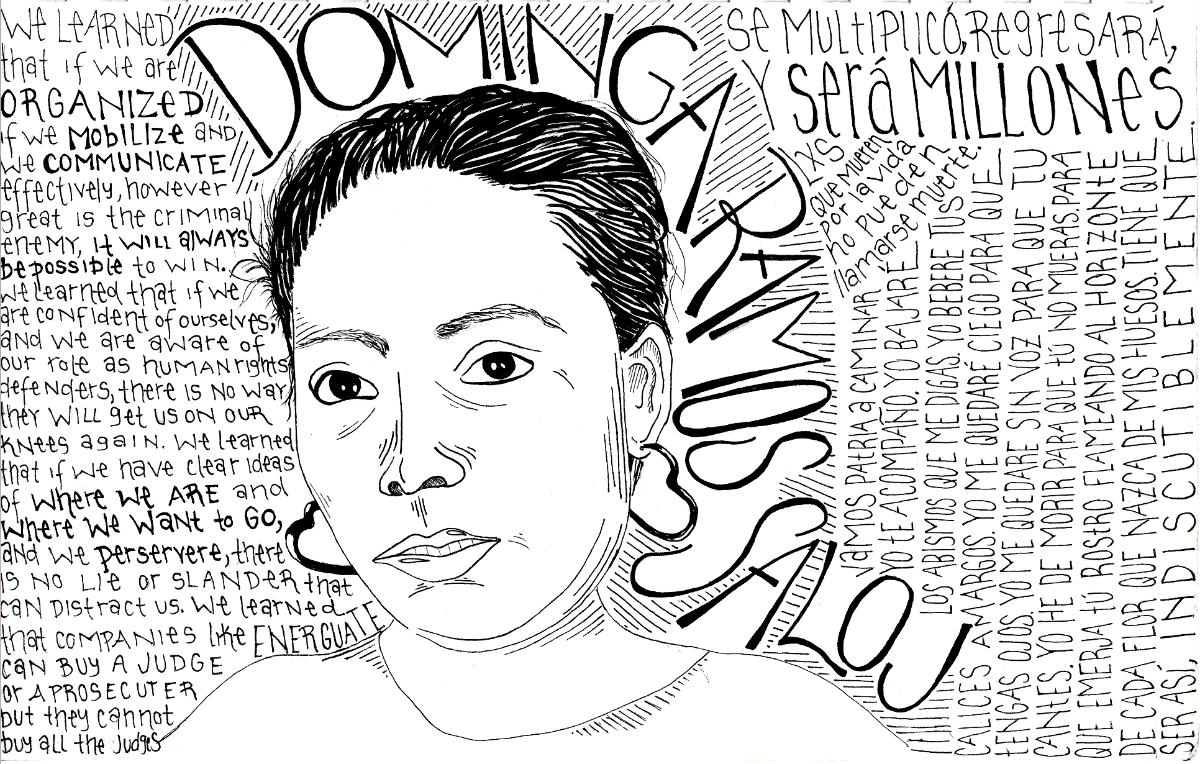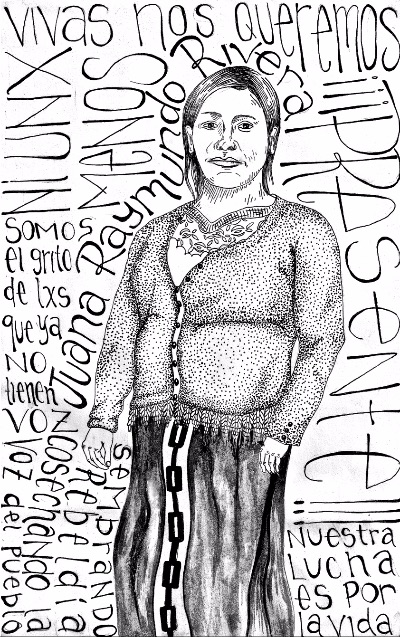 Juana Raymundo Rivera was a human rights defender and member of CODECA as well. She worked as a nurse, was an advocate for women's rights, and was an Ixil Mayan youth activist. She was sexually assaulted and tortured before she was killed in July of 2018. She was only 25 years old when she was murdered.
Topacio Reyonoso was an artist, a musician and the head of a youth activist group that fights against the second largest silver mine in Latin America, the then-US-Canadian-owned Escobal Mine. (the same mine mentioned earlier that has had to disband their encampments). Topacio was sixteen when she was murdered in an assault that targeted her and her father, Alex Reynoso. Although her father, another well-known member of the resistance, survived the attack, there have been two other assassination attempts against him since.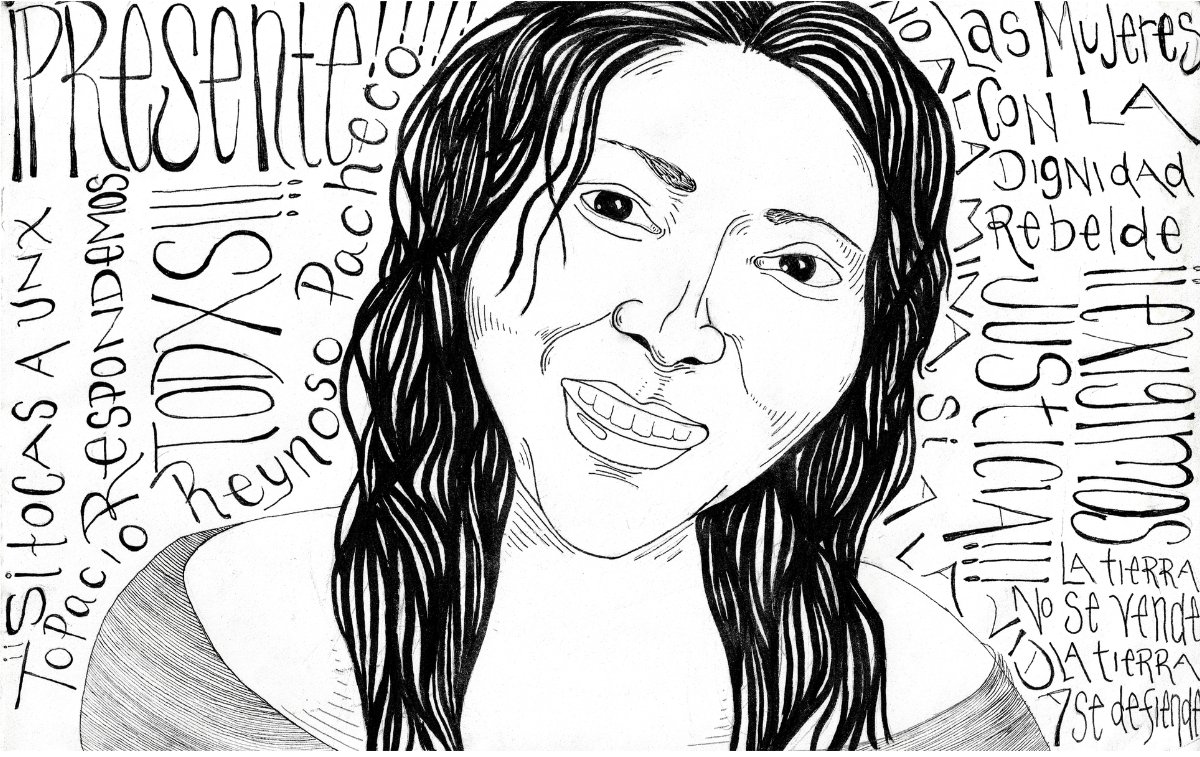 Threatening power and profit is dangerous, and even more so for those that are least protected by the state. Human rights defenders should not be killed for their work. Women, femmes and trans folks should not be killed for their gender identities. I hope that we can remember these names, remember these faces, and remember these stories and carry them with us as we move forward.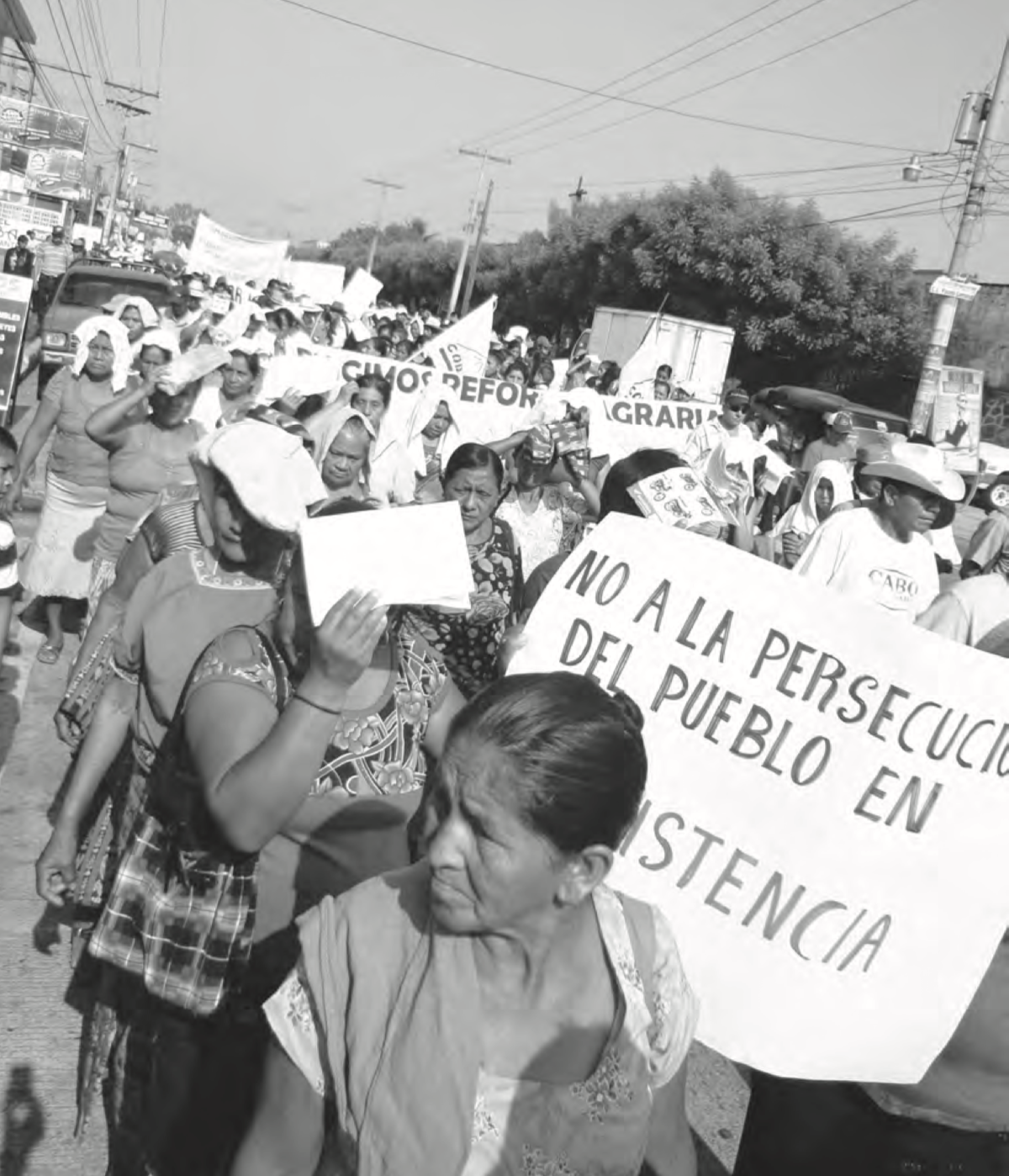 Women from CODECA (Committee for Peasant Development) protest continued assassination, criminalization and threats against human rights defenders.  Sign reads "No to the persecution of people in resistance". Photo credit: Front Line Defenders
In these times, it is easy to direct our attention elsewhere, but we cannot look away. Those that are most affected by this pandemic will be split along lines of race, gender identity, sexuality and economic standing. Black, brown, Indigenous and queer women and femmes will face the brunt of this repression. Although Guatemala has one of the highest rates of femicide in the world, this problem is in no way unique to Guatemala. In the US, although there is very little compiled data on femicides, some numbers say that there are up to 50 femicides per day. A disproportionate amount of these deaths are transgender women and women of color. Numbers of murdered and missing women within the Indigenous community in the US are extremely high, especially in areas impacted by the Keystone XL Pipeline. In Mexico, 10 women are murdered every day on account of their gender. On March 30th, Maria Elena Ferral, a journalist and human rights defender in Veracruz, Mexico, was murdered.  The pandemic will not curb the assassination and targeting of human rights defenders, nor the violence that women and transgender people face everyday, but will likely increase it.
These women are not victims, and they are not vulnerable, but rather, they are targeted and they are survivors. Despite the risks, femme activists continue to drive the struggle for land, water and human rights everyday. It is up to us to continue to fight and stand in solidarity with them.  I look to them for strength in this work. The loss of one will create thousands, and those thousands will come back, multiply, and create millions. I believe in the human spirit, in human resilience and in the power of human solidarity. In the words of Pablo Neruda "You can cut all the flowers, but you cannot stop the spring from coming."
Action Steps and Resources in context of COVID-19
Donate & Redistribute Resources
Participate
Join The Abolish ICE Denver resistance encampment outside of the GEO Aurora ICE Processing facility. Come camp or attend a nightly 8pm vigil!
Attend "Elijah's Walk Home" August 23rd in Aurora, Colorado to demand justice for Elijah McClain's Family!
Demand Change 
Resources
Database of localized resources for those in need during the COVID-19 pandemic
National resource tool kit for those facing insecurity in these times
Colorado Coalition Against Sexual Assault list of crisis management resources
Learn More