[Español abajo]
On July 30, 38 national and international organizations asked the World Bank Group to take decisive measures to reverse its contribution to fostering conditions that threaten the institutional order in Guatemala.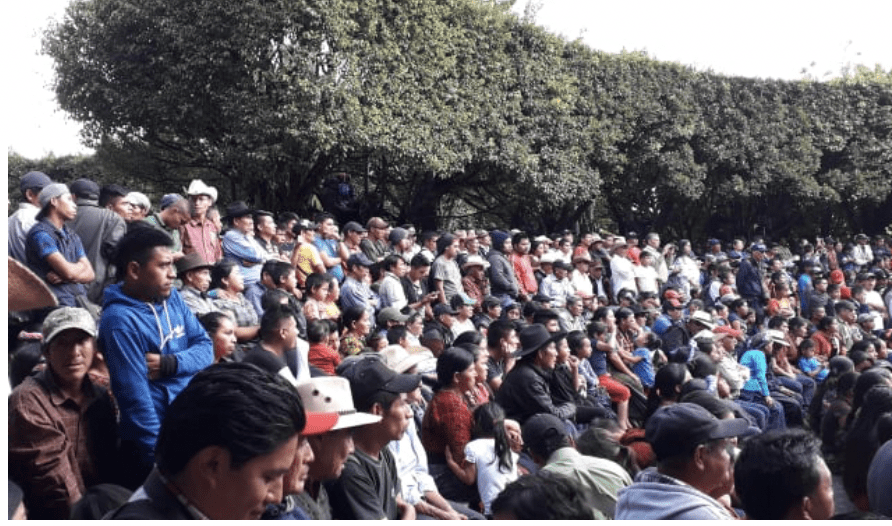 Meeting in Barillas to receive human rights defender and journalist Palas Luin, on January 2020 after he was released and charges  against him were dismissed by a judge. Photo credit: Isabel Solís/Guatemalan Human Rights Commission
July 30, 2020
David Malpass
President
World Bank Group
1818 H Street NW
Washington, DC 20433
Dear President David Malpass,
We write to express deep concern regarding the developing threat to the democratic order in Guatemala and to call on the World Bank Group to take decisive action to reverse its own contribution to facilitating conditions that now threaten the democratic order and the protection of fundamental rights of the people of Guatemala.
Over this past month, criminal networks, using their influence in the state, have sought to consolidate control over the judiciary in Guatemala both through advancing an illegal nomination process to replace the nation's appellate court judges, and through promoting a technical coup d'etat against the country's highest judicial authority, the Constitutional Court. This attack on the foundation of democratic governance has been decried by the Inter-American Commission on Human Rights and the United Nations Special Rapporteur on the independence of judges and lawyers.
The attempted technical coup against the Constitutional Court began just a few days after a landmark ruling relating to the Fenix nickel mine operation in the El Estor municipality. The Constitutional Court ordered Fenix's license reduced to 1/40th of its size to bring it into compliance with environmental laws, and that even operations in the drastically reduced area be suspended pending consultation with indigenous communities impacted by the project. The ruling affirmed the obligation to consult indigenous communities, clarifying that the results of consultations determine if the project may be carried out or not. As the first steps toward the consultation in the area were scheduled to begin, on July 19, the President of Guatemala declared a State of Siege, placing precisely those areas under military control, suspending the rights to assembly and freedom of movement, and allowing arbitrary detention and imprisonment. The use of emergency decrees suspending rights has become routine in Guatemala.
The Bank has partnered with and significantly strengthened the very same corruption networks that are behind these attacks against the fundamental principles of democracy—and now must reverse that partnership. Corrupt networks in Guatemala have attained a high level of influence in state institutions, working within those networks to promote impunity, violence and corruption. Using these tools, criminal networks advance industrial agriculture, mining and hydroelectric projects that extract resources from indigenous and small farming communities. The same corruption networks also ensure the undisturbed operation of organized crime. Supporting these activities is contrary to the World Bank's mandate and operational directives.
The International Finance Corporation (IFC), largely through financial intermediaries, is a key partner to many of the businesses that benefit from and actively participate in corruption and criminal networks and enrich themselves at the expense of indigenous and small farming communities. Indeed, by gaining income from these investments, the World Bank, too, is partaking in unjust enrichment at the expense of these communities.
Criminal networks that increasingly control Guatemalan state agencies use the most coercive and abusive expressions of state power for the enrichment of a corrupt and extremely violent governing kleptocracy which is intrinsically racist—constructed, in fact, on a genocide that occurred less than 40 years ago. While displaying banners calling for an end to racism, the World Bank Group is partnering with—and profiting from—the most violent expressions of a highly functioning, racist system.
The Maya Q'anjob'al of Barillas, Huehuetenango are among the peoples that were targeted with acts of genocide. Then , five years ago, indigenous authorities who were illegally and unjustly imprisoned wrote to the Compliance Advisor Ombudsman (CAO) to present a complaint against the Hidro Santa Cruz in Barrillas, which, using IFC financing, attempted to impose a hydroelectric project using the Q'anjobal communities' C'an B'alam river, using illegal licenses and what some evidence suggests are illegally obtained property rights. The results of a 2007 consultation were ignored, and the state did not carry out any process that could be characterized as the required consultation of indigenous communities. When communities protested, the company conspired with local prosecutors to maliciously target local indigenous authorities for wrongful prosecution. As a result, 20 authorities spent almost two years in prison, while dozens more were unable to look for work or market their products for fear of wrongful imprisonment. At the same time, company security forces inflicted violence on the communities.
Though the CAO finished its audit in December 2018, it was not until April 2020 that the IFC issued a response, published at last on June 11. We were shocked and saddened to read the IFC's response, which, for its part, constitutes a concerning indictment of the capacities, policies, and practices of the IFC. With its response, the IFC newly brutalized the same people whose human rights were violated so that IFC would profit. The IFC shirked responsibility for the end use of its financing, shifting responsibility to the IFC's financial intermediary, and in doing so defied its own operational directives. The IFC defended positions regarding free, prior, and informed consultation that are contrary to Guatemalan jurisprudence, laws and international conventions. The IFC ignored the results of the good-faith community consultation carried out with the participation of approximately 50,000 inhabitants of Barrillas in 2007 in which extractive projects were rejected.
The IFC touted the deeply flawed acquittal of the self-confessed murderer of a Q'anjob'al leader as an exoneration. The assassin, a former security chief for the company, was defended by the same lawyers who defended genocide authors and former presidents Efrain Rios Montt and Otto Perez Molina. His release can only be described as an indictment of Guatemala's judicial system. At the same time, the IFC minimized the exoneration in court of wrongly imprisoned indigenous authorities as a release. It was only after the wrongly imprisoned indigenous authorities became a focus of intense observation by national and international human rights organizations, including the Office of the High Commissioner for Human Rights that the case was transferred to special prosecutors and vetted high impact courts in Guatemala City. Only then were the abuses of the company and prosecutors in Huehuetenango exposed and the wrongfully detained released. Even so, the persecution of Q'anjob'al authorities continues.
Nearly 40 years ago, the World Bank financed the Chixoy dam, which led to acts of genocide against the Maya Achi people. The Rio Negro community was targeted in five massacres, one consisting of the slaughter of 107 children and 70 women. Then, like the more than 30 terrorized neighboring communities, it was deprived of its land and livelihood. The case of Rio Negro is notorious and contributed to the motivation to create the Safeguard Policies at the World Bank, yet these communities still have not received restitution. The communities displaced by the Chixoy dam were only a few of hundreds of indigenous communities in Guatemala targeted with violence, indeed crimes against humanity, in order to access resources held by indigenous and rural communities.
Hydroelectric projects recently or currently financed by the World Bank and its financial intermediaries, such as the HidroXacbal, Oxec, and Santa Rita, among others, are built on land taken from Mayan communities, often with the assistance of the violent networks the genocide implanted. This scenario applies, also to industrial agriculture initiatives financed by the World Bank. The IFC has financed Naturaceites, Ingenio Guadalupe, and Pantaleon, among other industrial agriculture companies that are deeply implicated in destroying the livelihood of indigenous and small farming communities.
Mining companies that are the beneficiaries of World Bank investments, such as Cementos Progreso, have destroyed communities using counter-insurgency tactics in times of peace. There are indications that loans intended for Small Medium Enterprises (SME) may have benefited the Mayaniquel mining exploration corporation, which then became part of the illegally operating Fenix nickel mine.
We have long heard explanations from the World Bank administration that it considers human rights to be political and cannot take human rights conditions into consideration. No stance could be more misguided. A nation cannot prosper, and the essential business needed to build a healthy and equitable society cannot grow when there are no consequences for the violation of the most fundamental contracts governing human relations. Guatemala is at a crisis point; the nation's highest court is under attack and its rulings are flagrantly disobeyed in the interest of further entrenching corruption, a reality which leads to dispossession and violence.
The World Bank must take all necessary measures to inform its government and private sector partners in Guatemala that investing in a country that does not respect its own judicial system jeopardizes compliance with the World Bank's operating directives, and all financing that contravenes these directives must be ended.
Sincerely,
Accountability Counsel
Alianza Para Movilizar Nuestra Resistencia (AMOR)
Alianza Politica Sector de Mujeres (APSM)
Americas Program, Mexico City
Asociación Feminista La Cuerda
Asociación para el Desarrollo Integral de Víctimas de la Violencia Maya Achí (ADIVIMA)
Center for International Environmental Law (CIEL)
Center for Political Ecology (CPE)
Consejo de Organizaciones Populares e Indígenas de Honduras (COPINH)
Cooperation Operation
Coordinadora de Organizaciones de Mujeres de Alta Verapaz
Coordinadora del Pueblo Ch'orti' (COMUNDICH)
Denver Abolish ICE
Fundación Mundubat
Global Justice Associates
Guatemala Human Rights Commission –GHRC-USA
Guatemala Partnership Committee, Congregational Church of Needham, MA
Guatemala Solidarity Project (GSP)
Human Rights Defenders Project (HRDP)
Institute for Policy Studies – Global Economy
International Labor Rights Foundation (ILRF)
InterReligious Task Force on Central America, Cleveland OH USA
Juntas Comunales Xinkas y Mestizas Marinocosteras Guatemala
Just Associates (JASS)
Km207 Guatemala-Suisse
Lumaltik
Mesa de Tierras Comunales de Guatemala
Movimiento de la Sociedad Civil de Barillas
Network in Solidarity with the People of Guatemala (NISGUA)
New Hampshire-Vermont Guatemala Accompaniment Project
Nicaragua Center for Community Action
Red Guatemalteca Mujeres Positivas en Acción
Red Maritimas-Guatemala Rompiendo el Silencio
Red Nacional para la Defensa de la Soberanía Alimentaria en Guatemala (REDSAG)
Parlamento del Pueblo Xinka de Guatemala
Rights Action
United Steelworkers – Canada
Andrés Cabanas, Periodista; Jasmin Hristov, UBC; Karin Slowing; Mugarik Gabe
                                                                                                                                                                                                                     30 de julio del 2020
David Malpass
President
World Bank Group
1818 H Street NW
Washington, DC 20433
Ref: la crisis constitucional actual en Guatemala
Estimado Presidente David Malpass,
Escribimos para expresar nuestra profunda preocupación por el atentado contra el orden democrático que actualmente vive Guatemala, y a pedir que al Grupo del Banco Mundial tome medidas decisivas para revertir su contribución a fomentar las condiciones que amenazan los derechos fundamentales del pueblo de Guatemala.
Hoy, redes criminales buscan consolidar control del organismo judicial de Guatemala, tanto a través de la promoción de un proceso de nombramiento ilegal para los magistrados de las cortes de apelación de la nación, como a través de un golpe técnico contra la máxima autoridad judicial del país, la Corte de Constitucionalidad. Se trata de un ataque a los fundamentos de la gobernanza democrática que ha sido denunciado por la Comisión Interamericana de Derechos Humanos y el Relator Especial de las Naciones Unidas sobre la independencia de los magistrados y abogados.
El intento de golpe técnico se inició pocos días después de que la Corte de Constitucionalidad emitió una resolución histórica relativa a la operación de la mina de níquel Fénix en el municipio de El Estor, ordenando que la licencia de Fénix se redujera a 1/40 de su tamaño para que cumpliera con las leyes ambientales, y que incluso las operaciones en el área drásticamente reducida se suspendieran hasta que se consultara a las comunidades indígenas afectadas por el proyecto. El fallo afirmó la obligación de consultar a las comunidades indígenas, aclarando que los resultados de las consultas determinan si el proyecto puede llevarse a cabo o no. Según lo ordenado, los primeros pasos hacia la consulta en la zona inician en plazos dentro de los primeros 45 días después de la resolución.  El 19 de julio el presidente de Guatemala declaró el estado de sitio, con la cual impone precisamente esas zonas, suspende los derechos de reunión y la libertad de circulación, permite la detención y el encarcelamiento arbitrario, y subordina la administración pública al ejército. El uso de decretos de emergencia que suspenden los derechos se ha convertido en procedimiento habitual en Guatemala.
La Corporación Financiera Internacional (CFI), en gran medida a través de intermediarios financieros, es un socio clave para muchas de las empresas que se benefician de la corrupción y de las redes delictivas, que en algunos casos participan activamente en ellas, y que se enriquecen a costas de las comunidades indígenas y de los pequeños agricultores. De hecho, al obtener ingresos de esas inversiones, el Banco Mundial también participa en un enriquecimiento injusto a expensas de esas comunidades.
Ahora debe revertir esa relación. Las redes de corrupción en Guatemala han alcanzado un alto nivel de influencia en las instituciones del Estado, trabajando dentro de esas redes para promover la impunidad, la violencia y la corrupción. Utilizando esos instrumentos, las redes delictivas promueven la agricultura industrial, la minería y los proyectos hidroeléctricos que extraen recursos de las comunidades indígenas y de pequeños agricultores. Las mismas redes de corrupción también aseguran el funcionamiento ininterrumpido de la delincuencia organizada. El apoyo a esas actividades es contrario al mandato y las directrices operacionales del Banco Mundial.
Las redes delictivas que controlan cada vez más los organismos estatales guatemaltecos utilizan las expresiones más coercitivas y abusivas del poder estatal para el enriquecimiento de una cleptocracia gobernante corrupta y extremadamente violenta que es intrínsecamente racista -construida, de hecho, sobre un genocidio que ocurrió hace menos de 40 años. Al tiempo que despliega pancartas que piden el fin del racismo, el Grupo del Banco Mundial se asocia con -y se beneficia de- las expresiones más violentas de un sistema racista de alto funcionamiento.
Los mayas Q'anjob'al de Barillas, Huehuetenango, se encuentran entre los pueblos objetos de actos de genocidio. Hace cinco años autoridades indígenas ilegal e injustamente encarcelados escribieron al Procurador Asesor de Cumplimiento (CAO) para presentar una queja en contra del proyecto Hidro Santa Cruz en Barrillas, promovido por la empresa EcoEner, el cual, utilizando el financiamiento de la CFI, intentó imponer un proyecto hidroeléctrico utilizando el río C'an B'alam de las comunidades Q'anjobal, utilizando licencias ilegales y, lo que evidencia sugiere que eran derechos de propiedad obtenidos ilegalmente. Se ignoraron los resultados de una consulta realizada en 2007, y el Estado llevó a cabo cualquier proceso que pudiera caracterizarse como la consulta requerida de las comunidades indígenas. Cuando las comunidades protestaron, la empresa conspiró con los fiscales locales para atacar maliciosamente a las autoridades indígenas locales por un enjuiciamiento indebido.  Como resultado, 20 autoridades pasaron casi dos años en prisión, mientras que docenas más no pudieron buscar trabajo o comercializar sus productos por temor a ser encarceladas injustamente. Al mismo tiempo, las fuerzas de seguridad de las empresas infligieron violencia a las comunidades,
Aunque la CAO terminó su auditoría en diciembre de 2018, no fue hasta abril de 2020 que la CFI emitió una respuesta, publicada por fin el 11 de junio. Nos sorprendió y entristeció leer la respuesta de la CFI que, por su parte, constituye una preocupante acusación de las capacidades, políticas y prácticas de la CFI. Con su respuesta, la CFI ha brutalizado recientemente a las mismas personas cuyos derechos humanos fueron violados para que la CFI se beneficiara. La CFI eludió la responsabilidad del uso final de su financiación, transfiriendo la responsabilidad al intermediario financiero de la CFI, y al hacerlo desafió sus propias directrices operacionales. La CFI defendió posiciones relativas a la consulta libre, previa e informada que son contrarias a la jurisprudencia, las leyes y las convenciones internacionales de Guatemala. La CFI ignoró los resultados de la consulta comunitaria de buena fe realizada con la participación de aproximadamente 50.000 habitantes de Barrillas en 2007 en la que se rechazaron proyectos extractivos.
El IFC promocionó la absolución del asesino confeso de un líder Q'anjob'al como una exoneración. El asesino confeso, un jefe de seguridad de la compañía, fue defendido por los mismos abogados que defendieron a los autores del genocidio y a los ex presidentes Efraín Ríos Montt y Otto Pérez Molina. Su liberación sólo puede describirse como una acusación del sistema judicial de Guatemala.  Al mismo tiempo, la CFI minimizó la exoneración ante los tribunales de las autoridades indígenas encarceladas erróneamente como una liberación.  Sólo después de que las autoridades indígenas encarceladas erróneamente se convirtieran en el centro de una intensa observación por parte de las organizaciones nacionales e internacionales de derechos humanos, incluida la Oficina del Alto Comisionado de las Naciones Unidas para los Derechos Humanos, el caso fue transferido a fiscales especiales y a tribunales de alto impacto de la Ciudad de Guatemala. Sólo entonces se pusieron de manifiesto los abusos de la empresa y los fiscales de Huehuetenango y se liberó a los detenidos injustamente.  Aún así, la persecución de las autoridades de Q'anjob'al continúa.
Hace casi 40 años, el Banco Mundial financió la presa de Chixoy, que dio lugar a actos de genocidio contra el pueblo maya achi. La comunidad de Río Negro fue blanco de cinco masacres, una de las cuales consistió en la matanza de 107 niños y 70 mujeres. Luego, como las más de 30 comunidades vecinas aterrorizadas, fue privada de su tierra y su medio de vida. El caso de Río Negro es notorio y contribuyó a la motivación para crear las Políticas de Salvaguardia en el Banco Mundial, pero estas comunidades todavía no han recibido restitución.  Las comunidades desplazadas por la presa de Chixoy eran sólo unas pocas de los cientos de comunidades indígenas de Guatemala que fueron objeto de violencia, e incluso de crímenes de lesa humanidad, a fin de acceder a los recursos en poder de las comunidades indígenas y rurales.
Los proyectos hidroeléctricos financiados recientemente o en la actualidad por el Banco Mundial y sus intermediarios financieros, como el HidroXacbal, Oxec y Santa Rita, entre otros, se construyen en tierras arrebatadas a las comunidades mayas por el genocidio, y con la ayuda de las redes violentas que el genocidio implantó. Este escenario se aplica también a las iniciativas de agricultura industrial financiadas por el Banco Mundial.  La CFI ha financiado a Naturaceites, Ingenio Guadalupe y Pantaleón, entre otras empresas de agricultura industrial que están profundamente implicadas en la destrucción de los medios de vida de las comunidades indígenas y de pequeños agricultores.
Las empresas mineras que son beneficiarias de las inversiones del Banco Mundial, como Cementos Progreso, han destruido comunidades utilizando tácticas de contrainsurgencia en tiempos de paz.  Hay indicios de que los préstamos destinados a las pequeñas y medianas empresas (PYMES) pueden haber beneficiado a la corporación de exploración minera Mayaniquel, que luego pasó a formar parte de la mina de níquel Fenix, que funciona ilegalmente.
Aunque hace tiempo que escuchamos explicaciones de la administración del Banco Mundial en el sentido de que considera que los derechos humanos son políticos y no puede tener en cuenta las condiciones de los derechos humanos. Ninguna postura podría ser más equivocada.  Una nación no puede prosperar, y los negocios esenciales necesarios para construir una sociedad sana y equitativa no pueden crecer cuando no hay consecuencias por la violación de los contratos más fundamentales que rigen las relaciones humanas. Guatemala se encuentra en un punto de crisis; el más alto tribunal de la nación está siendo atacado y sus fallos son desobedecidos flagrantemente en aras de seguir afianzando la corrupción, una realidad que conduce al despojo y la violencia.
El Banco Mundial debe tomar todas las medidas necesarias para informar a su gobierno y a sus socios del sector privado en Guatemala de que la inversión en un país que no respeta su propio sistema judicial pone en peligro el cumplimiento de las directrices operativas del Banco Mundial, y que debe ponerse fin a toda financiación que contravenga estas directrices.