Ana (they/them), Internacionalista 2023 wrote this letter on October 23rd, 2023 during the Guatemala National Strike.
Right now, it is day 21 of a massive Plurinational Strike in Guatemala, led by the Indigenous Authorities. There have been days with over 100 points of shut down highway across the country.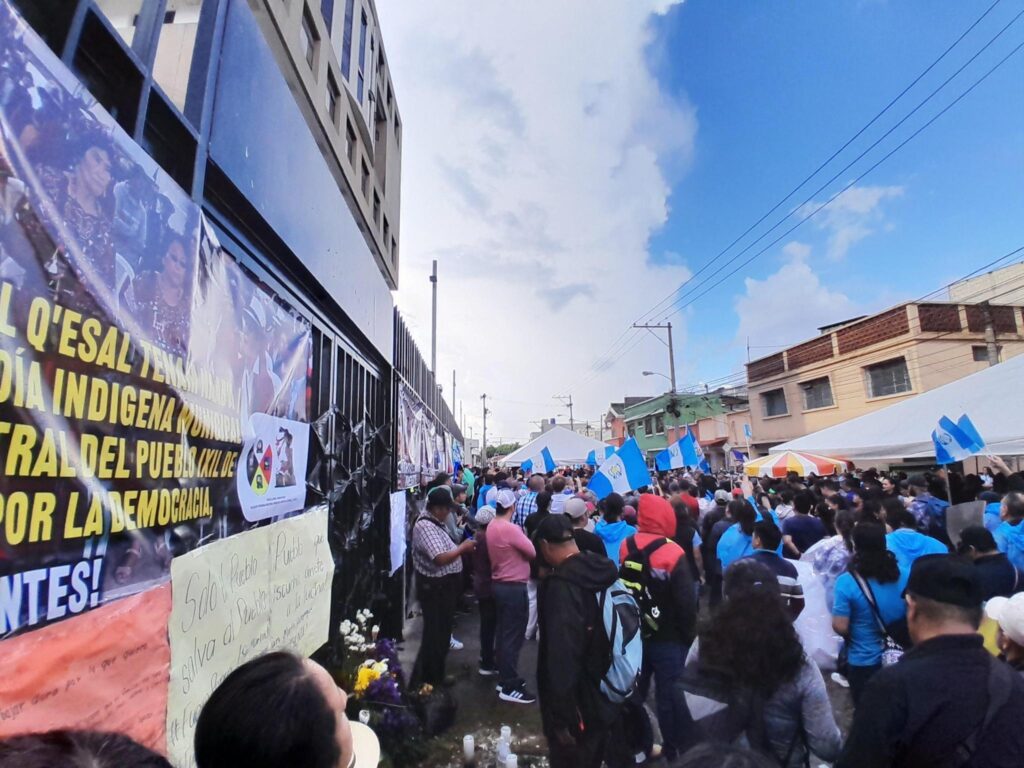 Photo credit: NISGUA Internacionalista. Hundreds of people protesting outside of the Public Prosecutor's Office (MP). October, 2023. Guatemala City.
The people of Guatemala are demanding: democracy, the resignation of the Attorney General Consuelo Porras and the resignation of other corrupt politicians who have taken anti-democratic actions in the context of the August presidential election. The strike has been a time where the Guatemalan people are reclaiming public space––dancing in the streets, playing soccer, biking, cooking and sharing food, holding ceremonies.
The size, organization, and cross-territory Indigenous leadership of the mobilizations is historic. Energy, solidarity, and eyes on Guatemala! (Take a look at this 2-minute video about the strike captioned in english)
In a future letter, I will share more about what these days have been like, but here is where I want to start: my first couple weeks in Guatemala.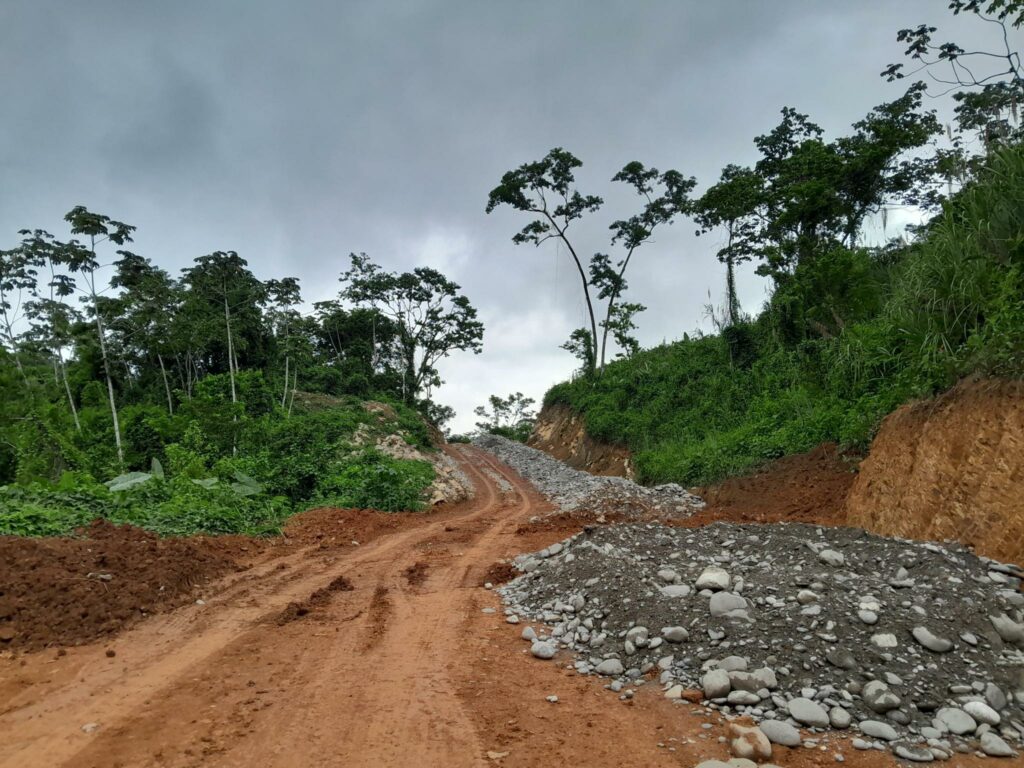 Photo credit: NISGUA Internacionalista. Picture of a red-soil road near Copal AA. It is surrounded by trees and a dramatic cloudy sky.
In the town of Copal AA, there is a loudspeaker on a hill that can be heard from anywhere in the couple hundred person community. As we get off the bus, three names are called out on the loudspeaker, followed by, "tienen que tener la cena lista a las 6pm // remember to have dinner ready at 6pm!"
Any time someone stays in Copal AA, the community takes collective responsibility for feeding the invitados (guests). That first night, I was hosted by doña Ana for dinner (yay Anas!). To understand why we were invited to Copal AA, you must understand its history.
Copal AA was formed by returned refugees in the 1990s. These returnees were forced off their lands by the genocidal scorched earth policies enacted by the U.S.-trained Guatemalan military in the 1980s. Where did they seek refuge? The Indigenous Guatemalan refugees sought refuge in México for about a decade, after which they negotiated an agreement with the Guatemalan government for their return. In this agreement, returnees maintained their right to an international presence before, during, and after their return. That is where the relationships of international accompaniment start.
Copal AA (full name Copal AA La Esperanza) was one community created by a small group of returnees who named their town after water and hope, mixing Spanish and Mayan languages (there are at least five Mayan languages spoken by the people of Copal AA, who use Spanish to communicate as a common second language). And the community takes seriously the name their founding elders gave them. It is extremely tight knit, and being at the crossing of two major rivers means they can grow the food necessary to feed the community, drink, and bathe. Water is life! But it also means they are under threat of an extractive hydro-electric project that threatens all life in the area.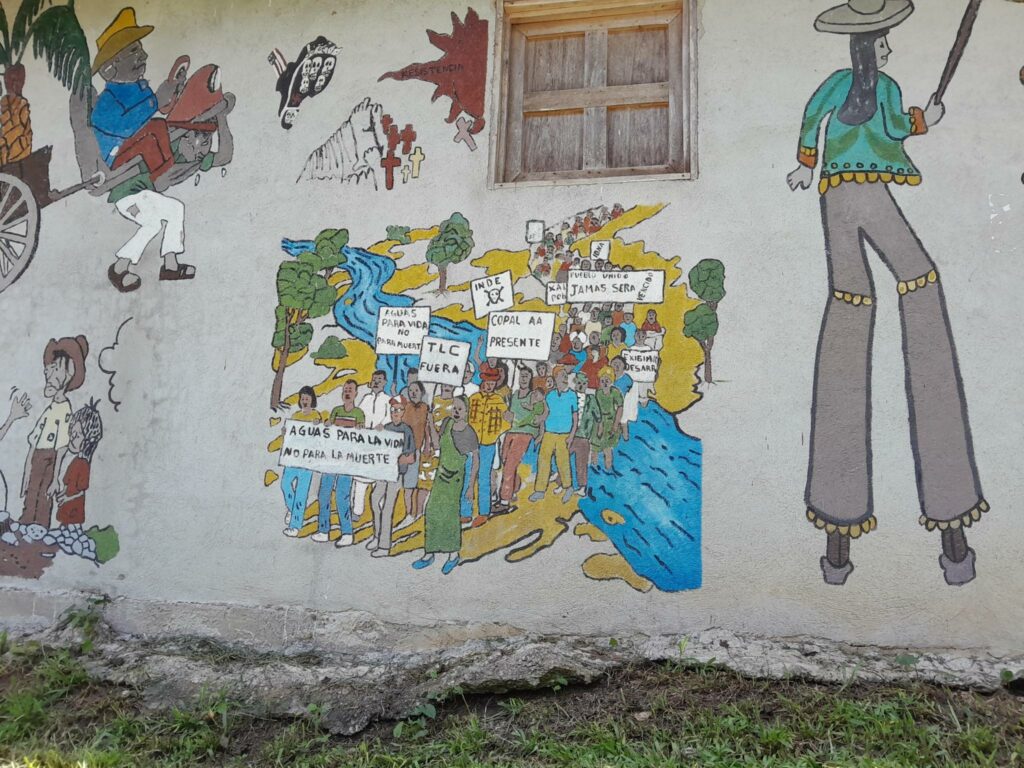 Photo credit: NISGUA Internacionalista. Mural on a school building wall depicting people protesting by a river. They hold signs that say "Aguas para la vida, no para la muerte (Waters for life not for death)," "Copal AA presente (Copal AA present)," and "Pueblo unido jamás será vencido (The people united will never be defeated)."
The community is organized, along with more than 30 other communities in the area, to defend water and life. These communities categorically reject the proposed Xalalá Dam. They have called for international awareness of and solidarity with their struggle.
After that first dinner with doña Ana, we spent several days meeting with people in the area, including the consejo comunitario or community government, teachers and students, and community organizers across several towns in the region. Starting to meet and build relationships with people in Copal AA was an incredible way to start my time here. You can't do anything without confianza, truly knowing and trusting each other.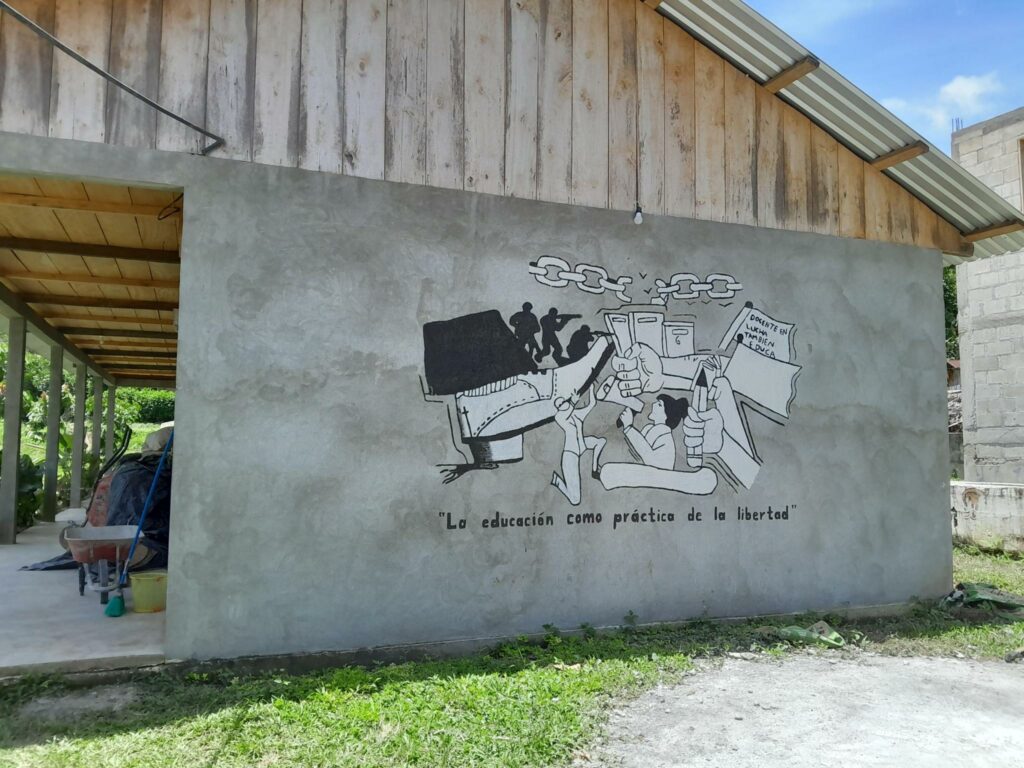 Photo credit: NISGUA Internacionalista. Mural a school building wall in Copal AA. There is a picture of people breaking open chains, resisting a shoe stepping down on them, and facing armed military with raised fist, pencils and books. Written underneath is "La educación como práctica de la libertad" // "Education as a practice of liberation."
So why am I here, why was I looking for NISGUA?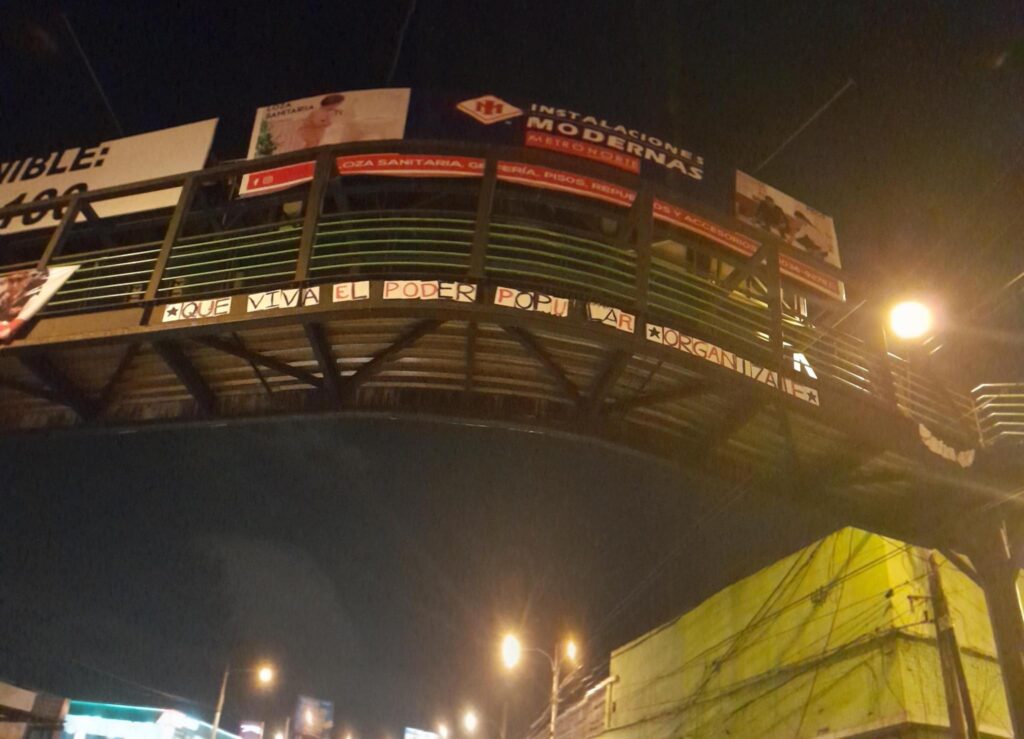 Photo credit: NISGUA Internacionalista. Glued onto a bridge in Guatemala City, "Que viva el poder popular organizade" // "May the organized popular power live"
For a long time, I wanted to live somewhere in Latinoamerica. My first language was Spanish, I was born in so called California. I am white and Jewish. My parents were born in Colombia and Chile, but migrated to the Bay Area as kids. All of these truths felt like contradictions growing up. Like, who am I? Where do I belong?
As I started getting more involved in my communities at home (Puichon Ohlone land) and seeing the importance of internationalism in our movements for life, dignity, and justice, I started taking more seriously the desire to live and work in another place.
At some point, I met someone who had been an Internacionalista with NISGUA (Network in Solidarity with the People of Guatemala), and the name stuck with me because what she said about it sounded like an organization that was taking seriously what international solidarity meant.
To refresh you on what NISGUA is: it was formed in the 1980s during the Internal Armed Conflict in Guatemala, by people in the US. A large part of NISGUA's work has been in the frame of international human rights accompaniment, accompanying mostly Indigenous organizations and people who have requested NISGUA to walk alongside their luchas to defend life, water, and land; and to seek justice for genocide committed during the Internal Armed Conflict.
As I get more familiar with the struggles here, it comes into sharp focus how all of our lives are interconnected, how the rivers here and the rivers up north are connected. And how necessary it is for us all to listen to and join with Indigenous organizers who––worldwide––are committed to keeping water & land & people alive and thriving.
Photo credit: NISGUA Internacionalista. Painted on a wall in Guatemala City, "El agua no es negocio. ¡Dejen en paz nuestros ríos!" // "Water is not business. Leave our rivers in peace!"