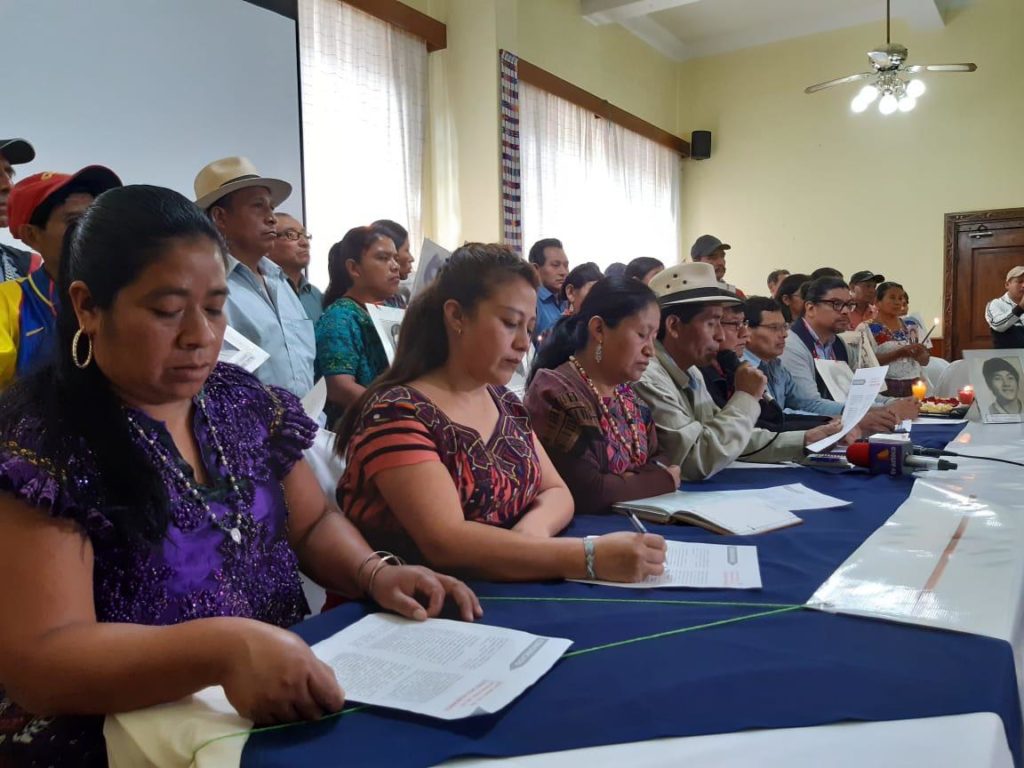 Survivors of the Internal Armed Conflict at their Press Conference. Photo Credit: Impunity Watch
Statement on International Human Rights Day
The Victims and Survivors of the Internal Armed Conflict, convened in National Assembly, declare before national and international public opinion that:
1. We publicly condemn the weakening of all peace and human rights institutions, like the Secretary of Peace (SEPAZ), the Presidential Commission for the Coordination of Human Rights Policies (COPREDEH), and the National Compensation Program (PNR); and the pro-military and anti-democratic policies of the Jimmy Morales government, which caused serious setbacks during his four years in government. He was dedicated solely to guaranteeing lawlessness and promoting militarization, against all that was established in the Peace Accords and international agreements signed by the Guatemalan State. The Morales government will continue on in history as one of the most incompetent and destructive administrations that the country has ever had.
2. We reject the efforts of the current Congress of the Republic, which is trying to pass a general amnesty law for military personnel responsible for genocide, massacres, forced disappearances, rapes of women, and other horrendous crimes that occurred during the Internal Armed Conflict. The Congress joined in the search for impunity for politicians and corrupt businessmen, and did not pass any law of benefit to the victims and survivors of the Internal Armed Conflict.
3. We are concerned that the next government could continue with the same pro-military policies and weakening of peace and human rights institutions. It is unacceptable that the president-elect, Alejandro Giammattei, has appointed ex-military personnel that participated in the Internal Armed Conflict to sit on his security cabinet. The Peace Accords establish that public safety should be in the hands of the National Civil Police, and that the Army should limit itself to protecting the borders, because they are responsible for past crimes that they committed.
Therefore we demand:
1. That the next government bring back the Peace Accords agenda and strengthen the institutions in charge of peace and human rights, like SEPAZ, COPREDEH, PNR and the Historical Archives of the Guatemala National Police (AHPN).
2. That the next Congress approves the law initiative 3590 concerning the search for disappeared persons and law initiative 3551 concerning the National Compensation Program; and abstains from approving any type of amnesty for violators of human rights and initiatives against the dignity of victims and survivors of the internal armed conflict.
3. That the justice system prioritize investigations and trials for crimes committed during the Internal Armed Conflict, especially in cases of Ixil genocide, Military Zone 21 in Alta Verapaz (CREOMPAZ), and Achi women.
4. That the authorities respect the independence of the Human Rights Ombudsman and the Constitutional Court, because these institutions promote respect for the rule of law.
Finally, we call on the international community to keep joining the peace process and the democratization of the nation. Guatemala is experiencing a difficult time, and requires international support to keep the serious human rights violations of the past from repeating again.
Guatemala, December 10, 2019
Read the full statement in spanish