This week, NISGUA received a delegation from the Chicago Religious Leadership Network on Latin America (CRLN) in our Guatemala City office. NISGUA relies on a strong network of individuals and organizations, like CRLN,  fighting in the global struggle for social justice and respect for the earth. We work in coalition with local organizations throughout the U.S. to quickly disseminate information from our partners in Guatemala and mobilize them to take action.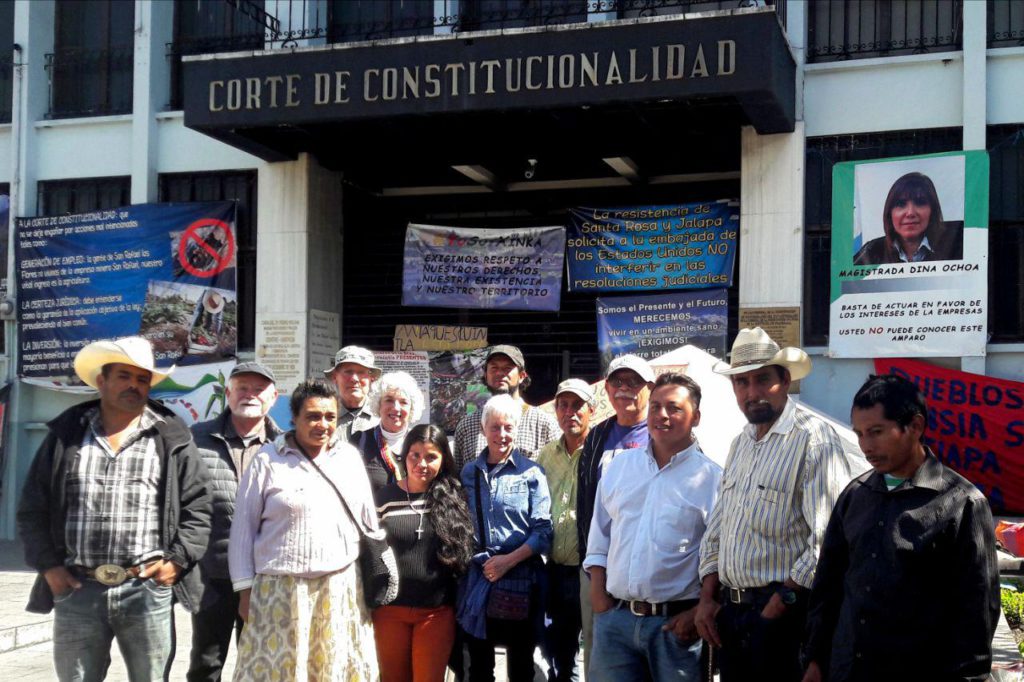 NISGUA and CRLN visited members of the Peaceful Resistance of Santa Rosa Jalapa and Jutiapa outside of their camp at the Guatemalan Constitutional Court in Guatemala City where community members have maintained a 24-hour presence since November 6, 2017. Here, community members from San Rafael Las Flores told us why they are demanding the permanent closure of Tahoe Resources' Escobal silver mine.
"We are here in resistance, hoping that the authorities of the court carry out their function responsibly and that they listen to the clamor of the people. We are not concerned with wealth. For generations, we have lived from our mother earth, with beans and rice and sufficient water.
[This is] a struggle for a better life, and not only for us… We are not alone, there are many people who we do not even know who are part of this cause – people who are in favor of the right to life, the right to peace, and to development free of pollution."
The Guatemalan Supreme Court temporarily suspended Tahoe's license to operate the Escobal mine in early July as a precautionary measure while courts decide if the Xinca people were discriminated against and if their right to free, prior and informed consent was violated.  Plaintiffs, including the Xinca Parliament, the Centre for Environmental, Social and Legal Action (CALAS) and mayors from 5 directly impacted municipalities gave their arguments on August 28. On September 8, the Supreme Court determined that the Xinca people's right to consultaton was violated. However, rather than ordering the permanent closure of the mine as a result of this illegality, they ordered the Ministry of Energy and Mines to conduct a consultation in Xinca communities post factum, during which time the mine would be allowed to resume operations. CALAS and the Xinca Parliament immediately filed an appeal before the Constitutional Court. Over two months later, the peaceful resistance still awaits a decision.