This October we want to honor the current struggle of the People against colonialism, capitalism, imperialism. The legacy of today's resistances will be the freedom of the People of tomorrow! It is so powerful to see, hear, and feel the People calling out: No to corruption, no to laws that destroy the territories, no to laws that seek to erase historical memory. 
The liberation of the People will be on their own terms or it will not be!
Rest in power Don Marcial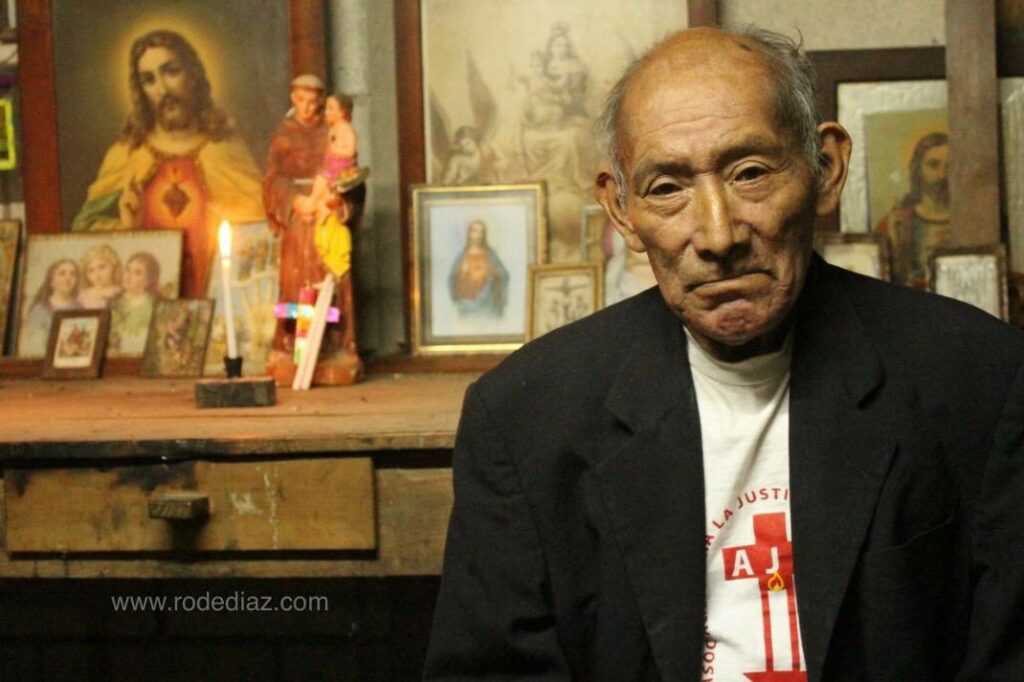 "When the moment comes that I disappear from this world, I do not want a pantheon to be built for me, because Mother Earth gave me everything I needed to live, and since I have no other resource to give back to Mother Earth, then my body will be my payment. 
From her I took everything I needed to live in this world. As our Ancestors say, I ate bitter, I ate sweet, I ate acid, everything she gives. That is why my body is ready to give back a little bit of what she gave me.
I am a survivor of a massacre of 14 people, unfortunately it is painful and sad what happened here [in my house]. That was the plan of those who manage large economic resources, they want to maintain inequality, they do not want to give us the right to equality. That feeling and that pain of seeing with my own eyes how my three children, my brother, my nephew, my brother-in-law and other neighbors who are innocent died. My wife was shot twice and lived 28 years after that happened.
We do not want this struggle for the search of justice to end, because those who committed these barbarities are free and we must see that a sentence is achieved for them–it is not that one wants to be vindictive but it [justice] is a right, because every human being has the right to live. 
They used brute force, disregarding that we all have the right to live, as it says in the annals, even the smallest insect has the right to live. They tied my nephew's neck with barbed wire and left him tied to a tree, not even a dog can be tied by the neck and hung, and now a human being?  That pain and that feeling for me is unforgettable. 
I will never give up this struggle because I am doing it for the blood of the martyrs and not for myself, and until God tells me this is where it ends. But my story remains here because the young people do not know those who were responsible, that is why for me it is valuable that the faces of those who made those decisions and those who made the plans are recorded. This is necessary for there to be no repetition".
Fragments of the last conversation I had with Don Marcial Martín Xajil, in his home in the community of Chijocón, San Martín Jilotepeque, Chimaltenango, February 2022.
Marcial Martin Xajil, Maya Kaqchikel, founder of the Association for Justice and Reconciliation, a fighter for justice for the crimes that occurred during the genocide in Guatemala between 1982 and 1996.
Rest in power Don Marcial! 
Written by Rode Díaz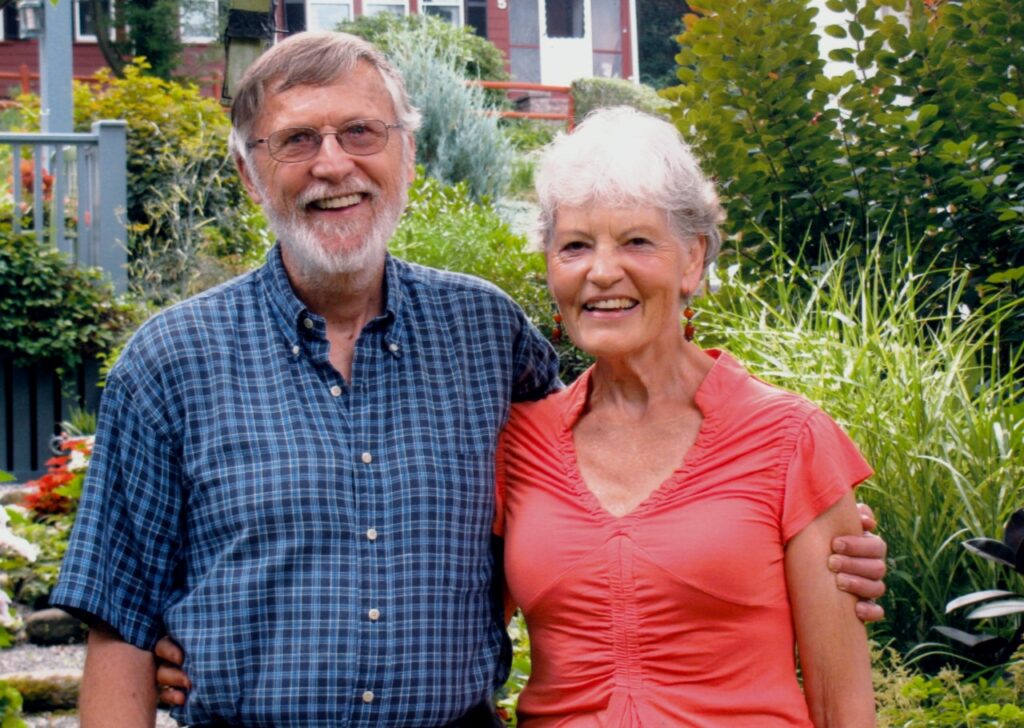 Photo courtesy of Needham Guatemala Partnership
Clark Taylor (and his late wife Kay) were champions and stalwarts of the Needham Sponsoring Community (which they founded). Clark's volunteer field work with anthropologist Beatriz Manz in the 1970s and 80s contributed to her books Refugees of a Hidden War: The Aftermath of Counterinsurgency in Guatemala and Paradise in Ashes, the latter of which explores the history of Santa Maria Tzejá (Quiché, Guatemala). 
Much has and will continue to be said about Clark and Kay, but for the communities of Needham  in Massachusetts, United States and Santa Maria Tzejá, Clark's passing marks the end of an era of giants. Clark and Kay created a partnership between the Congregational Church in Needham and Santa Maria Tzejá in 1987. This enduring partnership, which includes twice annual delegations of people from Needham (and thereabouts) to Santa Maria Tzejá, bringing international solidarity, funds administered directly by the community improvement committee, and carrying physical duffel bags of letters from 135 families who have maintained "partner family" relationships with 135 families in Tzejá, endures today.
Clark and Kay (who passed earlier this year) shaped a generation of Needham youth (and hundreds of others) to care deeply about Guatemala, challenge their assumptions about the United States being benevolent (or even benign), and act in our own communities to leverage our privilege in solidarity with communities internationally. 
What I know is that without Clark and Kay, I wouldn't be who I am, and I would never have found a home in NISGUA. For that alone, I am deeply grateful. And I am also deeply grateful for the hundreds of people whose lives they have touched in the Boston area and beyond, people who have been inspired and compelled to look beyond borders, to challenge US imperialism, and to ground all of that work in relationships and shared humanity.
Clark Taylor, Presente. 
Written by Amanda Kistler
Threats continue to pass amnesty laws for crimes of Internal Armed Conflict in Guatemala
A few months before the end of Giammattei's administration, the governing board of the Congress of the Republic included in its legislative agenda the proposed Strengthening for Peace Law which (6099 Law). If approved, it would grant amnesty to people who committed crimes against humanity during the Internal Armed Conflict (1960-1996), including those who have already been convicted, linked to criminal proceedings or who have arrest warrants. This initiative contradicts current national and international law, which establishes that grave human rights violations should not be subject to mechanisms that maintain the perpetrators in impunity.
This is the third attempt to pass such a law within the last five years, following attempts in 2017 and 2019. Both attempts were strongly denounced by survivors and victims. In 2019 a resolution of the Constitutional Court (CC) qualified the law initiative as contrary to the constitution and the IACHR (Inter-American Commission on Human Rights) urged the Guatemalan state not to approve such a law.
Earlier this month, after being consulted again, the CC dismissed the request to issue an advisory opinion on this proposed law because the request lacked the necessary legal requirements. However, again, on October 19 of this year, the governing board sent a new request for an advisory opinion to the CC. As in 2019, the IACHR pronounced itself against the possible approval of this law.
For their part, survivors and victims of the Internal Armed Conflict organized in the Association for Justice and Reconciliation (AJR) expressed in a public statement their rejection with total indignation of such an initiative and pointed out that "these events are added to the actions of the government of Alejandro Giammattei in dismantling the institutionality of Peace, which attempt to erase the Historical Truth: in Guatemala there was Genocide, violence and sexual slavery, forced disappearances, extrajudicial executions, massacres, scorched earth policy, forced displacement and other abuses, as State policy. "
As NISGUA we are attentive to new attempts to pass such a law, which would erase more than a decade of progress in efforts to uncover the truth about the crimes of the past and hold accountable those responsible.
What is the "MONSANTO" law?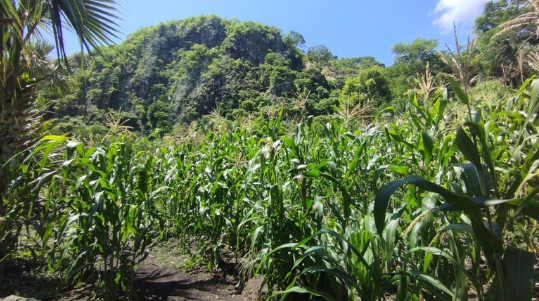 Photo by: cpr.urbana/@cpr.u 
Its real name is Law for the Protection of Plant Obtaining Varieties. It was approved on June 26 by the Congress of the Republic of Guatemala and came into force on September 26. This law was proposed to the Congress by deputies of right-wing and conservative political parties, who did not forget that it was part of the commitments made in the Free Trade Agreement between Guatemala and the United States in 2005.
On several occasions, legislation has been passed to comply with the FTA trade agreement and the popular pressure has caused it to be reversed. This law took 18 years to be approved because there was a lot of opposition, especially from indigenous peoples who have organized themselves within the National Network for the Defense of Food Sovereignty in Guatemala (REDSAG) to express their rejection.
 The objective of this law is to "protect the intellectual property of seeds for commercial purposes", that is to say, it obliges whoever registers see them as theirs to pay for the use of seeds. It is known as Monsanto, due to the capacity of this multinational corporation to modify seeds, privatize and monopolize production as it has done in other countries of the continent, affecting native seeds.
The most affected by this law are the indigenous peoples, because it contemplates penalties for those who plant modified seeds without a license issued by the State and there are no conditions for the peoples to register their seeds that they had previously safeguarded for generations with the ancestral knowledge of the safeguarding of life.
In a recent statement, the Departmental Assembly of the Peoples of Huehuetenango – ADH makes a strong rejection of this law along with the Hydrocarbon Law, because "these destructive laws are exterminating the native seed of indigenous peoples, their knowledge and ancestral wisdom." And they continue to call for the elimination of these laws, which we hope that, with the strength of the articulation of the indigenous peoples, this law and all those that affect the peoples, the territories and the web of life will be eliminated.
Guatemala national strike updates!

Photo by: HIJXS Guatemala October 20, 2023. Commemoration of 79 years of the October Revolution,
Guatemala has been on indefinite national strike since October 2, civil society organizations, labor unions, students, peasants, urban collectives, indigenous and ancestral authorities, neighbors from different neighborhoods of the country have mobilized against the corrupt actions of the Attorney General and head of the Public Prosecutor's Office, the Special Prosecutor Against Impunity and the Justice System. 
Despite the fact that the Constitutional Court has ruled in favor of a corruption, in which it "orders the use of public force to evict peaceful demonstrations" because of the private interests of the Coordinating Committee of Agricultural, Commercial, Industrial and Financial Associations (CACIF), social protest has been a resource of the people to assert sovereignty and demand respect for and defense of democracy, which has been violated by the same institutionality.
In October 20 commemorated 79 years since the beginning of the October Revolution, a period known as the Spring, in which for 10 years some significant benefits were obtained for the Guatemalan population. However, in the midst of the National Strike, this day had a massive call, more than 20 exit points in the city, caravans from the territories, and marches at the local level all took this significant day to raise the voice of the people demanding the resignation of corrupt authorities. and also putting up the slogan "NOT ONE STEP BACK! UNTIL THEY RESIGN". 
NISGUA 2024 Calendar: Interwoven Wisdom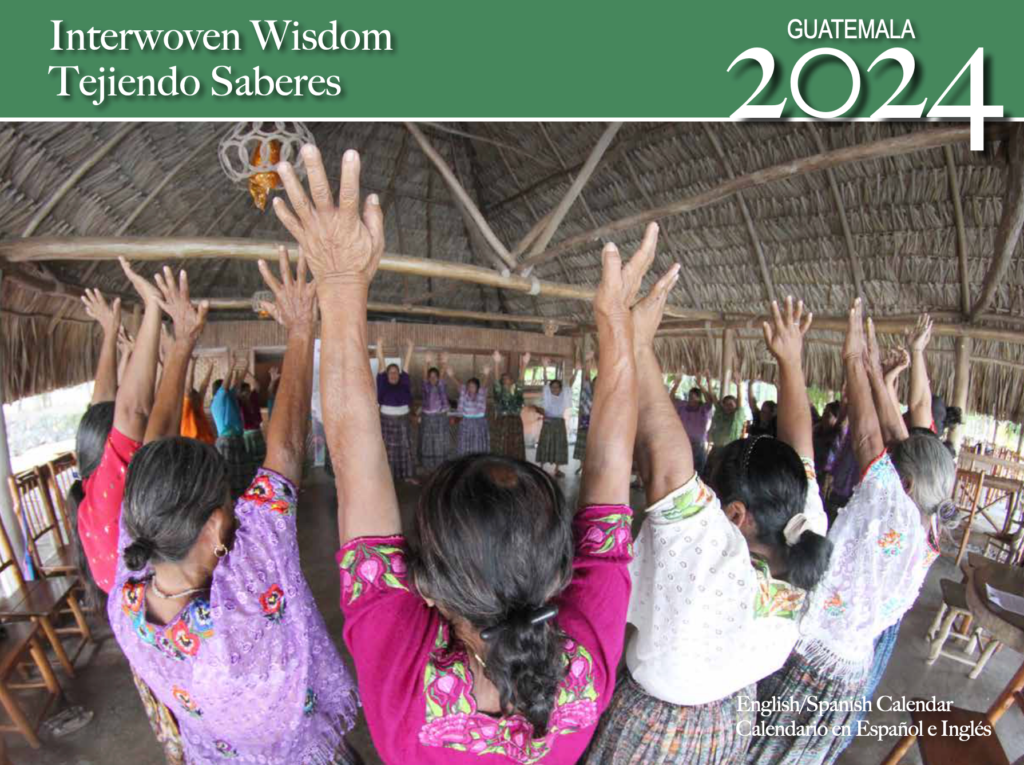 Photo credit by: CPR-Urbana. Instagram: @cpr.u. Facebook: @cpr.urbana. X: @puebloresiste. Sepur Zarco, Cahabón, Alta Verapaz. 2019. 
Our 2024 calendar uplifts diverse and interconnected ways of knowing. We celebrate the wisdom of weaving and learning, offering and feasting, creating and dancing, mobilizing and proclaiming, providing and organizing, protecting and honoring.
Calendars should ship by early November.