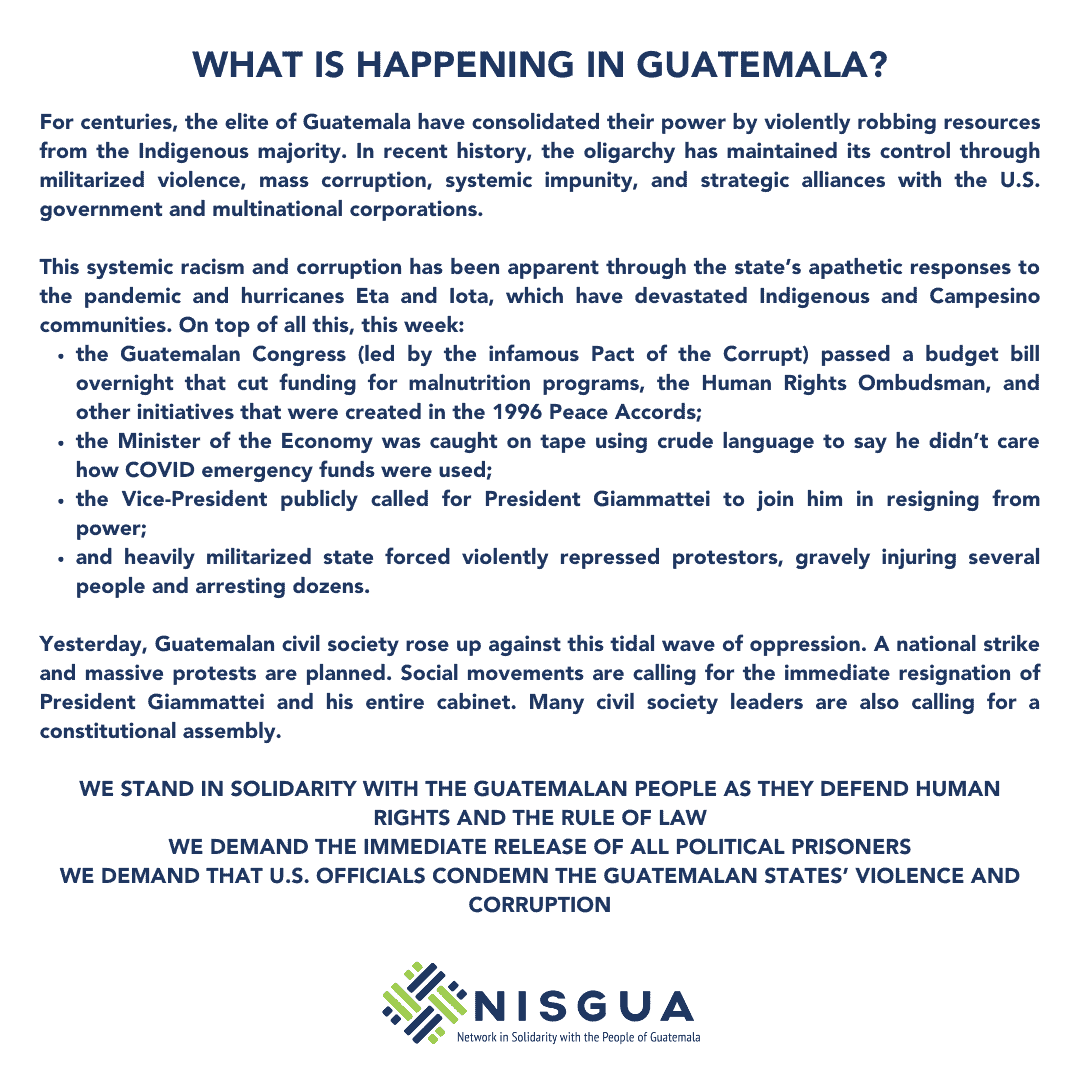 WHAT IS HAPPENING IN GUATEMALA?
For centuries, the elite of Guatemala have consolidated their power by violently robbing resources from the Indigenous majority. In recent history, the oligarchy has maintained its control through militarized violence, mass corruption, systemic impunity, and strategic alliances with the U.S. government and multinational corporations. This systemic racism and corruption has been apparent through the state's apathetic responses to the pandemic and hurricanes Eta and Iota, which have devastated Indigenous and Campesino communities.
On top of all this, this week:
the Guatemalan Congress (led by the infamous Pact of the Corrupt) passed a budget bill overnight that cut funding for malnutrition programs, the Human Rights Ombudsman, and other initiatives that were created in the 1996 Peace Accords;
the Minister of the Economy was caught on tape using crude language to say he didn't care how COVID emergency funds were used;
the Vice-President publicly called for President Giammattei to join him in resigning from power; and heavily militarized state forced violently repressed protestors, gravely injuring several people and arresting dozens.
Yesterday, Guatemalan civil society rose up against this tidal wave of oppression. A national strike and massive protests are planned. Social movements are calling for the immediate resignation of President Giammattei and his entire cabinet. Many civil society leaders are also calling for a constitutional assembly.
WE STAND IN SOLIDARITY WITH THE GUATEMALAN PEOPLE AS THEY DEFEND HUMAN RIGHTS AND THE RULE OF LAW
WE DEMAND THE IMMEDIATE RELEASE OF ALL POLITICAL PRISONERS
WE DEMAND THAT U.S. OFFICIALS CONDEMN THE GUATEMALAN STATES' VIOLENCE AND CORRUPTION