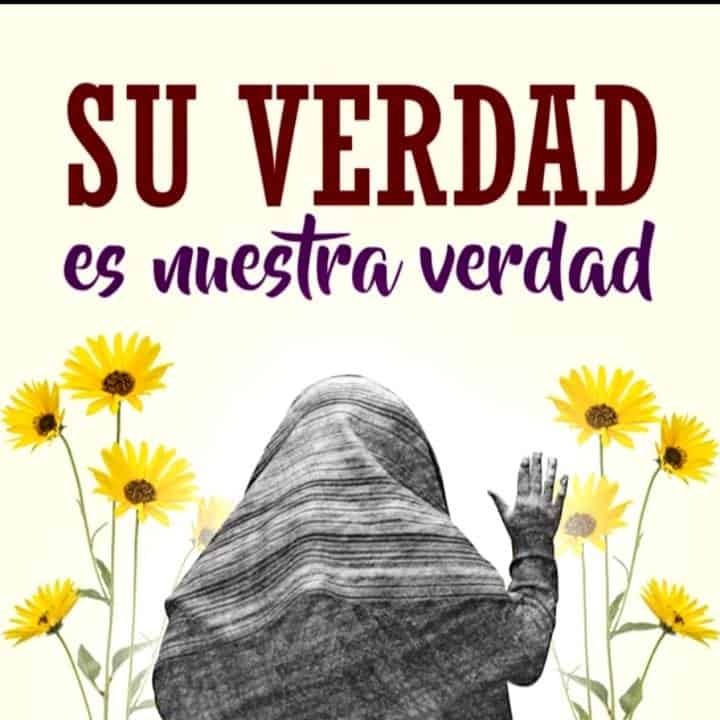 "Their truth is our truth". Illustration by CALDH.
On September 16, 17 and 18, survivors of massacres that occurred in the Ixil region gave their testimonies as pretrial evidence in the case against retired military officer Luis Enrique Mendoza García  who was Chief of Army Operations in the government of José Efraín Ríos Montt in 1982 and he was accused of genocide and crimes against humanity in 2011 along with Ríos Montt and other members of the Military High Command. Nevertheless Mendoza García eluded arrest and remained a fugitive for seven years.
He was arrested on June 16, 2019 after leaving a voting center in Salamá, Baja Verapaz during Guatemala's general elections. After his arrest, he was indicted by a Guatemalan Court on November 29 of 2019.
The process had been paused until last week, when originally 14 witnesses were going to give their testimony. However, due to various irregularities during the hearings, only 5 witnesses were able to speak before the court.
We are concerned with this outcome, as the will and the enormous effort the witnesses made to mobilize to the hearing despite their age and the COVID pandemic were not taken into consideration.
FOR THEIR TRUTH TO LAST
As part of the path of justice in which we have accompanied survivors of the genocide, on September 16, 17 and 18, the High Risk Court "C" will be listening to, as a pre-trial evidence, 14 people who will give testimony to the atrocious acts of which they were victims, such as sexual violence, massacres, and torture, among other crimes. These hearings are a way to guarantee that their words and their truth endure, and thus avoid being victimized once again.
On two occasions it has been proven before a Court that genocide, sexual violence and crimes against humanity were committed in Guatemala. One of the main evidence of these crimes has been the testimonies of Ixil Maya men and women who were victims of such atrocious acts that damage the dignity of all humanity. However, it is concerning that in each of these processes the witnesses have been re-victimized by the Judicial system by having to repeat their traumatic experiences of pain over and over again. Despite this, the witnesses still speak with the hope of achieving justice.
In the current genocide process, the accused, General Luis Enrique Mendoza García, was Chief of Operations (G3) of the General Staff of the Guatemalan army. It should be remembered that he remained a fugitive from justice for more than seven years.
The impunity in these internationally important cases has generated a re-victimization of the witnesses. Thus, the State of Guatemala, through its judicial system, has violated international commitments and treaties on justice and human rights, as well as fundamental principles of justice for survivors of crime and abuse of power.
We publicly acknowledge the Ixil women and men who, with their truth, have proven that there was genocide in Guatemala. Their memory and their words have been fundamental in this path of justice as a possibility and desire that the events of the past never happen again. We honor those who have passed away awaiting justice and we will continue to walk and demand justice, so that new generations remember and resignify the history of their peoples as an act of resistance against the Guatemalan State that insists on forgetting.
THE IXIL PEOPLE DESIRES TO LIVE IN PEACE, IN THEIR TERRITORY AND WITH RESPECT TO THEIR COSMOVISION 
We are grateful towards all of the witnesses
Association for Justice and Reconciliation (AJR)
Center for Human Rights Legal Action (CALDH)
Guatemala City,  September 16, 2020
Original statement on Spanish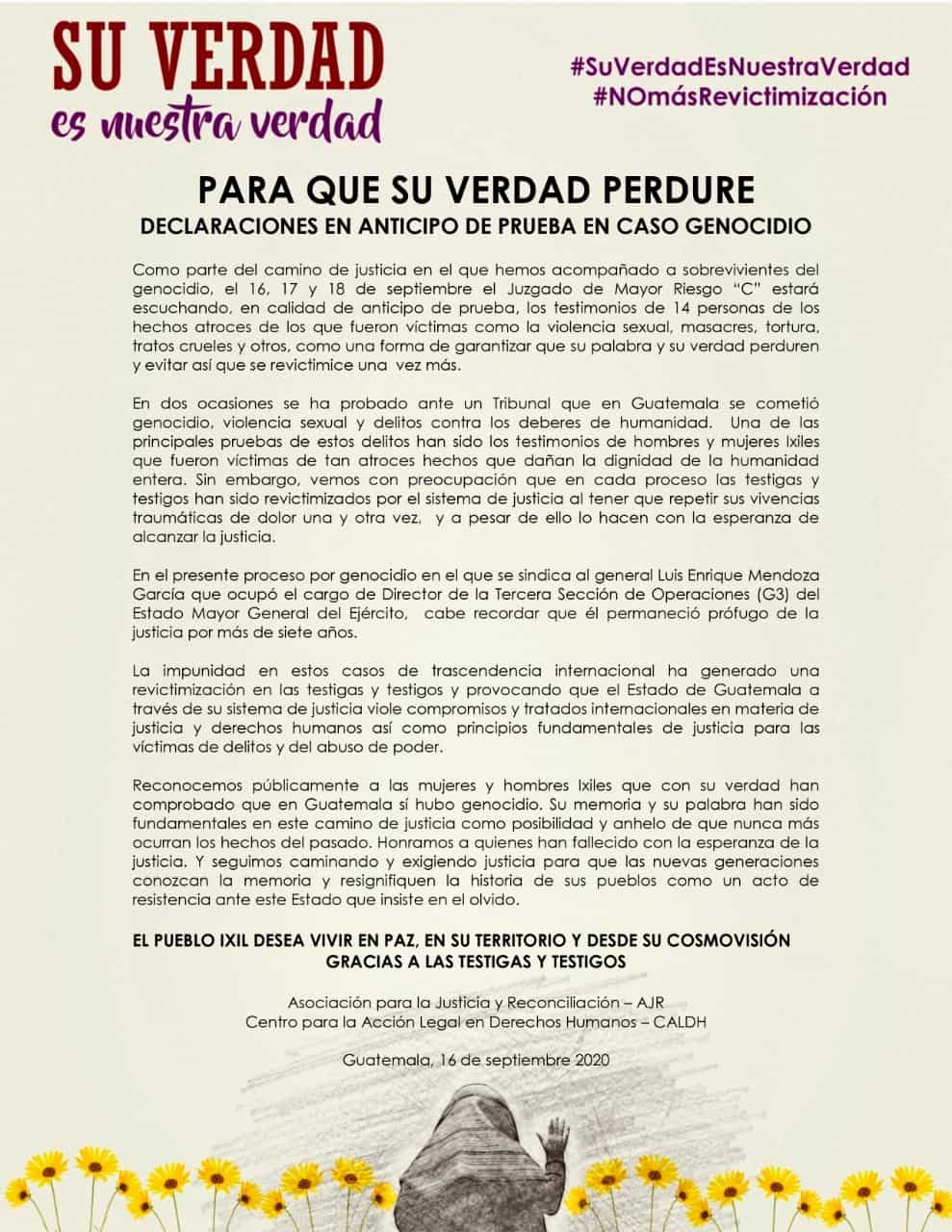 NISGUA has stood in solidarity with the Ixil genocide survivors and the survivors organized with the Association for Justice and Reconciliation (AJR) for more than 20 years, providing international human rights accompaniment.