The following statement was released by the Public Prosecutor's office on January 6, 2016. Translation by NISGUA.
On January 6, 2016, the Special Prosecutor's Office for Human Rights coordinated the capture of four members of the Guatemala Army in charge of the Military Zone "GMLB" of Quetzaltenango. Those arrested are suspected of having participated in the forced disappearance of Marco Antonio Molina Theissen on October 6, 1981.
The General Secretary of the Public Prosecutor's Office, Mayra Véliz López, reported at a press conference on the capture of the following: Francisco Luis Gordillo Martínez, commander of the military base; Edilberto Letona Linares, second in command; Hugo Ramiro Zaldaña Rojas, the S-2 officer for the Chief of Staff; and the division General Manuel Antonio Callejas Callejas.
This crime was allegedly committed by three plainclothes members of the Guatemala Army who came to the the Molina Theissen family home, located on 6th Avenue, 2-35, zone 19 of Guatemala City, and took him in front of his mother, Emma Theissen Álvarez.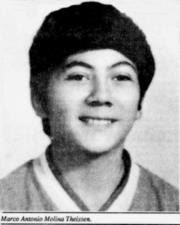 Background
On September 27, 1981, in the municipality of Santa Lucía Utatlán, Sololá, Emma Guadalupe Molina Theissen – Marco Antonio's sister – was detained at a military check point for carrying documents classified as political propaganda. She was later taken to the military base in Quetzaltenango, from which she managed to escape nine days later.
The Molina Theissen family filed two motions of habeus corpus on May 11 and July 9 of 1997, [demanding that their disappeared son be found]. As a result of these petitions, the Supreme Court authorized a special investigation on May 7, 1999 and tasked the Human Rights Ombudsman's office with the investigation.
The Guatemalan state recognized its responsibility on April 26, 2004 for the disappearance before the Inter-American Court of Human Rights and on May 4, 2004, the Court found Guatemala guilty. It ordered the State to look for the victim, investigate the crime, and eventually, prosecute the material and intellectual authors.
Based on this resolution, a ten-year investigation took place in which expert testimonies were gathered from the following areas: military, international human rights law, archives, psycho-social, and testimonial declarations, and were compared with documents from the Ministry of National Defense. On the basis of the sentence by the Inter-American Court for Human Rights and other evidence collected, the four accused were arrested for their roles in the disappearance.