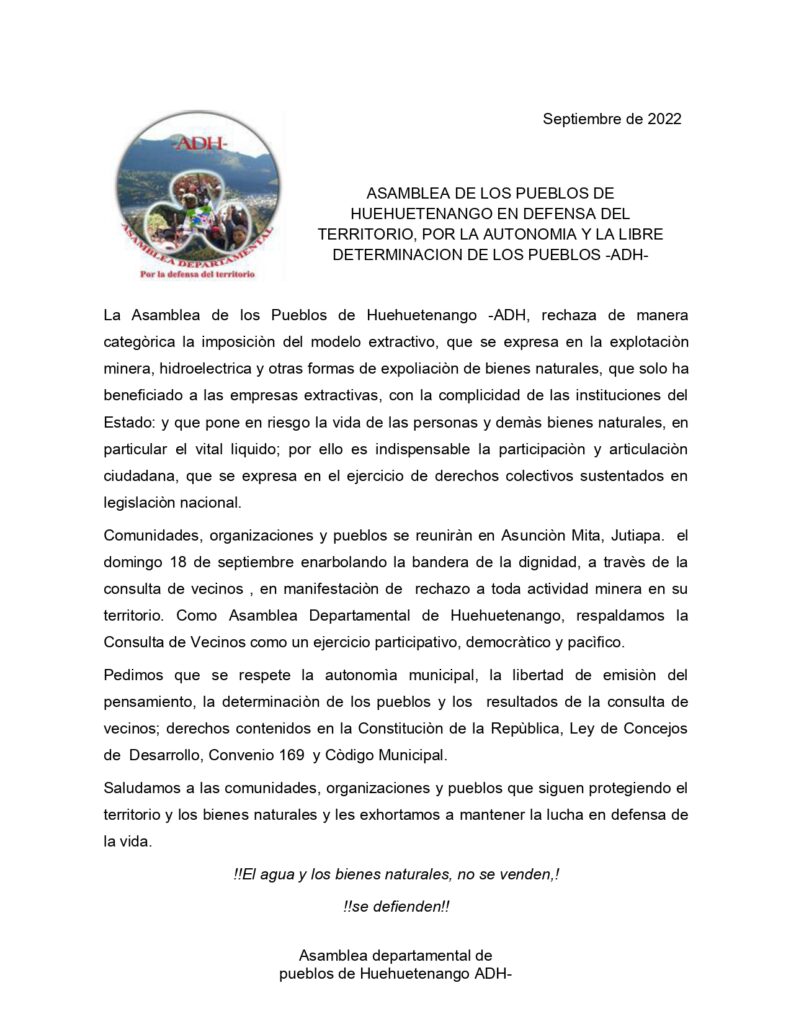 September 2022
ASSEMBLY OF THE PEOPLES OF HUEHUETENANGO IN DEFENSE OF THE TERRITORY, FOR THE AUTONOMY AND SELF-DETERMINATION OF THE PEOPLES -ADH-.
The Assembly of the Peoples of Huehuetenango -ADH, categorically rejects the imposition of the extractive model, which is expressed in mining, hydroelectric and other forms of exploitation of natural resources, which has only benefited the extractive companies, with the complicity of state institutions: and that puts at risk the lives of people and other natural assets, in particular the vital liquid; therefore the participation and citizen articulation is essential, which is expressed in the exercise of collective rights supported by national legislation.
Communities, organizations and peoples will meet in Asunciòn Mita, Jutiapa, on Sunday, September 18, flying the flag of dignity, through the consultation of neighbors, in rejection of all mining activity in their territory. As the Departmental Assembly of Huehuetenango, we support the Consultation of Neighbors as a participatory, democratic and peaceful exercise.
We ask that municipal autonomy, freedom of thought, the determination of the people and the results of the neighborhood consultation be respected; rights contained in the Constitution of the Republic, the Law of Development Councils, Convention 169 and the Municipal Code.
We salute the communities, organizations and peoples who continue to protect the territory and natural resources and we urge them to maintain the struggle in defense of life.
Water and natural resources are not for sale!
They are defended!
Departmental Assembly of the Peoples of Huehuetenango -ADH-
Read more (english resources)
Translation by JMDC