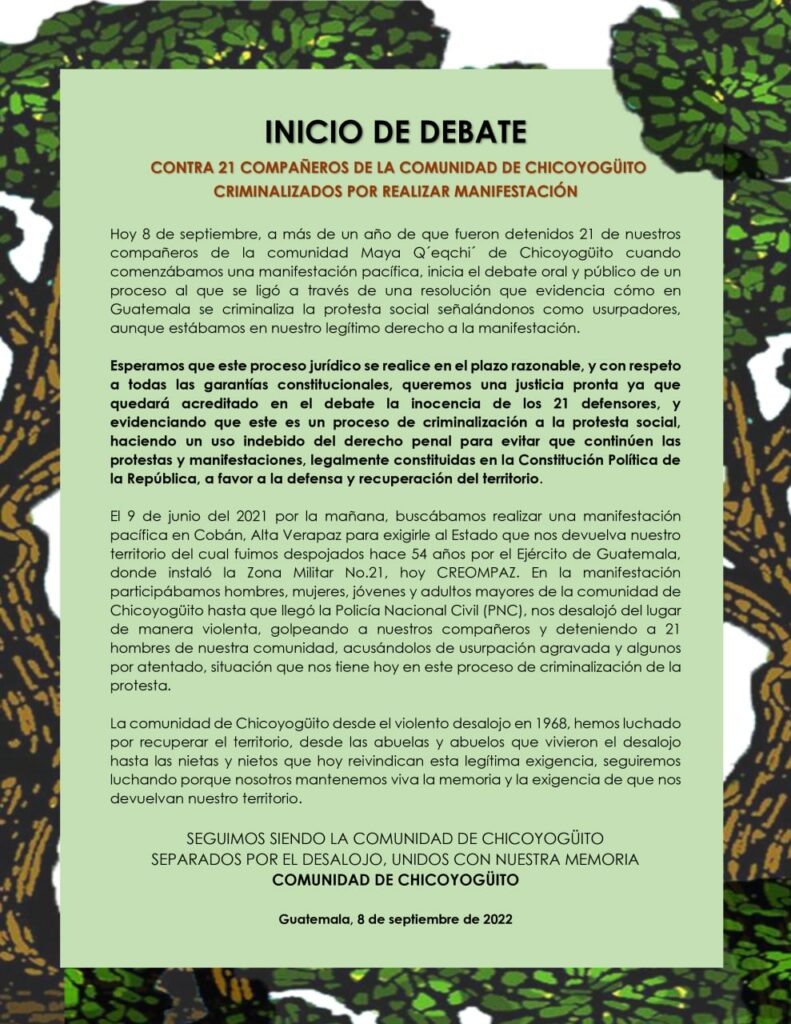 Start of discussion
Against 21 comrades of the Chicoyoguito Community
Criminalized for holding demonstrations
Today, September 8, more than a year after 21 of our comrades from the Maya Q'eqchi' community of Chocoyoguito were detained when we began a peaceful demonstration, the oral and public debate begins through a process connected to a resolution that shows how  social protest is criminalized in Guatemala, pointing us out as usurpers, even though we were in our legitimate right to demonstrate.
We hope that this legal process is carried out in a reasonable timeframe, and with respect to all constitutional guarantees, we want prompt justice, since the innocence of the 21 defenders will be shown in the debate, proving that this is a process of criminalization of social protest, making an improper use of criminal law to prevent the continuation of protests and demonstrations, legally constituted in the Political Constitution of the Republic, in favor of the defense and recovery of the territory.
On the morning of June 9, 2021, we sought  to carry out a peaceful demonstration in Cobá, Alta Verapaz, to demand the State to return our territory of which we were dispossessed 54 years ago by the Guatemalan Army, where it installed the Military Zone number 21, today CREOMPAZ. Men, women, youth and seniors from the community of Chicoyoguito participated in the demonstration until the National Civil Police (PNC) arrived, violently evicted us from the place, beating our comrades and arresting 21 men from our community, accusing them of aggravated usurpation and some of assault, a situation that has us today in this process of criminalization of protest.
As the community of Chicoyoguito, since the violent eviction of 1968, we have fought to recover our territory–from the grandmothers and grandfathers who lived through the eviction, to the granddaughters and grandsons who today vindicate this legitimate demand, we will continue to fight because we will keep alive the memory and the demand that our territory be returned to us.
We continue to be the community of Chicoyogüito.
Separated by eviction, United with our memory.
Community of Chicoyogüito
Guatemala, September 8, 2022
Read more at: https://twitter.com/CasoCreompaz
Translation by: Anna Martens