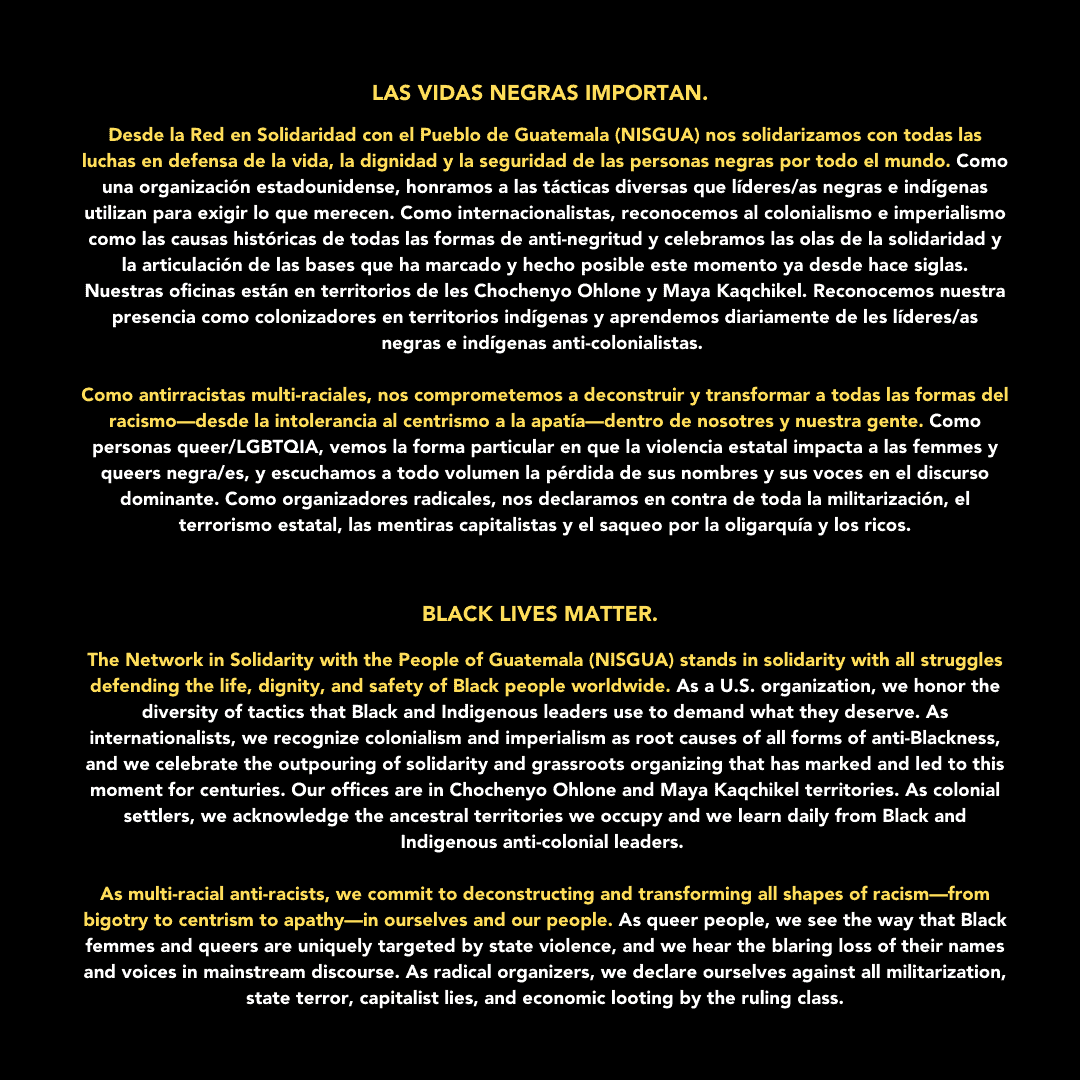 [English below] LAS VIDAS NEGRAS IMPORTAN. Desde NISGUA nos solidarizamos con todas las luchas en defensa de la vida, la dignidad y la seguridad de las personas negras por todo el mundo. Como una organización estadounidense, honramos a las tácticas diversas que líderes/as negras e indígenas utilizan para exigir lo que merecen. Como internacionalistas, reconocemos al colonialismo e imperialismo como las causas históricas de todas las formas de anti-negritud y celebramos las olas de la solidaridad y la articulación de las bases que ha marcado y hecho posible este momento ya desde hace siglas. Nuestras oficinas están en territorios de les Chochenyo Ohlone y Maya Kaqchikel. Reconocemos nuestra presencia como colonizadores en territorios indígenas y aprendemos diariamente de les líderes/as negras e indígenas anti-colonialistas.
Como antirracistas multi-raciales, nos comprometemos a deconstruir y transformar a todas las formas del racismo—desde la intolerancia al centrismo a la apatía—dentro de nosotres y nuestra gente. Como personas queer/LGBTQIA, vemos la forma particular en que la violencia estatal impacta a las femmes y queers negra/es, y escuchamos a todo volumen la pérdida de sus nombres y sus voces en el discurso dominante. Como organizadores radicales, nos declaramos en contra de toda la militarización, el terrorismo estatal, las mentiras capitalistas y el saqueo por la oligarquía y los ricos.
BLACK LIVES MATTER. NISGUA stands in solidarity with all struggles defending the life, dignity, and safety of Black people worldwide. As a U.S. organization, we honor the diversity of tactics that Black and Indigenous leaders use to demand what they deserve. As internationalists, we recognize colonialism and imperialism as root causes of all forms of anti-Blackness, and we celebrate the outpouring of solidarity and grassroots organizing that has marked and led to this moment for centuries. Our offices are in Chochenyo Ohlone and Maya Kaqchikel territories. As colonial settlers, we acknowledge the ancestral territories we occupy and we learn daily from Black and Indigenous anti-colonial leaders.
As multi-racial anti-racists, we commit to deconstructing and transforming all shapes of racism—from bigotry to centrism to apathy—in ourselves and our people. As queer people, we see the way that Black femmes and queers are uniquely targeted by state violence, and we hear the blaring loss of their names and voices in mainstream discourse. As radical organizers, we declare ourselves against all militarization, state terror, capitalist lies, and economic looting by the ruling class.