"Let us walk hand in hand with the People"
Since the last update we shared, the Indefinite National Strike initiated on October 2nd, led by the Ancestral Authorities of different Indigenous peoples throughout the country, and maintained by various sectors of the Guatemalan population, continues. The demand is firm: the resignation of Attorney General Consuelo Porras, Rafael Curruchiche, Cinthya Monterroso and Fredy Orellana (officials of the Public Ministry and Judiciary) all part of the "Pact of Corrupt" (1). We share 5 update points:
[1] Ancestral Authorities of different Indigenous peoples of the country remain in indefinite sit-in outside the Public Prosecutor's Office in Guatemala City. However, the blockades of highways and avenues that were maintained at different points of the national highways and the capital city have been lifted. In this regard, the Ancestral Authorities have expressed that they have decided to change their strategy of struggle.
[2] During his visit to Central America, the United States Assistant Secretary of State for Western Hemisphere Affairs, Brian Nichols, arrived in Guatemala and met with Bernardo Arévalo. He did not meet with the current president Alejandro Giammattei, and announced sanctions that the US government could take to guarantee that the democratic order is complied with in the country. 
[3] The political parties Winaq and URNG (Guatemalan National Revolutionary Unity), representing the Ancestral Authorities in the Congress of the Republic, presented a proposal to modify the Organic Law of the Public Ministry in order to remove Consuelo Porras from her post.
[4] One of the Ancestral Authorities that called for the Indefinite National Strike was the Xinka Parliament. This Saturday, October 28th, they suffered the murder of one of their members, Noe Gómez Barrera, who had actively participated in the demonstrations. In this regard we amplify the demand that this event be clarified, investigated and that those responsible be brought to justice.
[5] On October 31st, the electoral process ended, and once again Bernardo Arévalo was declared president-elect. However, the political party Semilla, which had led him to the presidency, was declared suspended.
The Indefinite National Strike continues, the ancestral authorities remain in struggle, and in the coming days we will see new actions because the demands remain and the people will not give up until their demands are resolved. We invite you to stay tuned and strengthen the bonds of solidarity that the people of Guatemala call for.
……….
(1) "Pact of corrupt" (in spanish Pacto de Corruptos) is a term used in Guatemala to refer to politicians, businessmen, organized crime and members of the judicial system accused of acts of corruption and who maintain a system of impunity that protects them from prosecution and maintains their political and economic control at the expense of the majority of the population.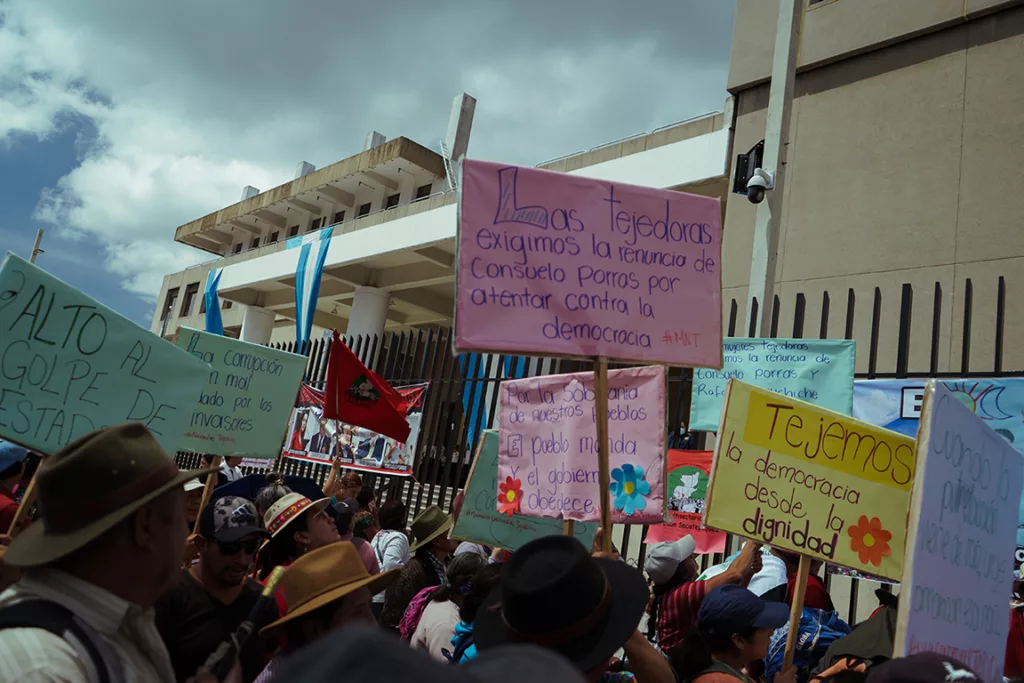 Photo credits: Laura Garcia/Plaza Pública. www.plazapublica.com.gt. Women members of the National Movement of Weavers, present in front of the Public Prosecutor's Office on October 2nd.