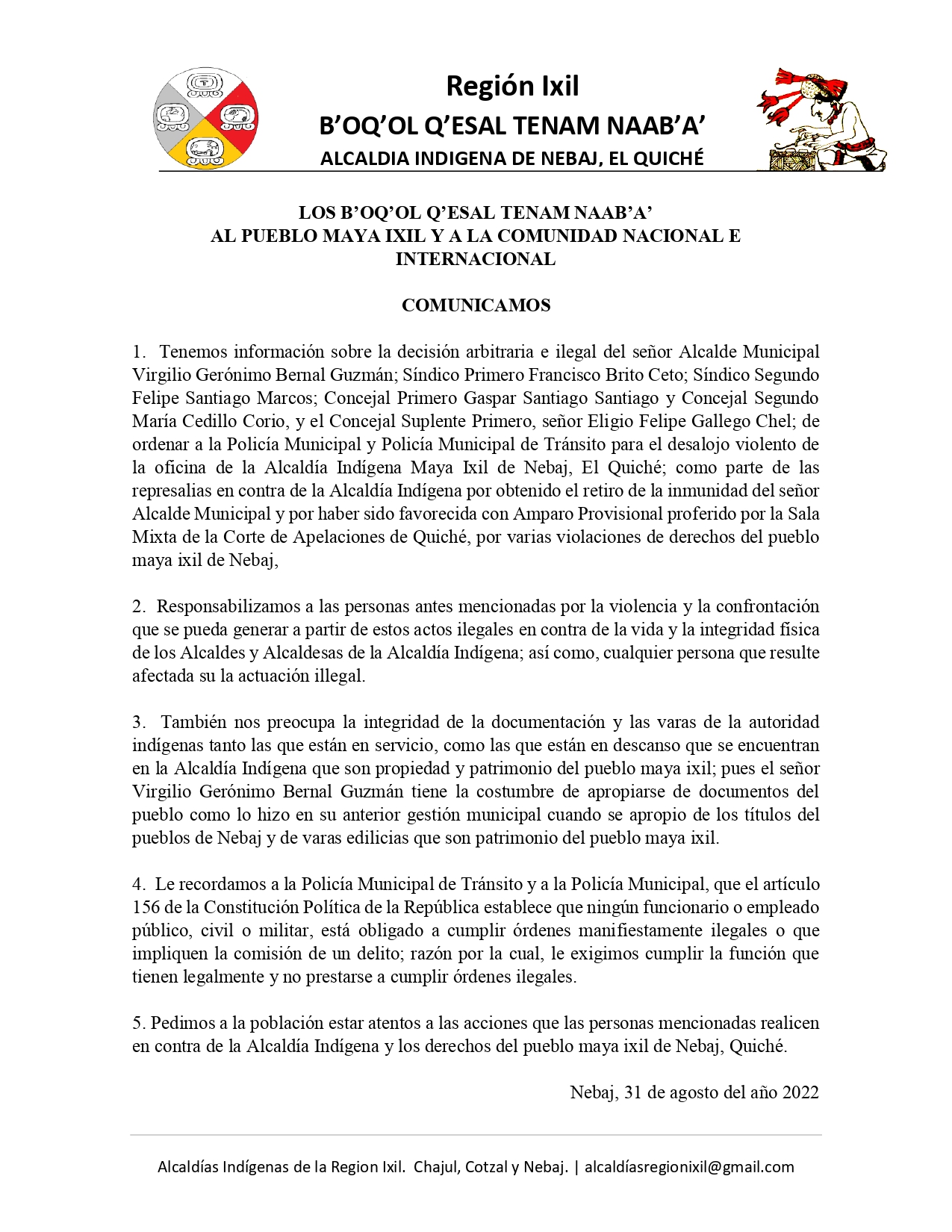 Ixil Region
B'OQ'OL Q'ESAL TENAM NAAB'A'
INDIGENOUS COUNCIL OF NEBAJ, EL QUICHÉ
LOS B'OQ'OL Q'ESAL TENAM NAAB'A'
TO THE MAYA IXIL PEOPLE, THE NATIONAL, AND INTERNATIONAL COMMUNITY, WE COMMUNICATE:
1. We have information about the arbitrary and illegal decision of the Municipal Mayor Virgilio Geronimo Bernal Guzman; First Trustee Francisco Brito Ceto; Second Trustee Felipe Santiago Marcos; First Councilman Gaspar Santiago Santiago Santiago and Second Councilman Maria Cedillo Corio, and the First Alternate Councilman, Mr. Eligio Felipe Gallego Chel; of ordering the Municipal Police and Municipal Transit Police to violently evict the office of the Mayan Ixil Indigenous Council of Nebaj, El Quiché; as part of the reprisals against the Indigenous Authorities for having obtained the withdrawal of the immunity of the Municipal Mayor and for having been favored with Provisional Protection granted by the Mixed Chamber of the Court of Appeals of Quiché, for several violations of the rights of the Mayan Ixil people of Nebaj.
2. We hold the aforementioned persons responsible for the violence and confrontation that may be generated by these illegal acts against the life and physical integrity of the Authorities of the Indigenous Council's Office, as well as any person who may be affected by the illegal actions.
3. We are also concerned about the integrity of the documentation and the indigenous council's staffs, both those that are in service and those that are in rest that are in the Indigenous Council's Office, which are property and patrimony of the Mayan Ixil people; since Mr. Virgilio Geronimo Bernal Guzman has the habit of appropriating documents of the people as he did in his previous municipal administration when he appropriated the titles of the towns of Nebaj and the building staffs that are patrimony of the Mayan Ixil people. We remind the Municipal Transit Police and the Municipal Police that article 156 of the Political Constitution of the Republic establishes that no public official or employee, civilian or military, is obligated to comply with orders that are manifestly illegal or that imply the commission of a crime; for which reason, we demand that they comply with the function that they legally have and not comply with illegal orders.
4. We ask the population to be attentive to the actions that the aforementioned persons carry out against the Indigenous Council's Office and the rights of the Mayan Ixil people of Nebaj, Quiché.