June 21 is the National Day Against Forced Disappearance in Guatemala, marking the anniversary of the collective forced disappearance of 27 unionists from the National Workers Union (Central Nacional de Trabajadores). We share the statement of the survivors of the Internal Armed Conflict and echo their demands.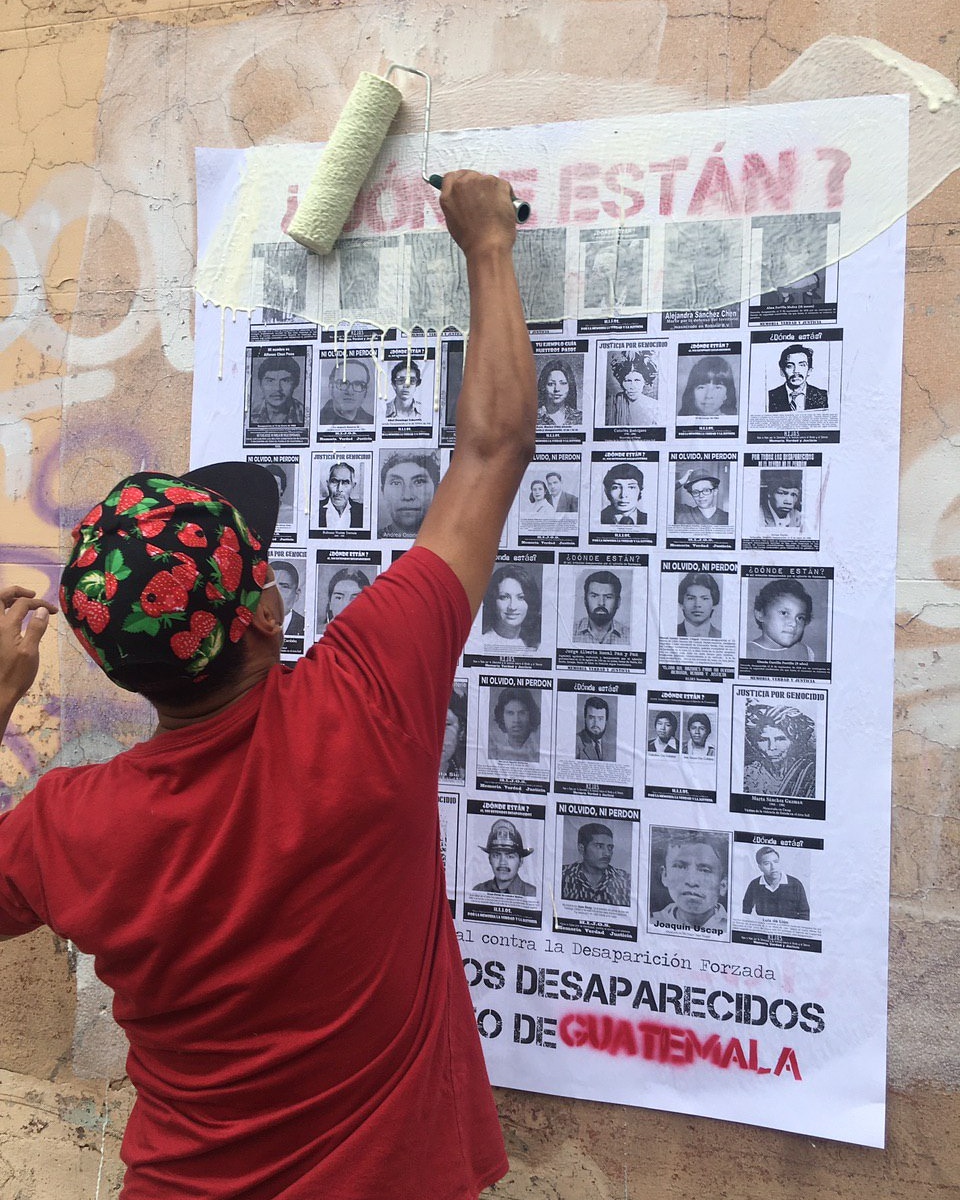 Photo Credit: HIJOS Guatemala
The Coalition of Organizations of Victims of the Internal Armed Conflict
To national and international public opinion
We hereby affirm:
The Commission for Historical Clarification (CEH, Comisión para el Esclarecimiento Histórico) estimates that the Internal Armed Conflict in Guatemala left 45,000 people disappeared, including 5,000 children. It concluded that enforced disappearance has been a systematic, counterinsurgency practice enacted by government security forces against community leaders, social leaders, unionist leaders, religious leaders, and student leaders.
This practice is well-documented by the Historical Archive of the National Police (AHPN), in the Diario Militar, or Military Diary, and other documents demonstrating the surveillance, illegal capture and subsequent murder of the victims.
It is a profoundly worrisome matter, that no efforts to locate the missing have been made by current governments, not in the last 23 years, nor even after the Peace Accords. It is concerning as well, that no national record of victims of enforced disappearance has been established. The AHPN archives have been and continue to be decimated, the Army continues denying any sort of information about the disappeared and the current president has ordered the closing of the Secretariat for Peace (SEPAZ, Secretaría de la Paz) which implies a violation of the Peace Accords, considered indispensable for the non-repetition of past violations.
We demand
1. To the State of Guatemala: Clarification of the whereabouts of the more than 45,000 people who disappeared during the Internal Armed Conflict.
2. To the Public Prosecutor's Office: The public prosecution and accurate investigation of each of the cases of enforced disappearance as well as the identification of all the intellectual and material authors of the criminal acts.
3. To the judiciary: The trial and law enforcement of sentences imposed on those held responsible of committing the criminal act of enforced disappearance.
4. To the Guatemalan Army: To reveal the whereabouts of the remains of the detained and disappeared people, so that families can provide a dignified burial for their loved ones and get some closure of their grief and loss.
5. To the Congress of the Republic: The adoption of initiative 3590 of the Act on the Commission to Search for Victims of Enforced Disappearance and Other Forms of Disappearance.
We call on the international community and the Guatemalan people to observe the policies of the current Government with regard to Human Rights and transitional justice processes.
Today, on The National Day against Forced Disappearance, we commemorate the 27 trade unionists from the National Central of Workers (CNT) who went missing on June 21, 1980, and we commemorate all the victims of enforced disappearance.
!Until we find them!
Read the statement in Spanish Here