This fall, we're excited to welcome Alex Escobar Prado as the featured speaker for this year's tour, "Guatemalan Youth in Defense of Land and Life!" Alex is an activist, educator, and a member of the Guatemalan environmental justice organization Youth Organized in Defense of Life (JODVID). Born out of the struggle for community self-determination and resistance to Tahoe Resources' Escobal silver mine in southeastern Guatemala, JODVID uses the arts and popular education to mobilize youth in local and regional movements to protect the environment and defend territory.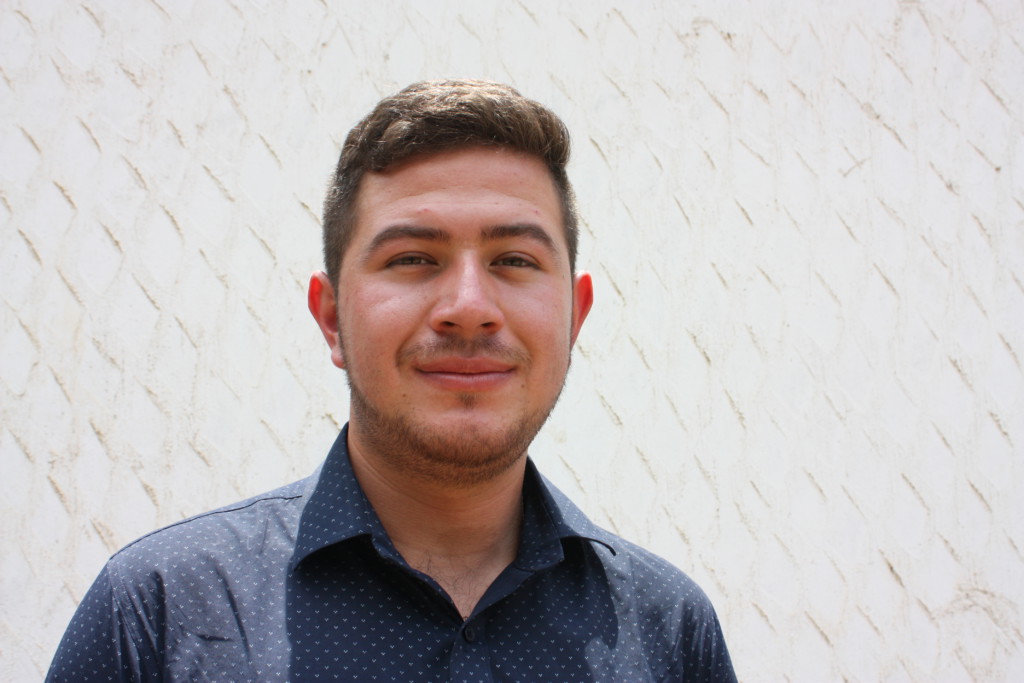 The group was founded in 2015 following the murder of 16-year-old Topacio Reynoso, a local artist and vocal opponent to mining activities in the area. Members honor her memory by using her art and music to strengthen the resistance to Tahoe Resources and other environmental threats in the region.
As a representative of the youth movement in resistance to mining in the Santa Rosa and Jalapa regions, Alex will share stories and perspectives from his community's struggle to assert their self-determination and defend their territory against transnational corporate power. Visiting the Midwest and East Coast, the tour will be a unique opportunity to learn about the essential role that Guatemalan youth play in building movements for social justice and liberation, and to hear firsthand accounts of the environmental and community impacts of mining in Guatemala. The tour will also create an opportunity for direct exchange with youth activists in the U.S. fighting for social justice in their communities.
Our tours are a grassroots project, and we need your support to make it happen! Are you a NISGUA supporter with connections to local youth organizations, academic communities, or faith groups? Are you excited to build cross-border connections with youth fighting at the forefront of a global movement for environmental justice and transformative social change? Come out to one of our events!
October 9 – 10: Chicago, IL
Events hosted by the Chicago Religious Leadership Network on Latin America
Monday 10/9 – 12:30 PM: Neighborhood tour and closed meeting with Little Village Environmental Justice Organization (LVEJO)
Monday 10/9 – 4:20-5:50 PM: Presentation at DePaul University – Arts & Letters Hall, Rm. 306 – 2315 N. Kenmore Avenue
Tuesday 10/10 – 9:10-11:10 AM: Presentation at DePaul University – Arts & Letters Hall, Rm. 101 – 2315 N. Kenmore Avenue
Tuesday 10/10 – 4:00 PM: Presentation at North Park University – Collaboratory for Urban and Intercultural Learning – Caroline Hall, 3225 W. Foster Avenue
Tuesday 10/10 – 7:30 PM: Presentation at University Church, 5655 S. University Avenue
October 11 – 12: Oberlin, OH
Events hosted by Oberlin Students in Solidarity with the People of Guatemala (OSSGUA) and Santa Elena Project of Accompaniment (SEPA)
Wednesday 10/11 – 7:30 PM: Public Presentation at Oberlin College, 135 W. Lorrain Street, Oberlin, OH – Wilder Hall, Room 101
Thursday 10/12 – 12:oo PM: Closed meeting at El Centro de Servicios Sociales in Lorain, OH
Thursday 10/12 – 7:15 PM: Public Presentation at First Church, Fellowship Hall, 106 N Main St, Oberlin, OH 44074
October 13: Keshena, WI – Menominee Indian Reservation

Friday 10/13 – Presentation to local high school students, closed meeting with the Menominee Mining Task Force and members of the Bad River Band of the Lake Superior Chippewa Tribe
October 16 – 17: Viroqua / La Crosse, WI
Events hosted by Kickapoo-Guatemala Accompaniment Project (K-GAP) and Youth Initiative High School
Monday 10/16 – 9:05-10:00 AM: Public presentation at Viterbo University, Murphy Center, Room 404
Monday 10/16 – 12:00-1:o0 PM: Lunch with members of LASO (Latin American Student Organization), University of Wisconsin-La Crosse (closed to the public)
Monday 10/16 – 2:15-3:10 PM: Closed presentation at UW-La Crosse
Tuesday 10/17 – 11:00 AM – 12:20 PM: Public presentation at Viterbo University, Murphy Center, Room 570
Tuesday 10/17 – 7:00-9:00 PM: Panel presentation with local youth activists, Kickapoo Coffee Shop – 1201 N. Main Street, Viroqua, WI
October 20: Washington, D.C.
Events hosted by UUCA-PAG (Partners for Arlington & Guatemala) and local NISGUA supporters
Friday 10/20 – 7:15 PM – Public Presentation at the Center at UUCA (Unitarian Universalist Church of Arlington), hosted by Partners for Arlington and Guatemala – 4444 Arlington Blvd., Arlington, VA
October 21: Cleveland, OH
Event hosted by the InterReligious Task Force on Central America
Saturday 10/21 – Keynote Presentation at Ohio Fair Trade Teach-in & Expo, John Carroll University – Dolan Center, 1 John Carroll Blvd. University Heights, OH
October 23-25: San Francisco Bay Area, CA

Monday 10/23- 11:30 PM – Divest the Globe Huichin protest in Oakland
Monday 10/23 – 6:30 PM – 10th Annual Dinner in Solidarity with the People of Guatemala, co-hosted by the Guatemala News & Information Bureau – Platano Restaurant, 2042 University Ave. Berkeley, CA – Tickets on sale now, RSVP required by 10/18, all proceeds benefit NISGUA
Tuesday 10/24 -3:00 PM – Exchange with PODER SF (closed to the public)
Tuesday 10/14 – 7:30 PM – Public Presentation at UC Berkeley, co-sponsored by CAFÉ (Central Americans For Empowerment at Berkeley) – location TBA
Wednesday 10/25 – 3:00 PM PST – Virtual Exchange with Alex of JODVID – Register here. New to Zoom? Get started on Zoom before the event!
A bit about Alex…
Alex is a primary school teacher for children in a rural village near Mataquescuintla, Jalapa. He is also a member of JODVID's community education team, which conducts trainings to build youth leadership to protect the environment, raise awareness about the dangers of deforestation and mining in the area, and educate their community on the importance of protecting waterways in Santa Rosa and Jalapa, where small scale agriculture is the main source of income and a way of life. When asked how his participation in JODVID has impacted his life, Alex said, "Nature, our environment, everything around us has been changing over the last few years in a very drastic way, which, whether directly or indirectly, is affecting us. It is by our own hands that our planet is being destroyed. Being part of this group has created an awareness in me, because I've realized that young people—we are part of this society, that we are the future, and we can make change in our society."