9th Annual Dinner in Solidarity with the People of Guatemala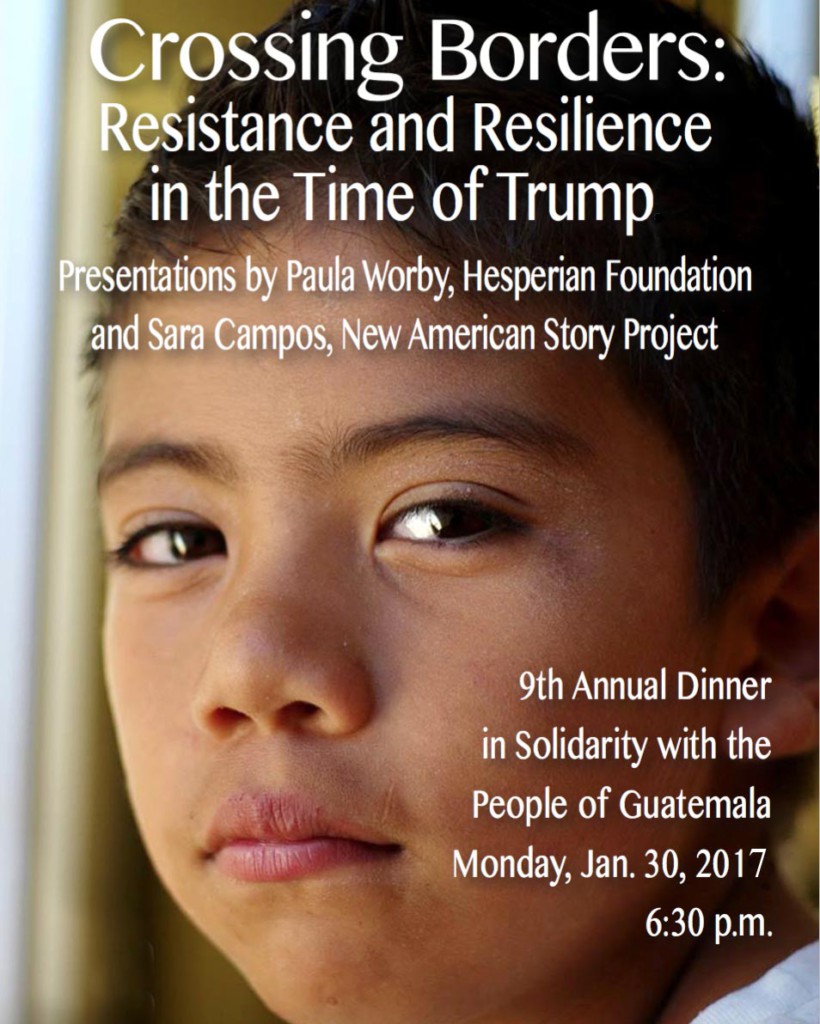 The Guatemala News and Information Bureau and the Network in Solidarity with the People of Guatemala cordially invite you to "Crossing Borders: Resistance and Resilience in the Time of Trump."
Monday, January 30, 2017, 6:30 p.m
Platano Restaurant – 2042 University Avenue (between Milvia & Shattuck)
The benefit dinner and presentation will feature Paula Worby, Hesperian Foundation and Sara Campos, New American Story Project. Paula and Sara will talk about the forces driving people to leave Central America, the obstacles they have already encountered to get here, and the work to defend the human rights of refugees in the face of the extreme anti-immigrant posture of the incoming Trump Administration.
Price: $50 – $100 per person (sliding scale) Wine included.
Get your tickets before January 25, 2017 to guarantee your spot! Proceeds benefit NISGUA's work for human rights and social justice in Guatemala.

For more information, contact David Imhoff: david@nisgua.org
Paula Worby / Public Health Writer/Editor, Hesperian Health Guides
Paula Worby has a long history working with displaced peoples of Central America, both on the ground in Guatemala (working for 13 years with internally displaced people and returning refugees) and in the Bay Area (working for 10 years with immigrant day laborers). In the fall of 2016, she returned to Guatemala for six weeks supporting a UN program addressing the flood of Central American refugees in the Petén.
Sara Campos / Author, Lawyer, Immigration Consultant
Sara Campos is the cofounder of the Bay Area-based New American Story Project, which gathers video and audio testimony of unaccompanied minors who have fled Central America to seek refuge in the United States. The goal of the project is to build public awareness of and empathy for the youth, and to empower them as they try to reconstruct their lives.
**Photographs for the poster feature young asylum seekers who have chosen to tell their stories as part of the New American Story Project (www.newamericanstoryproject.org)