Maisie (They/them/elle) current NISGUA Internacionalista, writes their reflections on accompaniment and solidarity. Enjoy the reading and the educational materials!
Dear community,
I have been in Guatemala for over two months now. I will admit that the beginning was hard – I missed you all. I missed our conversations, our collaboration, and most of all our proximity. I felt so far from the faces and places that gave shape to my role in collective struggles. Without familiar landscapes and the histories they carried, I struggled to decipher where the struggles around me ended and I – my strength and purpose- began.
To jog y'all's memories about what I'm doing, I am a human rights accompanier working to support Guatemalans fighting to defend their land, keep their families together, and receive justice for crimes committed during the Internal Armed Conflict that ended in 1996. I am part of an organization that has worked alongside community-led movements in Guatemala for more than 40 years. The majority of people we accompany belong to one of the 23 Indigenous groups that live in Guatemala. I spend my time traveling to meet with genocide survivors whose families were burned or disappeared, parents who've had their children murdered in cold blood for defending the environment, and former political prisoners whose lives have been destroyed for insisting on human rights. I support these movements through my physical presence, which can dissuade state-sanctioned violence; translating and sharing the demands of organizers on the ground; and connecting politicians, activists, and communities across borders.
Recently, however, my initial feelings of isolation have changed. These days, wherever I am- whether it's sitting on a bus, meeting in one of our partner's living rooms, or walking down streets in the Capital – I find you all here by my side. The more I learn about the kind of fierce patience that is required of those who seek justice – the more I feel your hands in mine. The more I witness the extent of collective heartbreak that comes from hundreds of thousands of deaths without accountability – the more I hear your faith in my ears. The more my blood boils with the injustice of the swelling odds against our movements for justice – the clearer I see your faces when I close my eyes.
Your hearts, your voices, and your dedication are all here. And not solely with me, but with every person I meet whose life is the struggle for life.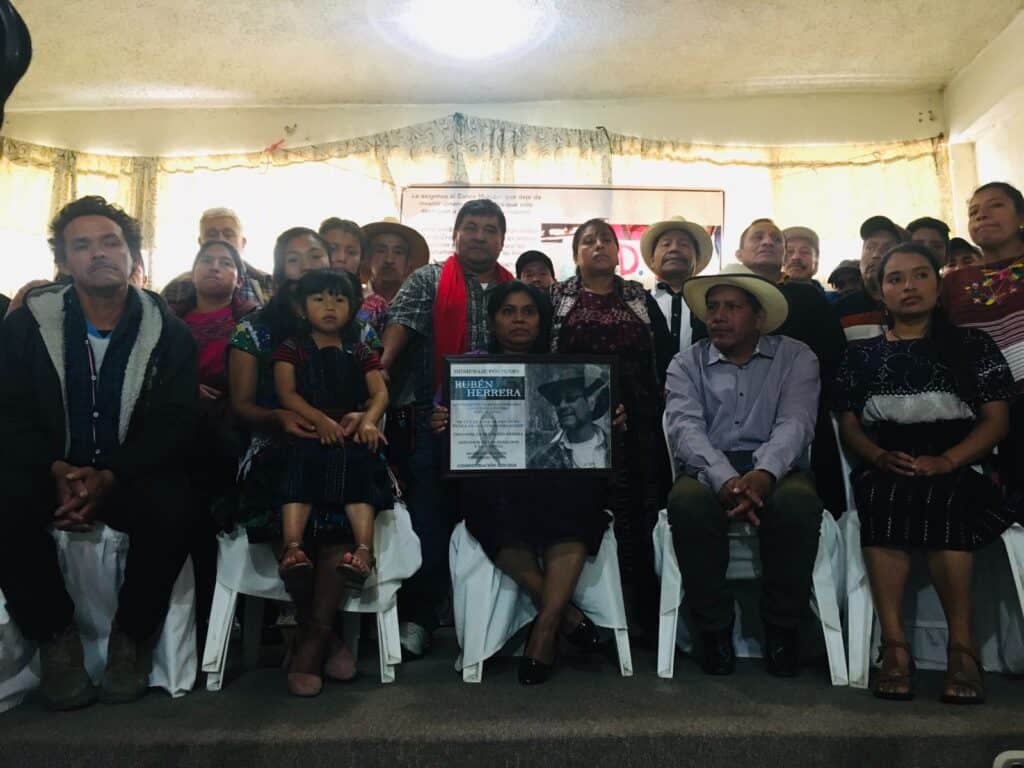 Photo taken by NISGUA Accompanier. Land defenders from 5 different indigenous groups in Guatemala coming together for a press conference to demand the World Bank stop funding exploitative, deadly energy corporations. The image shows a group of 20 people huddled together, many wearing their traditional mayan clothing, and at the front a woman holding a black and white photograph of the late organizer Ruben Herrer
I never realized how important it was that activists and organizers in the United States show that they hear the cries of their fellow activists and organizers in other places in the world. At times, the word solidarity can feel big and vague. What does it really mean for movements in the United States to be in solidarity with movements in Guatemala? Well, if you ask me, it can mean a lot of things. But most fundamentally, it starts by recognizing that these activists are speaking to you. With their voices and actions they are fighting to show that they are human, they have dreams, and that their lives as well as their deaths deserve recognition that they have existed at all. When these activists speak, they count on being a voice in your chorus -they are counting on being heard as more legitimate because their voices echo yours and yours theirs. 
What matters to you – as people living in the United States, with representatives in the U.S. Congress, and who believe in basic human rights – matters. More than many of you probably realize.
My goal is to send out an update like this every two months. I hope to weave my personal reflections in with pieces of history and current events as the months go by. And while my pipe dream is to ignite creative opportunities for transnational, interdisciplinary organizing, my primary aspiration is that you- my friends, loved ones, co-organizers, and role models – finish reading these emails feeling a little more attuned to your belonging to the struggle for freedom that transcends borders.
Below are a few graphics and resources about central issues in my work. If you're interested in learning more, read below. And, if you are interested in talking more in-depth and perhaps collaborating on a virtual workshop or project, please reach out!
With love and faith, sadness and strength, your friend,
Maisie