Trans-Territorial Table
The Trans-Territorial Table will strengthen specific struggles, create shared knowledge across movements, and deepen the collective project for liberated territories from Turtle Island to Ixim Ulew.
NISGUA is happy to announce that we selected the 9 project participants of the Trans-Territorial Table. Here they have the opportunity to learn and grow collectively through a direct exchange during the table meetings. The Table will be an opportunity for diasporic Guatemalans and Guatemala based organizers, visual artists, activists and life defenders to encounter and exchange lessons, strategies, and simply to connect.
NISGUA is proud to collaborate to the creation of this space for grassroot leaders on this humble experience of learnings from them.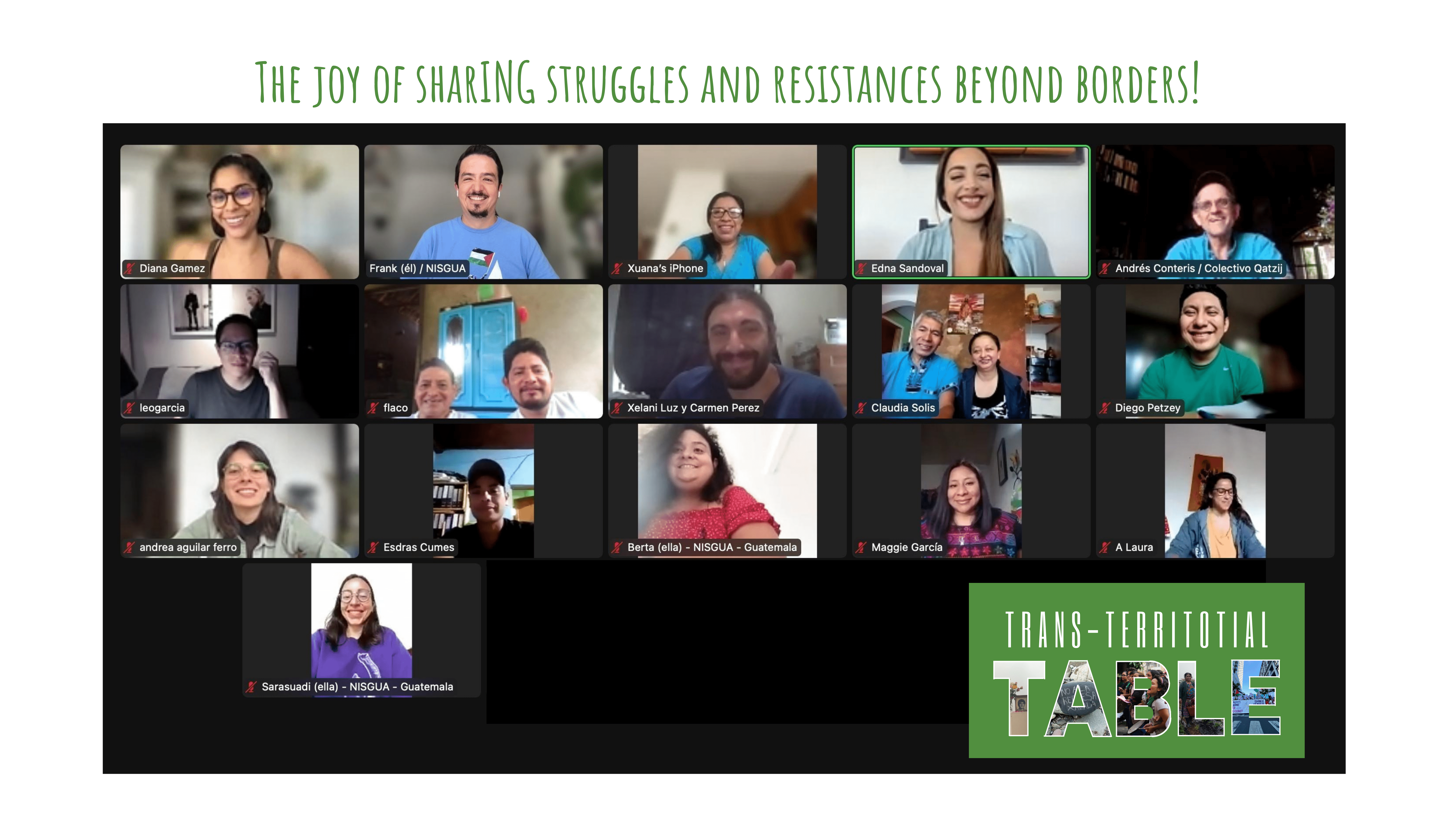 Take action! Solidarity with Relatives, Survivors and Plaintiffs of the Military Diary Case
On May 6, 2022, Judge Miguel Angel Galvez ordered the opening of the trial for the first nine accused of the Military Diary case, who will face charges for illegal detention, torture, forced disappearance, murder, extra-judicial execution, sexual violence, and crimes against humanity of at least 195 people between 1983 and 1985. The accused have many links to right-wing organizations, private security companies, and corrupt actors, showing clearly that there is a connection between the clandestine criminal structures that operated during the Internal Armed Conflict and the structures that maintain corruption and impunity in the present. Shortly after his ruling, Judge Galvez was threatened and later denounced by an extreme right-wing group, therefore his judicial immunity is currently at stake.
As the case moves forward, a central concern and demand is the guarantee of safety for the families, plaintiffs, lawyers, prosecutors, and judge of the case.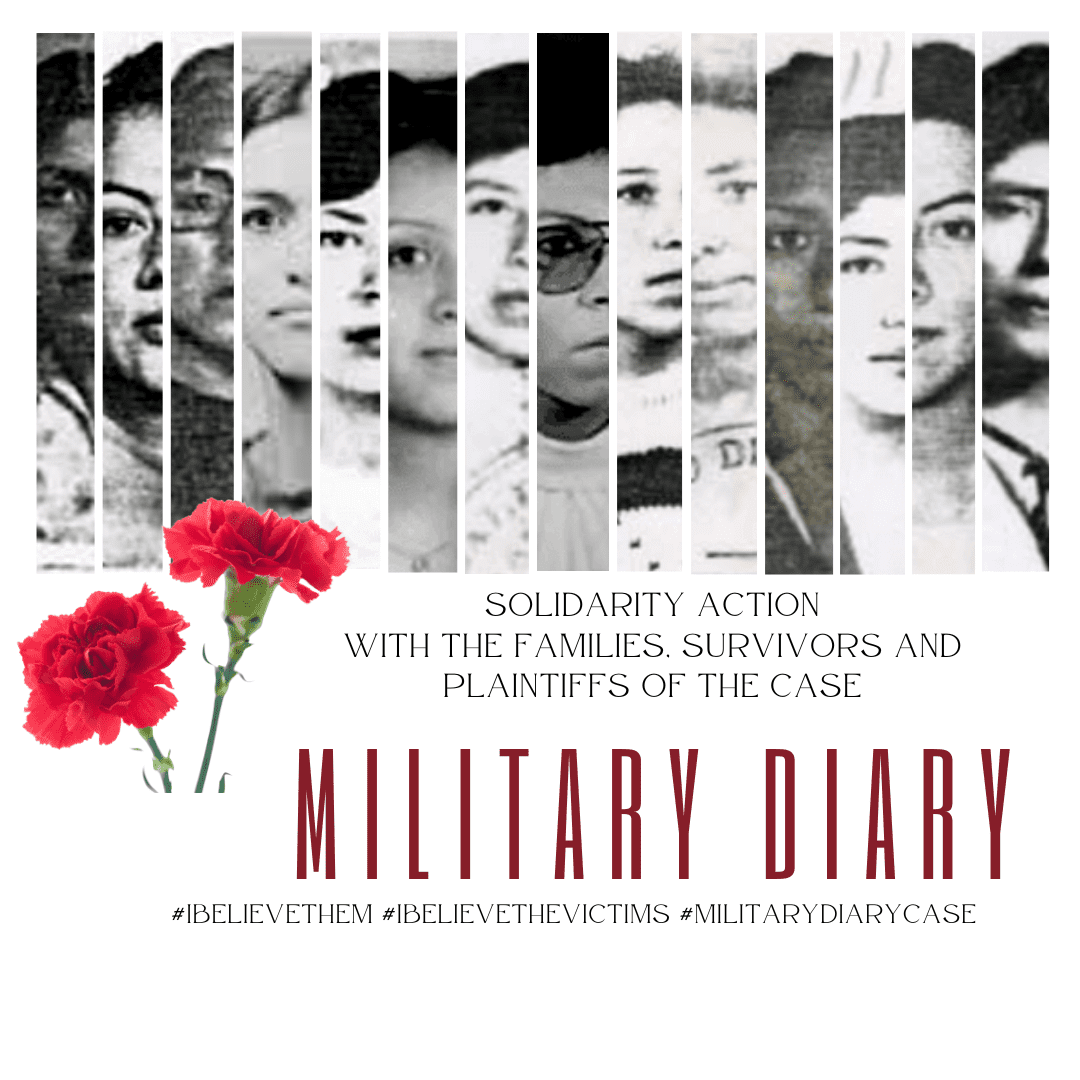 Join the action in solidarity  with the families and plaintiffs of the Military Diary Case by signing a letter and taking photographs of support and solidarity. We hope that this international action of solidarity will be one more contribution to the visibility of the struggle that relatives and survivors have carried out for decades.
Rubén lives in our hearts and the struggle continues.
In 2022 we celebrate the life and legacy of Rubén Herrera after 2 years of his passing. The Departmental Assembly of the People of Huehuetenango (ADH) commemorates his life through a requiem mass, followed by a communal celebration with the people he shared and walked with in the struggle. Rubén Herrera's teachings are still a pillar for the current struggle in defense of water and life in Huehuetenango and for NISGUA as an organization.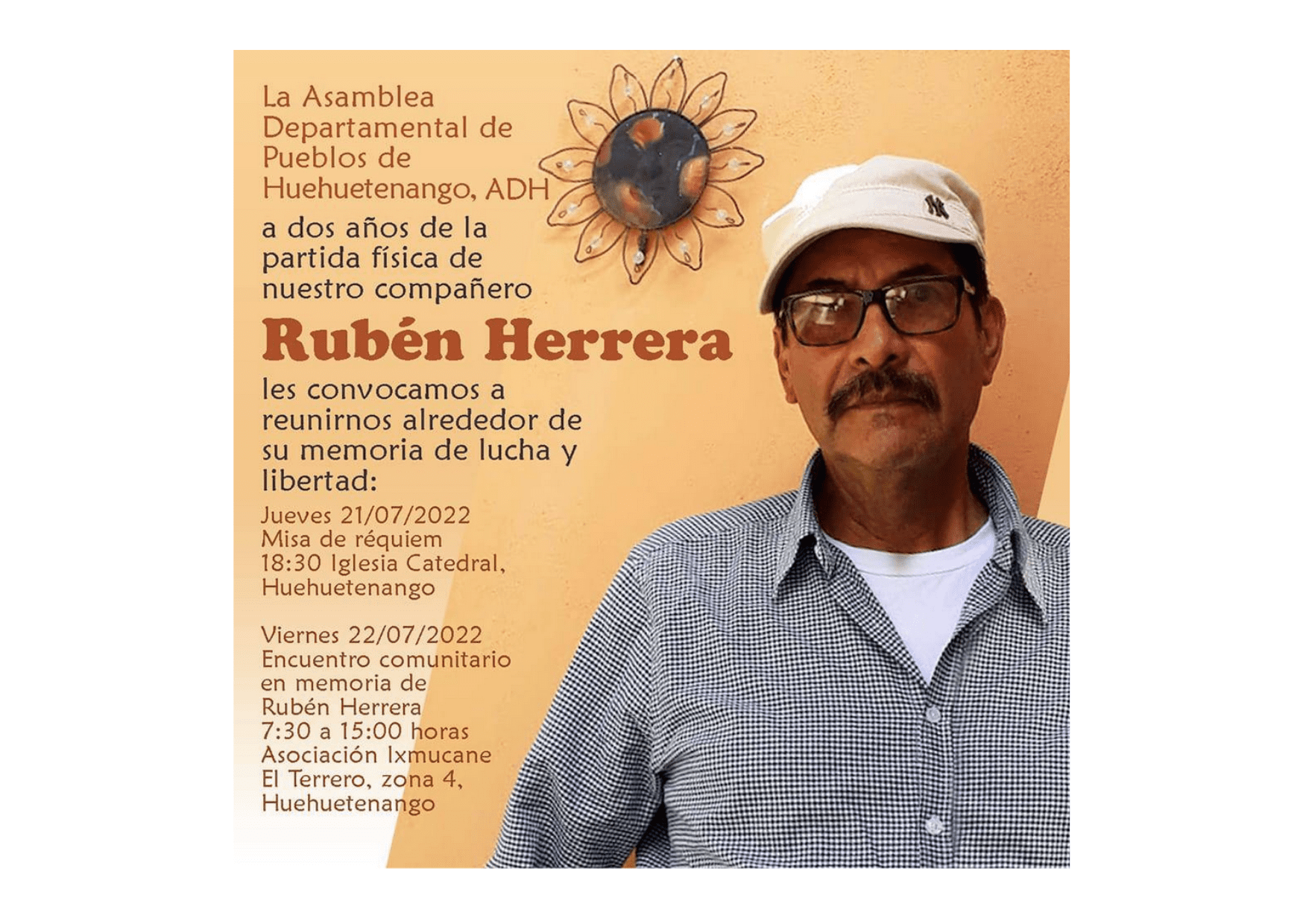 Announcing our 2023 Calendar: Territories in Resistance!
The Network in Solidarity with the Peoples of Guatemala (NISGUA) presents our 2023 calendar, "Territories in Resistance," a stunning photographic collection that positions ancestral struggles in Guatemala and beyond. Selections range from lush green lowlands to the eastern Dry Corridor, from Shell River in the north to the black-sand beaches of the south. We feature people protecting and celebrating territory on fields and streets, at trials and protests, through dance and ceremony.
We have launched pre-sales for purchasing calendars individually or in bulk. Calendars should ship by early October.
For more information write to: calendars@nisgua.org
NISGUA MERCH
We continue to honor the ongoing struggle of the people of Guatemala and the solidarity movement. Thank you for accompanying us in this celebration -NISGUA's 40th anniversary!
These t-shirts and totes speak to the power of legacy of everyone who has contributed to this journey and the memory of all those who have transitioned to become ancestors over these past 40 years.
Purchase yours today and show your support for NISGUA and Guatemalan communities' liberation.
Our "Celebrating 40 years" shirts and totes are printed on 100% cotton, sweatshop-free, adult sized t-shirts. All prices include shipping and handling. Please write info@nisgua.org if you have any questions about sizing or your order.