On June 9, Guatemala's justice system granted substitute measures and house arrest to former high-rank military officials Benedicto Lucas García, Manuel Callejas y Callejas, and Francisco Luis Gordillo Martínez, who were sentenced in 2018 for their participation in the illegal detention, torture, and sexual assault of Emma Guadalupe Molina Theissen and the forced disappearance of her 14-year-old brother, Marco Antonio in 1981.

Francisco Gordillo was a member of the triumvirate that led the coup d'état in March 1982 that brought dictator Efrain Ríos Montt to power.Manuel Callejas y Callejas was head of military intelligence during the government of Romeo Lucas García (1978-82). Benedicto Lucas García, brother of former President Romeo Lucas García was Chief of the General Staff of the Army and is accused of implementing scorched earth counterinsurgency policies against the civilian population. Both Lucas García and Callejas y Callejas are awaiting trial in the Maya Ixil genocide (1978-82) case, and in the Creompaz case.
We share the statement of human rights organizations dennonuncing this resolution, which marks a severe setback in human rights and we stand in Solidarity with the Molina Theissen family, the witnesses, lawyers and prosecutors who worked for decades to bring this case to justice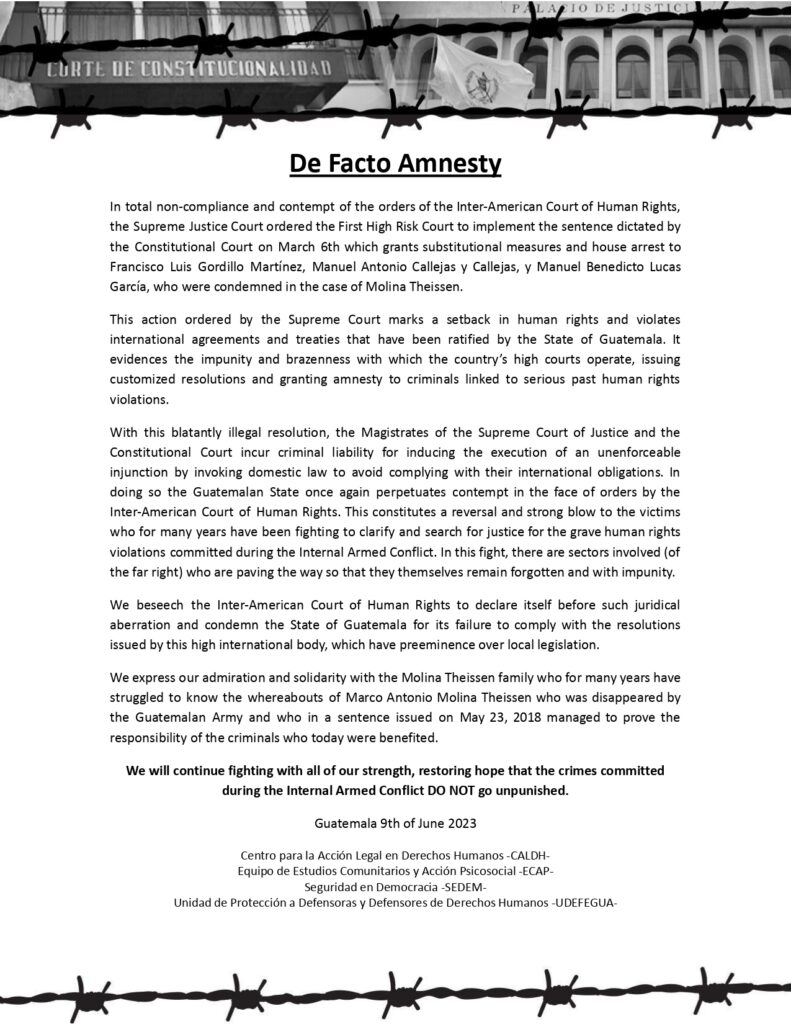 .
El 9 de junio, la justicia de Guatemala otorgó medidas sustitutivas y arresto domiciliario a los  ex- militares Benedicto Lucas García, Manuel Callejas y Callejas, y Francisco Luis Gordillo Martínez, condenados en 2018 por haber participado en la detención ilegal, tortura y agresión sexual de Emma Guadalupe Molina Theissen y en la desaparición forzada de su hermano de 14 años, Marco Antonio en 1981.
Francisco Gordillo fue miembro del triunvirato que dirigió el golpe de Estado de marzo de 1982 que llevó al poder al dictador Efraín Ríos Montt. Manuel Callejas y Callejas fue jefe de la inteligencia militar durante el gobierno de Romeo Lucas García (1978-82). Benedicto Lucas García, hermano del ex Presidente Romeo Lucas García, fue Jefe del Estado Mayor del Ejército y está acusado de aplicar políticas contrainsurgentes de tierra quemada contra la población civil.Tanto Lucas García como Callejas y Callejas están a la espera de juicio en el caso del genocidio Maya Ixil (1978-82) y en el caso Creompaz.
Compartimos el pronunciamiento de las organizaciones de derechos humanos denunciando esta resolución, que marca un retroceso en materia de derechos humanos y nos solidarizamos con la familia Molina Theissen, los testigos, abogados y fiscales que trabajaron durante décadas para llevar este caso ante la justicia.