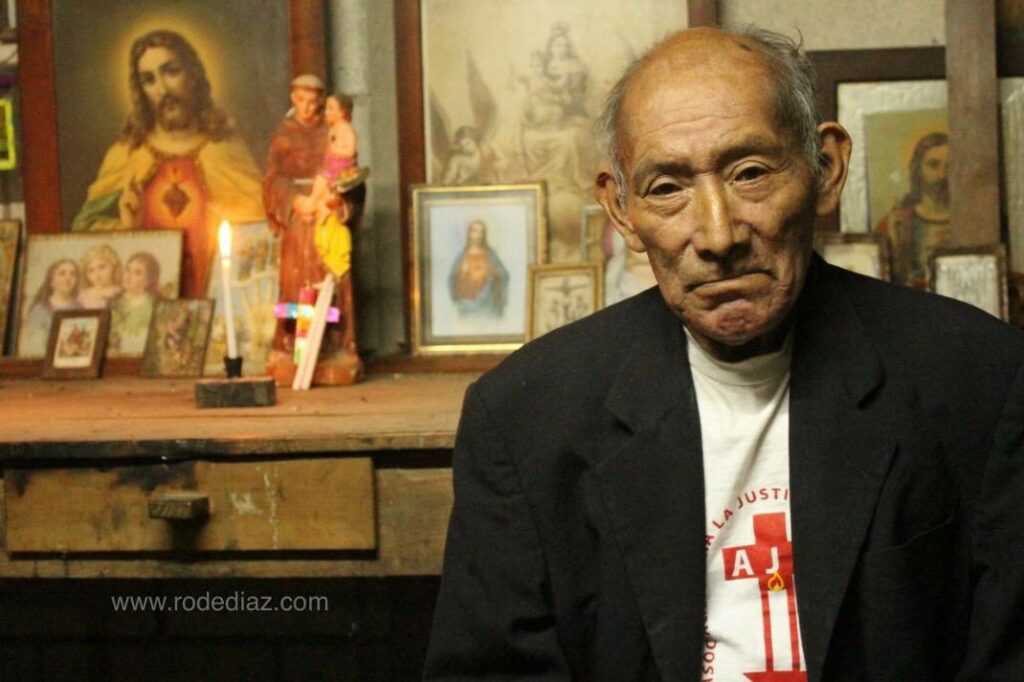 Photo by: Rode Díaz. 2013
"When the moment comes that I disappear from this world, I do not want a pantheon to be built for me, because Mother Earth gave me everything I needed to live, and since I have no other resource to give back to Mother Earth, then my body will be my payment. 
From her I took everything I needed to live in this world. As our Ancestors say, I ate bitter, I ate sweet, I ate acid, everything she gives. That is why my body is ready to give back a little bit of what she gave me.
I am a survivor of a massacre of 14 people, unfortunately it is painful and sad what happened here [in my house]. That was the plan of those who manage large economic resources, they want to maintain inequality, they do not want to give us the right to equality. That feeling and that pain of seeing with my own eyes how my three children, my brother, my nephew, my brother-in-law and other neighbors who are innocent died. My wife was shot twice and lived 28 years after that happened.
We do not want this struggle for the search of justice to end, because those who committed these barbarities are free and we must see that a sentence is achieved for them–it is not that one wants to be vindictive but it [justice] is a right, because every human being has the right to live. 
They used brute force, disregarding that we all have the right to live, as it says in the annals, even the smallest insect has the right to live. They tied my nephew's neck with barbed wire and left him tied to a tree, not even a dog can be tied by the neck and hung, and now a human being?  That pain and that feeling for me is unforgettable. 
I will never give up this struggle because I am doing it for the blood of the martyrs and not for myself, and until God tells me this is where it ends. But my story remains here because the young people do not know those who were responsible, that is why for me it is valuable that the faces of those who made those decisions and those who made the plans are recorded. This is necessary for there to be no repetition".
Fragments of the last conversation I had with Don Marcial Martín Xajil, in his home in the community of Chijocón, San Martín Jilotepeque, Chimaltenango, February 2022.
Marcial Martin Xajil, Maya Kaqchikel, founder of the Association for Justice and Reconciliation, a fighter for justice for the crimes that occurred during the genocide in Guatemala between 1982 and 1996.
Rest in power don Marcial!
Written by Rode Díaz