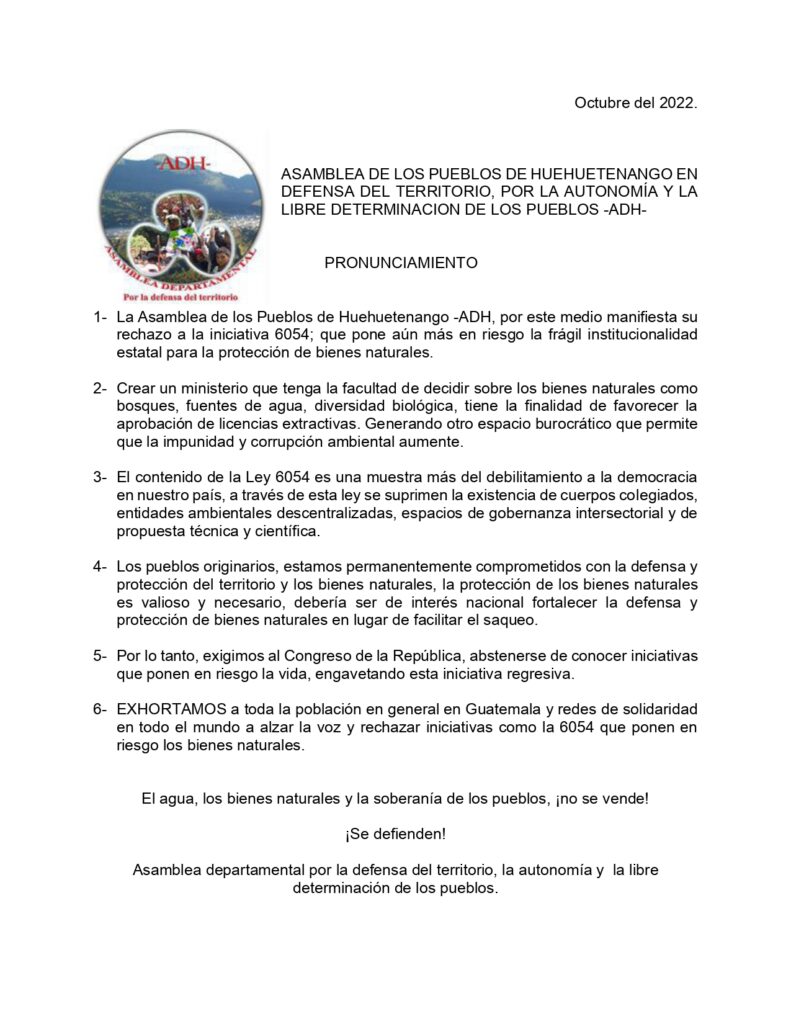 ASSEMBLY OF THE PEOPLES OF HUEHUETENANGO IN DEFENSE OF THE TERRITORY, FOR THE AUTONOMY AND FREE DETERMINATION OF THE PEOPLES -ADH-
STATEMENT
The Assembly of the Peoples of Huehuetenango -ADH, hereby declares its rejection of initiative 6054; which puts at risk even more the fragile state institutions that protect natural resources.
Creating a Ministry that would have the power to decide on natural assets such as forests, water sources, biological diversity, is destined to favor the approval of extractive licenses. This would generate another bureaucratic space that permits the environment of impunity and corruption to increase.
The content of Law 6054 is another example of the weakening of democracy in our country. This law would suppress the existence of collegiate bodies, decentralized environmental entities, spaces for intersectoral governance and technical and scientific proposals..
We, the native peoples, are permanently committed to the defense and protection of the territory and natural resources, the protection of natural resources is valuable and necessary, it should be of national interest to strengthen the defense and protection of natural resources instead of facilitating its plunder.
Therefore, we demand that the Congress of the Republic refrain from considering initiatives that put life at risk by discarding this regressive initiative.
WE URGE the entire population in Guatemala and solidarity networks around the world to raise their voices and reject initiatives such as 6054 that put natural resources at risk.
Water, natural resources and the sovereignty of the people are not for sale, they are defended!
Departmental Assembly for the Defense of Territory, Autonomy and Self-determination of the People.