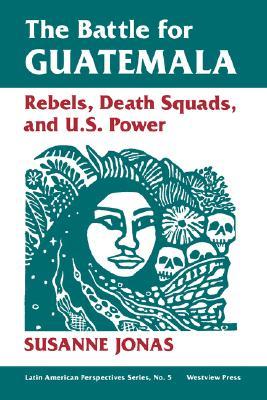 Susanne Jones has died.  Long Live Susanne Jonas!
Susanne Jonas, prolific author, teacher, and indefatigable social justice activist on behalf of Guatemala, and Central America more broadly, died while hospitalized with pneumonia in Oakland on August 31, 2022. She was 80.
An internationally recognized scholar, Jonas was an invaluable source of analysis on Guatemala, whose history was profoundly shaped by U.S. political and military interventions. Drawn to the country and its people "as if by an invisible magnet," she wrote in The Battle for Guatemala: Rebels, Death Squads, and U.S. Power (Westview, 1991), for Jonas "it became an obligation to write for U.S. audiences about Guatemala—all the more so because the fruits of those interventions have been veiled in a vast shroud of silence in the U.S. press and public domain."
David Loeb, who worked for the Guatemala News and Information Bureau and NISGUA in the 1990s as editor of Report on Guatemala said, "When there was some important new development in Guatemala, she would often call us up and ask, 'What are you hearing?' Conversely, I would reach out to her, to get her informed insights on the situation."
Besides reporting on Guatemalan and Central American politics at a time when few did, Jonas animated others.
"I have no words to describe how important Susanne was to understanding U.S. imperialism in Latin America," wrote Liz Oglesby, Associate Professor of Latin American Studies at the University of Arizona, on hearing of Jonas' death. "When I was beginning to learn about Latin America, Susanne was a legend. For many of us her books sparked or motivated our interest in Latin America." Jonas served on the faculty of the University of California Santa Cruz in the Department of Latin American and Latino Studies for 24 years. A former student wrote on social media of the powerful impact she had, as "an inspiring teacher, brilliant scholar and compassionate human being."
Susanne Leilani Jonas was born on December 31, 1941 in Honolulu, then reeling from the attack on Pearl Harbor just three weeks earlier. After escaping Nazi Germany in 1938, her parents, Gerald and Hilda Jonas, had settled in what was then a U.S. territory and grew to love it. However, notwithstanding the fact that they were Jews who had fled Germany, they were detained as part of the U.S. government's sweep of "enemy aliens" in the wake of the attack. After their release, the family moved to the mainland, settling in Cincinnati.
They were a musical family—Hilda was a professional harpsichordist—and Jonas took up the violin at a young age. Indeed, music provided Jonas's first experience of Latin America, when she travelled to Mexico with the Harvard-Radcliffe Orchestra. Her love of classical music endured, and she continued playing in amateur orchestras until recent years.
In the 1960s she visited Guatemala, memories of which "haunted" her, as she wrote in Battle. With her then husband, Tom Bodenheimer, Jonas moved to Berkeley in 1968, where she began a doctoral program at UC Berkeley in political science.
In 1971, while working at the west coast office of the North American Congress on Latin America (NACLA), Jonas suggested to colleague David Tobis that they produce a book on Guatemala. Tobis had been arrested on trumped up charges in Guatemala while researching U.S. investments for his doctoral dissertation. For three years, Jonas and Tobis wrote and edited from opposite coasts, overseeing different chapters until, during "an exhilarating summer" of intense work together in Berkeley in 1974, Tobis said, "with the help of many comrades in and around NACLA," they finished the groundbreaking volume, Guatemala. Now, almost half a century since it was published, "I realize I learned more working on the book with Susanne than I learned in graduate school," Tobis said.
Jonas authored or contributed to countless articles and more than a dozen books, including her granular 2000 study, Of Centaurs and Doves: Guatemala's Peace Process (Westview, 2000). She collaborated with other notable Guatemalan academics, including eminent sociologist Edelberto Torres Rivas (d. 2018), who once praised Jonas's "unflagging solidarity with the people of Guatemala, which has become her second homeland." With University of Texas sociologist Nestor Rodriguez, Jonas co-wrote Guatemala-U.S. Migration: Transforming Regions (University of Texas. 2015), a pioneering, multifaceted study of Guatemalan migration to the United States from the 1970s to the present. "Although Susanne is gone, she remains an inspiration for many of us writing about Guatemala," Rodriguez said. "Her dedication for social justice never wavered."
Guatemalans remember Susanne Jonas warmly. "There are persons who, without having been born in Guatemala, are more committed to the welfare of our people than many with [Guatemalan] birth certificates and local identification papers," wrote columnist Karin Slowing about Jonas in the country's leading newspaper, Prensa Libre. "Today I share mourning for her passing, but I celebrate, and publicly give thanks for, her legacy."
—Mary Jo McConahay, independent journalist and long-time friend of Susanne Jonas, is the author of several books on Central and Latin America, including Maya Roads, One Women's Journey Among the People of the Rainforest (Chicago Review Press, 2011).