Washington, D.C. local, Clara Lincoln is a recent NISGUA accompanier through the Guatemala Accompaniment Program. She spent ten months accompanying land and human rights defenders in Guatemala. Since returning, she has collaborated with ONE DC, an organization fighting for the rights to housing, wellness, and economic equity for low-income D.C. residents of color. Here, she shares perspectives on the links between land displacement in D.C. and in Guatemala, drawing connections between the racism, greed, and violence of land grabs in both places. She highlights the collective resistance against these forces of displacement and appropriation.
We sat on Fausto Sánchez's front porch, my French comrade and I, listening to Fausto update us on his recent meetings and his concerns about safety. In turn, we told him about the situation of the four political prisoners we had just visited in prison. We sat on plastic chairs on his concrete balcony as his daughter played in the hammock in front of us and ate rambotanes—also known as liche– a red, hairy fruit with a sweet core that looks a little like an eyeball. Fausto's eyes darted between us, the road, his daughter, and back to the road. His house overlooks the main road leading into a cluster of 35 Indigenous Maya Mam communities in western Guatemala. He's in a perfect position to see everyone who comes in and out of the communities. As we talked, he involuntarily turned his head and looks through the holes in his fence whenever a car or motorcycle passes.
Fausto is a community leader in the municipality of San Pablo in the western department of San Marcos, Guatemala. For nine years, he has been involved in the struggle to protect this territory against a proposed hydroelectric dam where the three rivers that run through the communities converge. The company who wants to build the dam has not conducted the legally required community consultations of the Indigenous people who would be affected by the project. In the US, I usually think of the word "territory" as possessive—not necessarily a liberatory perspective on land. But here, it means something like the land that gives life to a people. And it's constantly under threat.
In contrast to most of the megaprojects in Guatemala, the owners of the proposed dam in San Pablo are Guatemalan. Including Fausto, 11 people have been arrested for resisting the construction of the dam and charged with a wide variety of fabricated crimes like kidnapping and illicit association. Fausto spent two years and three months in preventative prison for two counts of kidnapping before being found innocent. Unlike some other crimes, prosecutors can hold people accused of kidnapping in pre-trial detention, and coincidentally organizers are very often accused of it. One theory the community has is that Fausto was especially targeted because the position of his house, overlooking one of only three ways into the cluster of 23 communities, makes him a perfect lookout to report suspicious activity (like construction materials) to the communities above. Fausto has not let this experience scare him away from organizing, but it has surely dissuaded others from joining the movement.
I had the opportunity to serve transnational movements for liberation as a human rights accompanier with NISGUA,  the Network in Solidarity with the People of Guatemala. As a DC native, I couldn't help but relate my experiences there to the struggles I've been a part of here. Displacement is pervasive in this global moment—  from communities of color in DC to poor people fleeing their countries and facing violence at the border. The patterns are similar in rural Guatemala and urban US. Poor people who have their roots and communities in a geographical space are run off—by the military, by police brutality, or by rising rents—and the economic elites act like the land was theirs all along. In Latin America, this displacement is sometimes so forceful and pervasive that it pushes people out of their countries and leaves them with no other option but to migrate north. To combat this displacement, movements must connect the local to the transnational and learn from, share with, and support anti-capitalist movements internationally.
Gentrification is Displacement
Residents of the land that is now called DC have seen many waves of gentrification and displacement, starting with British settler colonialism in the 1600s that violently erased and pushed out communities of Native Americans. Since then, developers and higher-income earners have pounced on various neighborhoods at different times; Georgetown in the 1920s, practically all of Southwest in the 1950s, more and more of Northwest with the construction of the Metro in the 2000s, and now as far east as Anacostia and Brookland in Northeast. It is important to note that DC was the largest Black city in the country by 1900 and was majority black from 1957 until 2011. While the ability to pay higher rent is the main deciding factor in displacement, income inequality is highly racialized in this country, so gentrification is decidedly a racial project. Developers and incoming residents also discriminate against residents of color, explicitly or implicitly, forcing out even more residents of color. (See, for example, increased police activity in gentrifying neighborhoods.)
Gentrification is the process through which developers or individual homeowners buy property in poorer neighborhoods, forcefully or consensually removing the people who lived there, renovate and rebrand the properties, and cause the property values to increase in the surrounding area. This attracts more development, and landlords and owners realize they can start charging more for rent. Thus low income residents can be displaced physically, through evictions or foreclosures, or indirectly through market pressures such as rising rents. Even if families are able to own houses, sometimes they cannot afford to pay increased property taxes when properties around them start to be redeveloped.
Sometimes, however, displacement is not so passive. Working with the organization Organizing Neighborhood Equity DC (ONE DC), I have had the opportunity to learn from residents at Brookland Manor who are facing a redevelopment project that would turn their over 500-unit community into a massive mixed-income housing complex with no room for most of them. What sets Brookland Manor apart from other affordable housing complexes is its abundance of multiple-bedroom apartments. A total of 183 families live in three, four, and five bedroom units at Brookland Manor. Three hundred and thirty-seven of the units at Brookland Manor are currently subsidized by the government through project-based Section 8.
As Brookland Manor's project-based Section 8 contract expired last year, its owner, MidCity Development, is moving forward with their plans to raze and rebuild the complex. They have chosen to renew their contract to maintain subsidized units on the property, but the types of units reduce the total residents who will benefit from those subsidized units. They are proposing a redevelopment that would replace the 535 units currently in Brookland Manor with 1,760 units in a mix of housing types: multi-family, senior housing, two-over-two buildings, and a few townhouses. The proposal for RIA includes only 64 three-bedroom units, and none larger. MidCity is not factoring in the number of bedrooms when claiming a one-to-one replacement of affordable housing. In addition, 200 of the affordable housing units will be located in a senior-only building, 192 of those being one-bedroom units.
MidCity is threatening to kick people out of their homes, some of the few four- and five-bedroom affordable units in the city, with no promise that they will be able to return. They have already started this process where they can: Brookland Manor residents have experienced an uptick in harassment from the private security guards hired by MidCity to patrol Brookland Manor. Since 2016, Edgewood Management Corporation (sister company to MidCity) has been increasingly doling out evictions, infraction notices, and even barring notices against residents and their family members. MidCity has already begun the displacement process and, if the legal battles against the redevelopment fail, they will be able to displace all Brookland Manor residents without promising their return.
The Brookland Manor Tenants' Association has opposed this redevelopment from the beginning, continuing to fight for their right to return after the redevelopment. Through working with ONE DC and other groups like the Washington Legal Clinic for the Homeless, they have been able to sue the developer for inclusion into their redevelopment plans. (The litigation is ongoing as of December 2018). This site is a great example of large-scale, group displacement targeting low-income people of color, and in this case large families, but it also showcases the resistance that residents and community organizations wage against displacement.
Longtime DC residents know that this city is where their roots, their culture, their families, and their communities are. They know that they deserve to stay. However, community organizations cannot only fight for the rights of families who have been in DC for generations. The Latinx population in DC (people who self-identify as Latino or Hispanic on the census) grew from 2.9% in 1980 to 9.1% in 2010. Many suspect that the number could be even higher but that many Latinx people don't feel comfortable participating in the census.
Conditions of forced poverty, state violence and human rights violations push people to migrate from their home countries in Central America and face dangerous conditions on the way to the US. Movements to protect the right to land and housing for low-income, working-class people must keep in mind these global patterns of displacement and migration. Cities like DC that have been majority African-American for decades are seeing influxes of Central American refugees. How do these patterns influence our resistance to gentrification? How are migrants used as wedges and scapegoats in developers' ploys to raze and replace Black neighborhoods? Our movements must center all low-income people of color, all oppressed trans and disabled people, including longtime residents and newly resettled refugees. There is land and food for all— the struggle is how to keep the wealthy from hogging it and developers from exploiting it.
Displacement in Guatemala and Immigration
The US played a crucial role in setting the stage for the human rights abuses committed against Indigenous Guatemalans both in the internal armed conflict and today. In 1954, the CIA backed a coup that overthrew President Arbenz and installed the first of many US-backed authoritarian rulers. This led to the internal armed conflict wherein the government carried out a genocide of the Indigenous Mayan people. While the internal armed conflict officially ended in 1996, many of the people I accompanied said that it never really ended, it just changed shape. Many analysts within and beyond Guatemala argue that one of the most important goals of the genocide was to remove Indigenous people from the land in order to extract its natural resources. If you look at a map of where the most massacres happened and where the most megaprojects are today, the areas overlap noticeably. These are the same territories for which people are risking their lives and being incarcerated for protecting today. One of my comrades, a Guatemalan land defender, calls this strategy aburguesamiento of the land: gentrification.
In the past year, police and paramilitary groups have carried out an alarming number of violent evictions against whole communities in Guatemala. Many desalojos are carried out under capitalist logic of protecting private property. Indigenous groups who were displaced in the internal armed conflict in the 1980s sometimes settled on land that the government had declared protected. Other times they returned to their territory to find that there was now a deed for the land in someone else's name, so all of a sudden they were trespassing on their own ancestral territory. In Laguna del Tigre, violent desalojos sought to remove refugees from a "protected" area of the forest—meaning the land was protected, but not its people. These forceful, militarized displacements echo the individualized evictions and building redevelopment so common in gentrifying neighborhoods in the US— part of the "free-market" displacement that DC residents have been facing, building by building, block by block.
The owners of megaprojects in Guatemala, huge-scale extractive industries like mines and electricity-producing dams, are usually Canadian, US or European transnational corporations. These megaprojects exploit Guatemala's rich natural resources for profit, leaving environmental destruction and poverty in their wake. Convention 169 of the International Labor Organization, which Guatemala has ratified, states that Indigenous people have the right to free, prior, and informed consent about megaprojects that affect their land. Officially this also applies to Afrolatinx groups, who in Guatemala largely identify and are seen as Indigenous. However, these rights are rarely protected, and activists are criminalized and even murdered for their involvement in struggles to protect their rights.
Take, for example, the nickel mine in El Estor, eastern Guatemala. Since operation began in 2014, the Maya Q'eqchi' communities living there have fervently resisted the project. The community of El Estor sits on Lake Izabal, the largest lake in Guatemala, which provides the fish that are sustenance and livelihood for much of the community. Contamination has been a problem for decades, due to African palm and other monoculture plantations nearby, but fishermen who rely on the lake have risen up especially since the mine began operations. At least two local organizers have been shot and killed by police, and at least two Indigenous journalists have been criminalized for covering this movement.
The case of the nickel mine in El Estor clearly highlights the environmental threats that megaprojects pose to Indigenous communities, and the repression that people who resist these projects face. Transnational corporations encroach more and more on people's livelihoods in Guatemala and the people who dare to speak out are met with violence and repression. Is it any wonder why people are forced to leave their country in search of a way to survive?
Transnational solidarity against displacement
In this global moment, with the rise of the fascist far-right, it is crucial to recognize how transnational solidarity can and should inform our grassroots organizing in the US. Those of us fighting gentrification must support movements for Indigenous sovereignty and land rights in countries such as Guatemala. Environmental justice means fighting resource extraction, which leads to fighting the root causes of migration, which leads to supporting immigrants, which leads to fighting for housing justice in the US. Especially in a country like the US, which has unprecedented historical and present-day influence on human rights in other countries, local organizers must also keep a global perspective and support global movements. This can mean participating in delegations, hosting speaking tours, signing on to actions, protesting offices of transnational corporations (like Tahoe Resources, based in the US and Canada), or becoming a human rights accompanier for a time.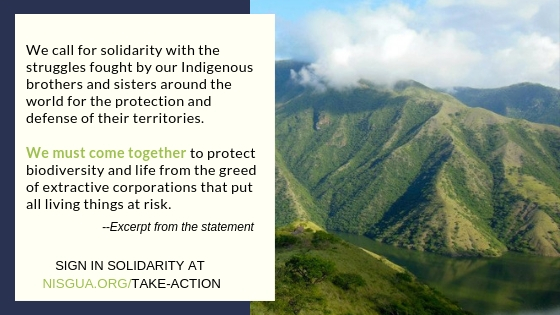 In Guatemala, just like in the US, land and its resources are the site of struggles for wealth and greed on one hand, and self-determination and territory on the other. In the internal armed conflict in Guatemala, Indigenous people were killed— one part racist genocide, one part land-grab. Those same land-grab strategies—displacement, violence, claims of ownership—continue today as the Guatemalan state and national and transnational companies scheme to take possession of land and its resources. In DC, slumlords and greedy developers collude with the state to displace longtime residents and uproot them from their community ties. But the struggle continues, in both and all places where displacement is a tool for capitalist expansion and land-grabs. May we continue to connect these struggles and mutually support movements for liberation across imperialist borders.
To stand in solidarity with the Indigenous land defenders demanding respect for self-determination and control of their territories in Guatemala, please take action by signing our petition to the Guatemalan government, the US Embassy, and the international diplomatic corps. If you are interested in becoming an international accompanier, find out more at our Guatemala Accompaniment Program page.