Washington, D.C. local, Clara Lincoln is a recent NISGUA accompanier through the Guatemala Accompaniment Program. She spent ten months accompanying land and human rights defenders in Guatemala. Since returning, she has collaborated with ONE DC, an organization fighting for the rights to housing, wellness, and economic equity for low-income D.C. residents of color. Here, she shares perspectives on the links between land displacement in D.C. and in Guatemala, drawing connections between the racism, greed, and violence of land grabs in both places. She highlights the collective resistance against these forces of displacement and appropriation.
We sat on Fausto Sánchez's front porch, my French comrade and I, listening to Fausto update us on his recent meetings and his concerns about safety. In turn, we told him about the situation of the four political prisoners we had just visited in prison. We sat on plastic chairs on his concrete balcony as his daughter played in the hammock in front of us and ate rambotanes—also known as liche– a red, hairy fruit with a sweet core that looks a little like an eyeball. Fausto's eyes dart between us, the road, his daughter, and back to the road. His house overlooks the main road leading into a cluster of 35 indigenous Maya Mam communities in western Guatemala. He's in a perfect position to see everyone who comes in and out of the communities. As we talk, he involuntarily turns his head and looks through the holes in his fence whenever a car or motorcycle passes.
Fausto is a community leader in the municipality of San Pablo in the western department of San Marcos, Guatemala. For nine years, he has been involved in the struggle to protect this territory against a proposed hydroelectric dam where the three rivers that run through the communities converge. The company who wants to build the dam has not conducted the legally required community consultations of the indigenous people who would be affected by the project. In the US, I usually think of the word "territory" as possessive—not necessarily a liberatory perspective on land. But here, it means something like the land that gives life to a people. And it's constantly under threat.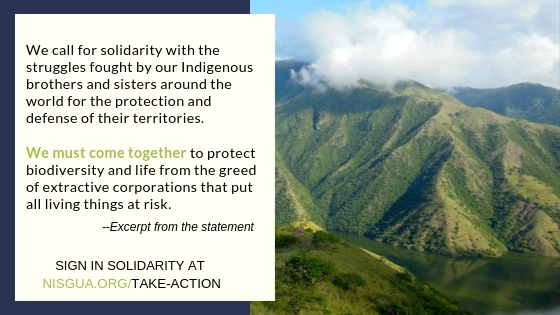 I had the opportunity to serve transnational movements for liberation as a human rights accompanier with NISGUA,  the Network in Solidarity with the People of Guatemala. As a DC native, I couldn't help but relate my experiences there to the struggles I've been a part of here. Displacement is pervasive in this global moment—  from communities of color in DC to poor people fleeing their countries and facing violence at the border. The patterns are similar in rural Guatemala and urban US. Poor people who have their roots and communities in a geographical space are run off—by the military, by police brutality, or by rising rents—and the economic elites act like the land was theirs all along.
The owners of megaprojects in Guatemala, huge-scale extractive industries like mines and electricity-producing dams, are usually Canadian, US or European transnational corporations. These corporations  use a variety of strategies to repress the human rights defenders trying to protect their land. Convention 169 of the International Labor Organization, which Guatemala has ratified, states that indigenous people have the right to free, prior, and informed consent about megaprojects that affect their land. Officially this also applies to Afrolatinx groups, who in Guatemala largely identify and are seen as indigenous. However, these rights are rarely protected. There are many documented cases in which the military and private police forcefully displaced people from their homes, sometimes using sexual violence and other tactics historically used in Guatemala's internal armed conflict (or "dirty war"). And activists are criminalized and even murdered for their involvement in struggles to protect their rights.
Displacements
In the past year, police and paramilitary groups have carried out an alarming number of violent displacements against whole communities in Guatemala. I learned in Mexico that the Spanish word for displacements, desalojos, comes from root words meaning having one's skin peeled off. Many desalojos are carried out under capitalist logic of protecting private property. Indigenous groups who were displaced in the internal armed conflict in the '80s sometimes settled on land that the government had declared protected. Other times they returned to their territory to find that there was now a deed for the land in someone else's name, so now they're trespassing on their own ancestral territory. In Laguna del Tigre, violent desalojos sought to remove refugees from a protected area of the forest—meaning the land was protected, but not its people. This group was effectively displaced twice. These forceful, militarized displacements echo the slower, "free-market" displacement that DC residents have been facing, building by building, block by block.
Assassinations
Since January, at least 21 human rights and land defenders have been assassinated in Guatemala– the majority of them indigenous. This includes two Maya Ixil women who organized locally around land rights and health. The Ixil region they were from is where Guatemalan courts affirmed twice that the Guatemalan government had carried out genocide in the '80s. Two journalists and one member of the resistance to the Nevada-based mining company Tahoe Resources have also been assassinated this year. From 2012 until the end of 2016 an average of 12 human rights defenders have been murdered per year; in 2017, that number jumped to 52. So far, 2018 has been horribly dangerous as well.
Criminalization
In contrast to most of the megaprojects in Guatemala, the owners of the proposed dam in San Pablo (HidroSalá) are Guatemalan. Including Fausto, 11 people have been arrested for resisting the construction of the dam. I don't mean arrested for standing in front of bulldozers—I mean criminalized for a wide variety of fabricated crimes like kidnapping and illicit association in the context of protests and community assemblies. Some of them weren't even organized in the resistance, but their arrests served to inspire fear in activists.
Fausto spent two years and three months in preventative prison for two counts of kidnapping before being found innocent. Pre-trial detention is possible in cases of kidnapping, and coincidentally activists are very often accused of it. Among other things, Fausto was accused of having kidnapped two of the company's engineers—but the real story is that they came into the communities without permission, were stopped, and were asked to explain themselves in a community assembly. Then they were let go. Fausto has not let this experience scare him away from organizing, but it has surely dissuaded others from joining the movement. Nonetheless, this and other movements for human rights and indigenous sovereignty remain strong all over Guatemala.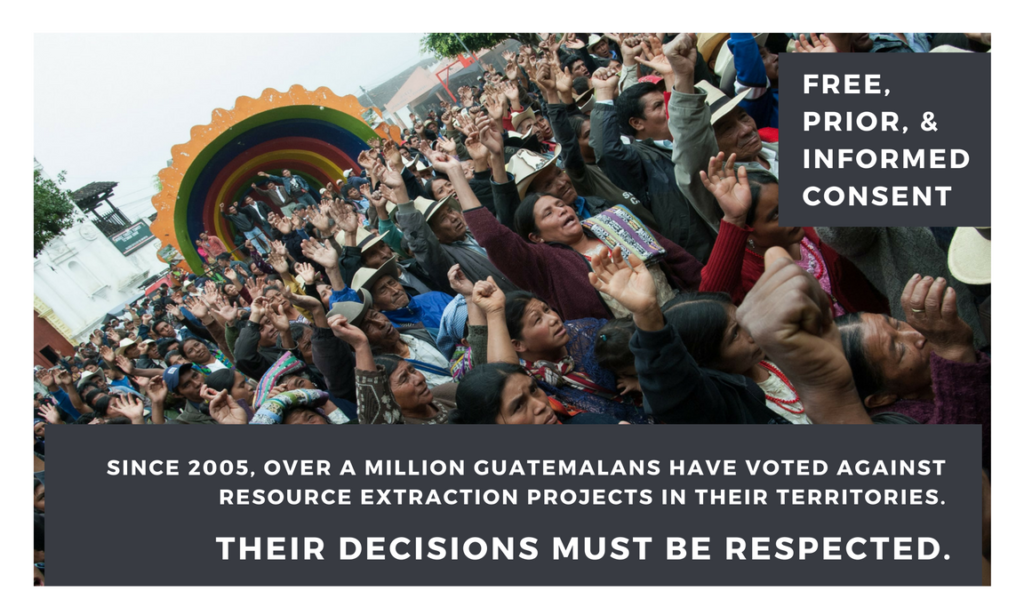 In Guatemala, just like in the US, land and its resources are the site of struggles for wealth and greed on one hand, and self-determination and territory on the other. In the internal armed conflict in Guatemala, indigenous people were killed–one part racist genocide, one part land-grab. Those same land-grab strategies—displacement, violence, claims of ownership—continue today as the Guatemalan state and national and transnational companies scheme to take possession of land and its resources. In DC, slumlords and greedy developers collude with the state to displace longtime residents and uproot them from their community ties. But the struggle continues, in both and all places where displacement is a tool for capitalist expansion and land-grabs. May we continue to connect these struggles and mutually support movements for liberation across imperialist borders.
To stand in solidarity with the Indigenous activists demanding respect for self-determination and control of their territories in Guatemala, please take action by signing our petition to the Guatemalan government, the US Embassy, and the international diplomatic corps. If you would like to become an international accompanier, find out more at our Guatemala Accompaniment Program page.