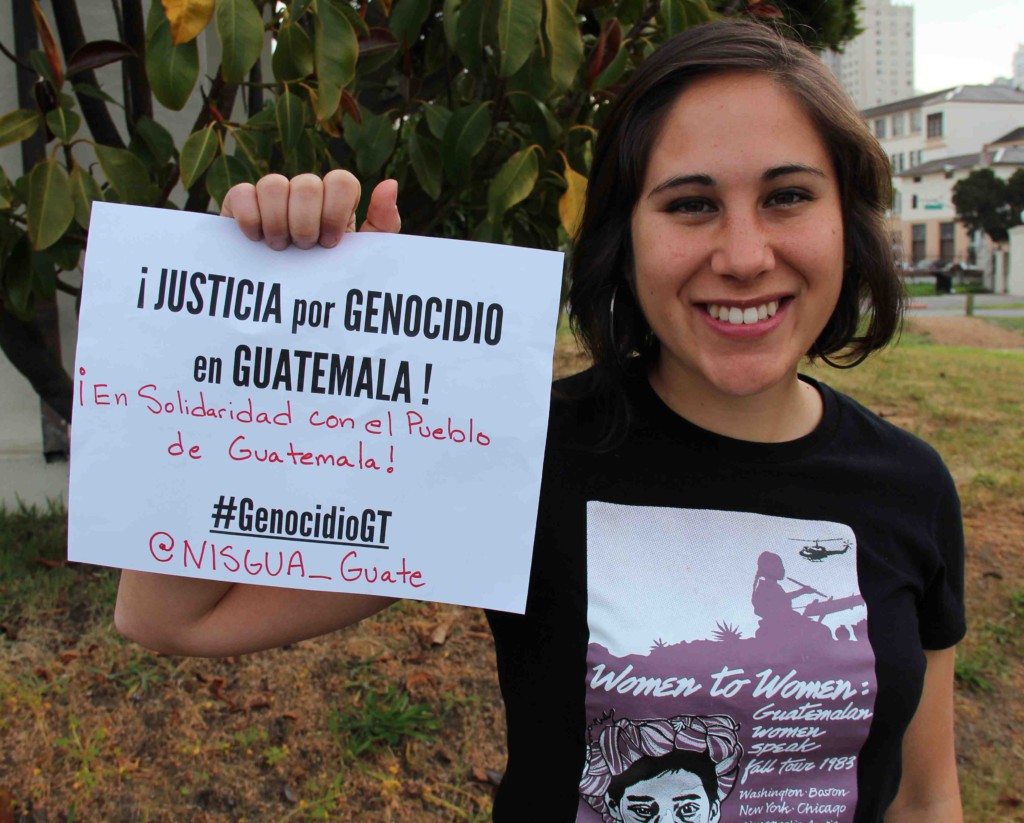 The Network in Solidarity with the People of Guatemala (NISGUA) works to build and strengthen ties between the people of the United States and Guatemala in the global struggle for justice, human dignity, and respect for the Earth. NISGUA accomplishes this through an integrated strategy of international human rights accompaniment, digital organizing, strategic campaigns, political education, and horizontal exchange in the United States.
With over 40 years of experience, NISGUA's work creates lasting change by cultivating long-term relationships grounded in mutual trust and shared struggle.
Our Mission
NISGUA works for real democracy in Guatemala and the U.S. and strengthens the global movement for justice. NISGUA builds mutually beneficial grassroots ties between the people of the U.S. and Guatemala and advocates for grassroots alternatives to challenge elite power structures and oppressive U.S. economic and foreign policy.
To achieve our mission, NISGUA distills information, analysis, and perspectives from Guatemalan grassroots organizations and NGOs, and channels them to activists across the U.S., to sister advocacy organizations, and to Congressional offices and the press. We design and organize U.S. grassroots advocacy campaigns in response to the needs on the ground, and where it is strategic for NISGUA to play a role. Through annual Guatemalan speakers tours and on-the-ground support to delegations to Guatemala, we build U.S. understanding of the challenges facing the Guatemalan people, help build the "spokesperson" capacity of our Guatemalan partner organizations, and strengthen people-to-people ties across territories.
Our History
For nearly four decades, NISGUA has been one of the primary organizations linking struggles for justice between the U.S. and Guatemala. We formed in 1981 to coordinate U.S. activism to fight state support for Guatemala's brutal military regime. In 1981 alone, the U.S.-sponsored military government killed or disappeared 19,000 civilians. In the 1990s NISGUA was one of the first international organizations to respond to the request of Maya refugees in southern Mexico for accompaniment as they returned to their territories. Since 2000, NISGUA has accompanied hundreds of genocide survivors seeking justice for crimes of the past, land defenders, and water protectors in coordination with other international and national organizations. In 2019, NISGUA announced the creation of GAP Internacionalista, a visionary new accompaniment program that will connect trans-territorial movements for Indigenous sovereignty and immigrant justice.
The situation in Guatemala and the U.S. has changed since 1981, but NISGUA is still one of the strongest grassroots organizations working for justice, human dignity, and respect for the Earth by centering Indigenous and campesino peoples' struggles, from Guatemala to the U.S.
Our 2021 Accomplishments
In our 40th year, we kept learning that community is the only way forward. NISGUA still stands strong through the storms of pandemic and fascism because our root system is forty years of comrades who believed in each other enough to imagine a better future. Our branches are the hundreds of people we connect with for advice and mutual support. And our leaves the generations to come, who will one day live in right relationship with each other and Mother Earth. It's been a hard year. It's been a hard four decades. And yet, as we continually learn and re-learn: the shared struggle is worth it. Every time. Always.
Click here to read more about our 2021 accomplishments.
Our 2020 Accomplishments: Deep roots weather the storm
Together with our partners, NISGUA was called to face the storms of 2020. Though we have been shocked by it all, we are also not surprised: communities at the frontlines of climate change and socioeconomic injustice have long predicted the environmental chaos and authoritarian violence we are experiencing. Today we take a collective breath and step back. Surveying all that has changed in this unprecedented year, we are moved by what we have accomplished. Join us as we share how we survived and thrived, aligned with our partners across Turtle Island.
Click here to read more about our 2020 accomplishments. 
Our 2019 Accomplishments
2019 saw a backlash against historical memory and heightened border and mega-project militarization, forwarded by powers whose influence can be traced back to the Internal Armed Conflict. In response, NISGUA doubled down on racial liberation, horizontal exchanges between Indigenous Peoples, and the foundation of our work: accompaniment of defenders of life. In the context of capitalist colonialism and global fascism, our work showed us that a new path is necessary, giving life to an accompaniment program resourced to take on this violence with innovative forms of organizing.
Click here to read more about our 2019 accomplishments. 
Our 2018 Accomplishments
In 2018, NISGUA created opportunities for horizontal exchange, for political education, and for growing into a lifelong commitment to organizing for a just world. This year, as communities faced heightened repression in both Guatemala and the U.S., we grounded in our conviction that we can mutually strengthen global struggles for liberation by sharing collected wisdom and resources across borders. Through grassroots gatherings, international accompaniment, actions, and advocacy, our network created opportunities for exchange and mutual support.