Sponsoring Communities provide resources and energy that help ensure ongoing accompaniment in Guatemala. Their long-term commitment to human rights and accompaniment is a key element to the sustainability of GAP and the years of accompaniment we have been able to provide in Guatemala since the early 90s. GAP staff matches all accompaniers with a U.S. Sponsoring Community before travel to Guatemala.
Sponsoring Communities provide financial support to an accompanier and are key members of NISGUA's activist network. During the years GAP accompanied communities of returned refugees and displaced peoples, many Sponsoring Communities (which may be a faith-based group, a committee of former accompaniers or a group of concerned activists) developed deep relationships with sister Guatemalan communities. Some Sponsoring Communities maintain these ties through regular visits, letter exchanges and phone calls.
Today, Sponsoring Communities work with accompaniers in ACOGUATE's Regional or Mobile teams. Sponsoring Communities support one to two accompaniers or pair up with another SC to support one.
Sponsoring Communities educate the public about the current Guatemalan reality and participate in advocacy efforts to promote just U.S. policies towards Guatemala. They engage in extensive local organizing and fundraising in order to provide accompanier funds. Some Sponsoring Communities may work on broader political issues, while others have come together to specifically support accompaniment work. GAP is always looking to expand the base of support for Guatemala and accompaniment through the creation of new Sponsoring Communities.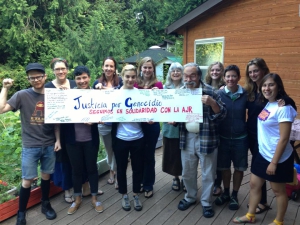 Current Sponsoring Communities