Our Sponsoring Community partnerships provide the resources, energy and political action required to ensure ongoing international accompaniment in Guatemala. Their long-term commitment to human rights and solidarity is an essential component of the longevity and sustainability of GAP. Sponsoring Communities provide financial support to an accompanier and are key members of NISGUA's activist network. All NISGUA accompaniers are matched with a U.S. Sponsoring Community upon completion of their intensive training and before travel to Guatemala.
During the years GAP accompanied communities of returned refugees and displaced peoples, many Sponsoring Communities (which may be a faith-based group, a committee of former accompaniers or a group of concerned activists) developed deep relationships with sister Guatemalan communities, some of which continue to this day. Today, Sponsoring Communities are paired with volunteers who are selected, trained and go on to work in Guatemala with the international coalition providing accompaniment, called ACOGUATE. Some Sponsoring Communities support as many as two accompaniers in a year, while others pair up with another Sponsoring Community, or provide critical funds for program support.
In addition to being resource partners, Sponsoring Communities are key advocates in NISGUA's grassroots initiatives to amplify the voices of our Guatemala partners and connect social justice struggles in Guatemala with the same struggles in the U.S. GAP is always looking to expand the base of support for solidarity with Guatemala and international human rights accompaniment through the creation of new Sponsoring Communities; if you are interested in forming a Sponsoring Community, please contact Bridget@nisgua.org.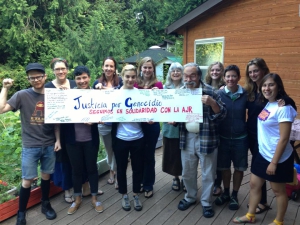 Current Sponsoring Communities