Political Education & Horizontal Exchange
Drawing deeper connections through international solidarity, linking communities in the U.S. and Guatemala in the global movement for justice and self-determination.
NISGUA is committed to strengthening our collective solidarity work by building connections with local U.S.-based social and environmental justice movements, both within our organization and in our network. We ground this in a commitment to racial justice and the recognition that global systems of oppression impact both communities in the U.S. and the Guatemalans with whom we stand in solidarity.
In the midst of a deepening corruption and repression in the U.S. and in Guatemala, we draw meaningful connections between movements in both countries – bringing an internationalist focus into our local activism while continuing to stand with Guatemalan communities fighting for justice and self-determination. We continue to say "!Presente!" in local movements for indigenous solidarity, immigrant rights, and anti-militarization, while deepening our work through political education and horizontal exchange. We help facilitate online and in-person exchanges between Guatemalan and U.S. social movements.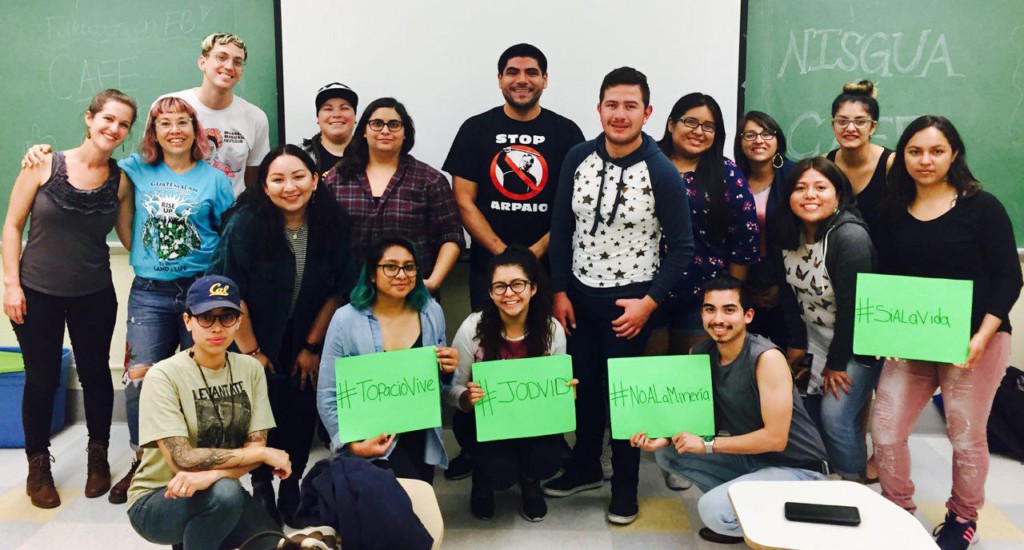 The U.S. has a long history of intervention in Guatemala, not the least of which includes the 1954 overthrow of democratically-elected president Jacobo Arbenz Guzmán. This U.S. intervention initiated an era of military dictatorships that included U.S.-backed regimes who carried out genocide and crimes against humanity, and whose legacy continues to this day. As U.S. mining companies fight to take lands away from communities, creative resistance continues on many fronts. We partner with Guatemalan organizations who are standing up against impunity, peacefully defending their lands against mega-development projects, or fighting for justice for genocide and crimes against humanity. By sharing their stories with U.S. audiences, they increase awareness and inspire grassroots action, illuminating the many ways in which our two countries are connected through histories of resistance.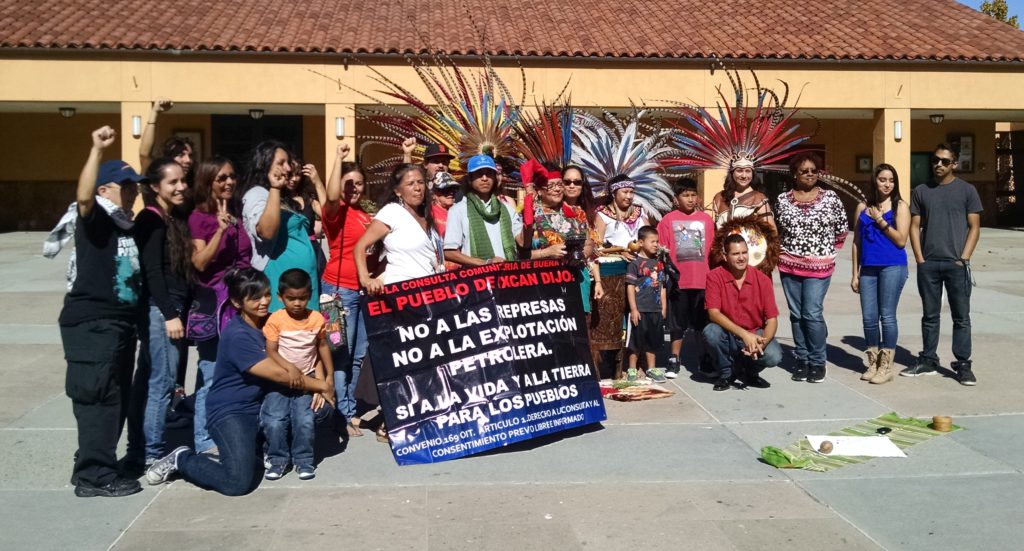 By prioritizing engagement with communities who are similarly impacted by and struggling to transform structures of oppression, we help create opportunities for frontline activists to share strategies of resistance and resilience. Our U.S. programs work has connected indigenous communities in organized resistance to mining, feminist organizations working to end gender-based violence, and youth using art and activism to promote social and environmental justice, among others.
U.S. programs increases the impact and reach of our work by organizing people to form part of a rapid response network, ready to respond to requests for action when they arise, connect our partners' struggles with local organizing, and strengthen networks through in-person gatherings and grassroots fundraising.
Despite clear and constant community opposition to Tahoe's Escobal mine in southeastern Guatemala, Senator Heller continues to bak the company. Give him the facts he needs!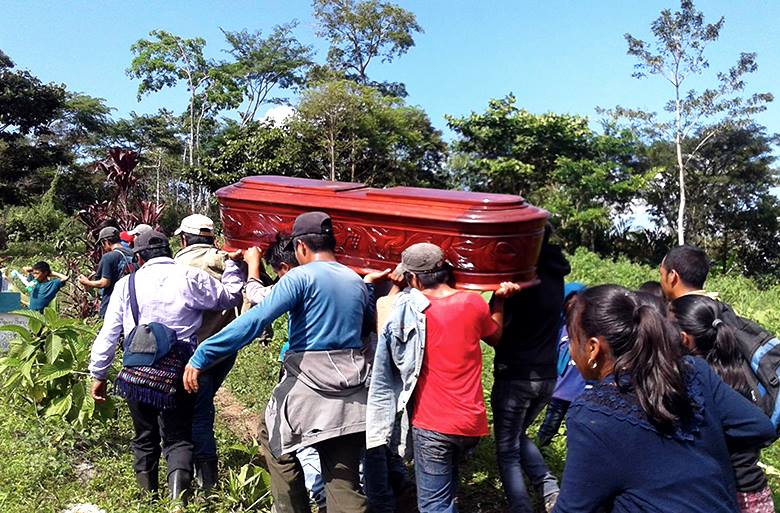 Guatemalan human rights and land defender, Sebastián Alonso Juan, was murdered on January 17, 2017 during a peaceful protest against the imposition of a mega-hydroelectric dam project. Photo: Francisco Simón / Prensa Comunitaria
NISGUA Statements
Racial justice is essential to solidarity work and we must work towards liberation in our solidarity movements.
Read the full statement on racial justice.
Trump's election and our commitment to internationalism: Solidarity with Guatemalan social movements is an essential component of our social justice strategy here in the U.S.
Latest from Political Education & Horizontal Exchange
In these times of intensifying repression and political upheaval, [...]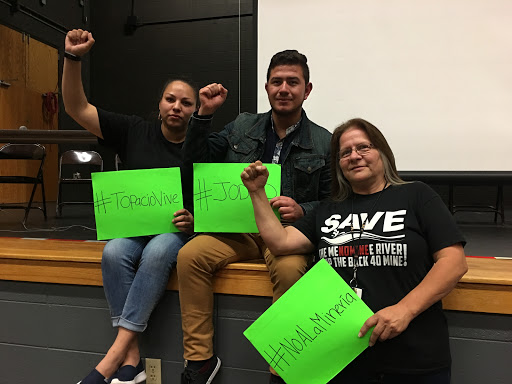 Connecting Guatemalan human rights and environmental defenders with people in the U.S. who also struggle for self-determination, respect for the Earth, and the liberation of their communities.
Every year, NISGUA organizes a U.S. speaking tour featuring one of the organizations that we work with in Guatemala. This is one concrete way that we respond to calls from our partners to take action and increase awareness in the U.S. about the human rights situation in Guatemala and the harmful consequences of U.S. foreign and economic policy in their territories. In coordination with volunteers across the U.S., the annual tour engages hundreds of people every year in timely action and horizontal exchange, connecting with movements in the U.S. who are organized against many of the same challenges.
2017: Guatemalan Youth Defend Land and Life
Guatemalan youth activist Alex Escobar Prado joined us on tour, representing Youth Organized in Defense of Life (JODVID) – a vibrant youth organization in southeastern Guatemala that uses the arts and popular education to mobilize youth in local and regional movements to protect the environment and defend territory, particularly from Tahoe Resources' Escobal mine.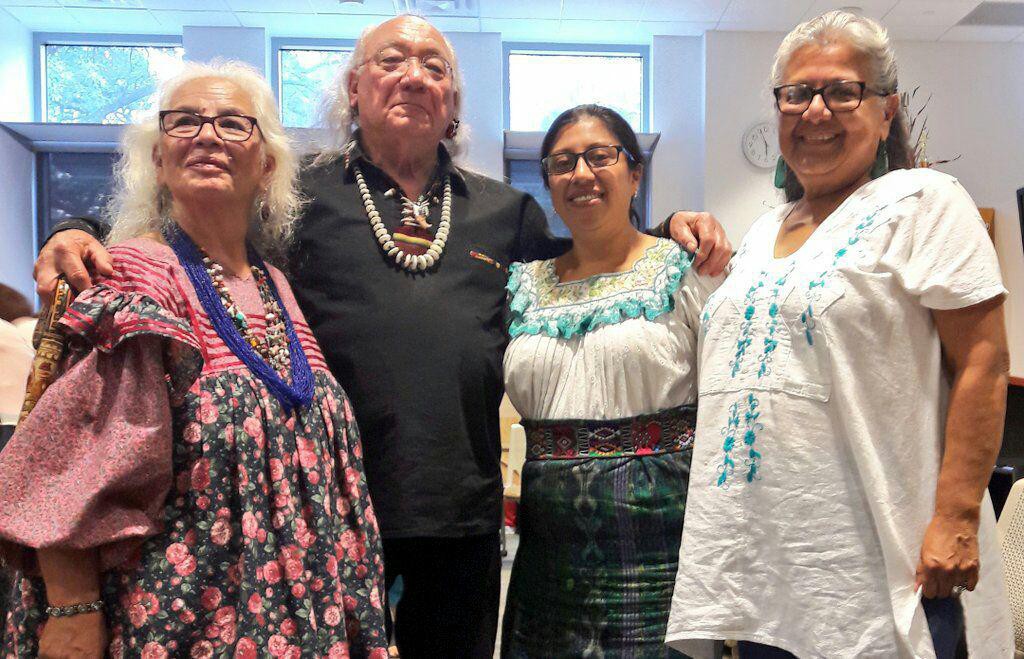 2016: Mujeres indígenas y el caso de Sepur Zarco: procesos de sanación en busqueda de la justicia
Psicóloga comunitaria Maudi Tzay fortaleció enlaces entre movimientos para la justicia de genero, mientras que hablaba del caso de Sepur Zarco – un caso emblemático, lo cuál juzgó por primera vez la esclavitud sexual como un crimen de lesa humanidad en Guatemala.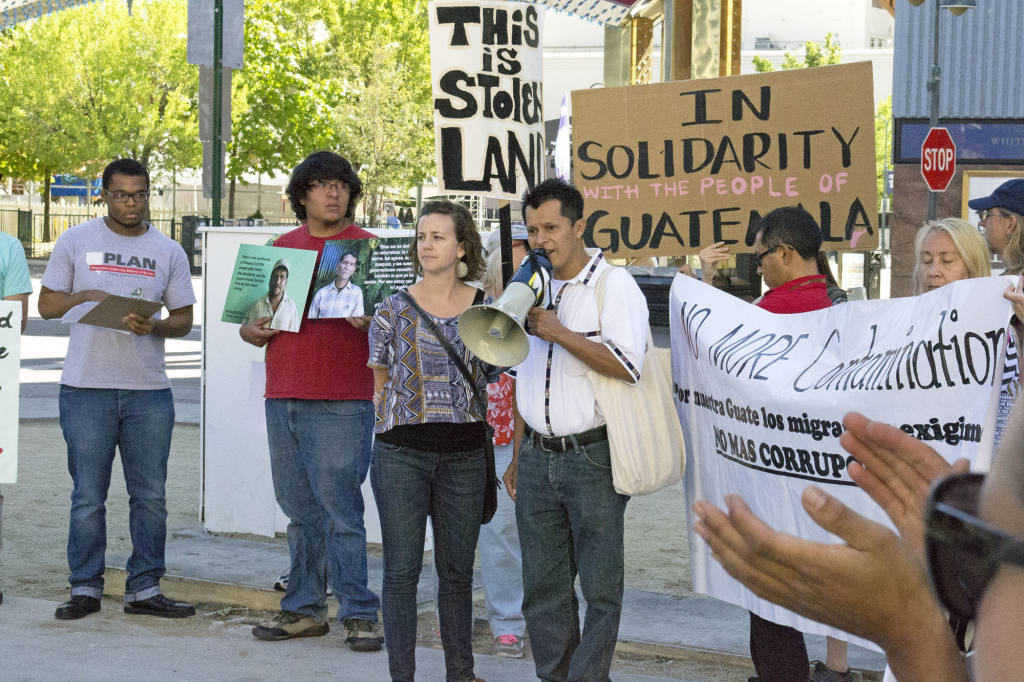 2015: Tahoe en la Mira: las comunidades de Guatemala defienden la tierra y la vida
Llan Carlos Dávila habló sobre el trabajo del Comité Diocesano en Defensa de la Naturaleza (CODIDENA), un grupo religioso que lidera los esfuerzos locales para educar y organizar comunidades para proteger la tierra y el agua contra las actividades mineras transnacionales en el sureste de Guatemala, sobre todo el proyecto Escobal de Tahoe Resources.
2014: Rios para la vida: Resistencia cultural a la represa hidroeléctrica Xalalá
Víctor Caal Tzuy, de la Asociación de Comunidades para el Desarrollo, Defensa del Territorio y Recursos Naturales (ACODET), vino a los Estados Unidos para hablar sobre la resistencia cultural, la organización comunitaria y la unidad frente a la represa Xalalá propuesta en Ixcán, Guatemala.
"Having had the ability to go to Guatemala was a tremendously transformative experience that challenged me to contextualize the varied struggles that women face in the country and further inspire me to continue solidarity work here in the U.S." 
Deepening the political education of members of U.S. activists, who travel to Guatemala, engage with Guatemalan movements, and bring those lessons home for critical cross-border solidarity.
Members of the NISGUA network visit Guatemalan communities and organizations that seek justice and accountability, an end to impunity, and stand in defense of life and territory. Typically spanning 10 days, the visit to Guatemala offers the opportunity to deepen our understanding of the realities faced by Guatemalan and indigenous communities in their fight for self-determination and human rights. NISGUA delegations respond to the call of Guatemalan organizations for international solidarity and form part of a multi-faceted strategy to protect and expand political space and obtain greater security for their organizing efforts.
Our delegations are made up of activists who are interested in integrating international solidarity into their local organizing. We support participants to connect learnings to their own political work through interactive workshops and guided opportunities for reflection. Participants return home with a deepened understanding and practice of solidarity, equipped with new resources to effectively and strategically stand with Guatemalan human rights and environmental defenders as an international community that continues to work for social change from within the U.S.
Gathering our communities together to reflect, take action, and build camaraderie and stronger networks in the global grassroots fight for social justice.
NISGUA's grassroots base extends across the United States and beyond. In coordination with our advocacy and campaign work, we create opportunities for people in our network to gather and grow our solidarity movement through nationally-coordinated actions. Coming together in spaces such as the annual Guatemala Accompaniment Project (GAP) Gathering, house parties, accompanier report-back tours, and photo campaigns, our gatherings focus on community-building, political education, and grassroots fundraising.
As a 100% grassroots-funded organization, we see our fundraising and political education initiatives as closely linked. Gatherings combine education with action by raising international awareness about pressing struggles for social justice in Guatemala and organizing our people to take national action at the local level. At the same time, we give local organizers the opportunity to actively fund our solidarity movement and invite new people to make tangible financial contributions to NISGUA's work as donors.