Trans-Territorial Organizing
Linking communities in the U.S. and Guatemala in the global movement for justice and self-determination.
NISGUA is committed to strengthening the global movement for justice by building connections between movements in the U.S. and Guatemala. We ground our work in a commitment to racial justice and the recognition that global systems of oppression impact communities in both the U.S. and Guatemala.
In the midst of deepening corruption and repression in both countries, we bring an internationalist focus into our U.S. activism while standing alongside Guatemalan communities fighting for justice and self-determination. We work with movements fighting for Indigenous sovereignty and immigrant rights in the U.S. and Guatemala. We build connections between movements through tours in the U.S., delegations in Guatemala, horizontal exchanges, webinars, and original media production.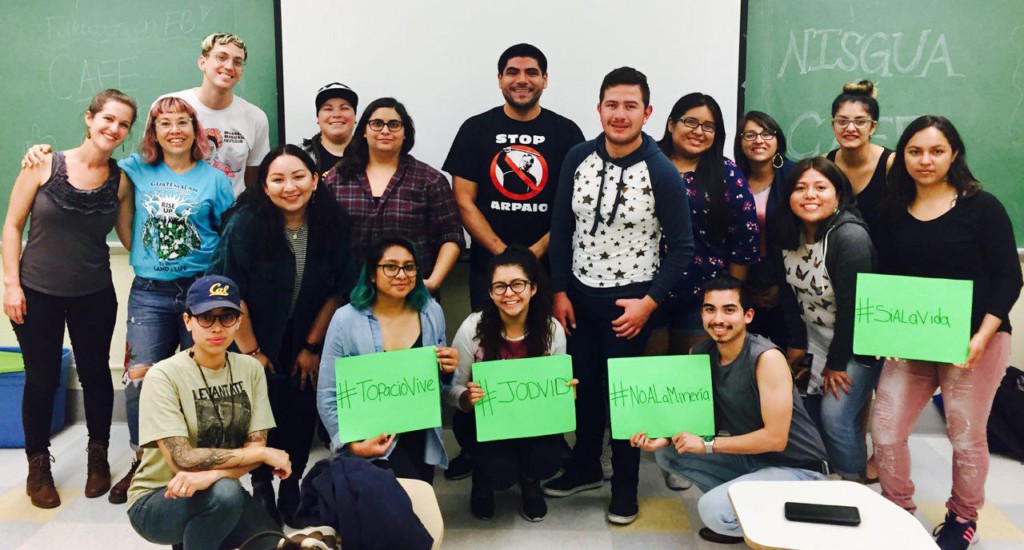 The U.S. has a long history of intervention in Guatemala, which includes a coup, support of military dictatorships, massacres, and violent resource extraction. We partner with Guatemalans who defend their land and fight for justice for crimes against humanity. By sharing their stories with U.S. audiences, they increase awareness and inspire grassroots action, illuminating the many ways in which our two countries and the world are connected through histories of resistance.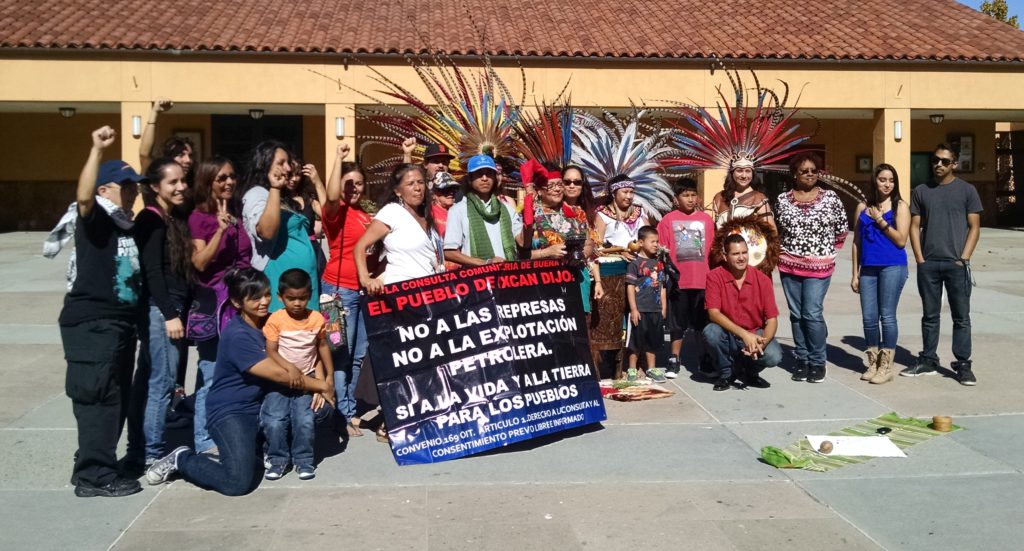 By prioritizing engagement with communities who are similarly impacted by and struggling to transform structures of oppression, we help create opportunities for frontline activists to share strategies of resistance and resilience. Our U.S. programs work has connected Indigenous communities in resistance against mega-projects, feminist organizations working to end gender-based violence, and youth using art and activism to promote social and environmental justice, among others.
We increase the impact and reach of our work by organizing people to form part of a rapid response network, ready to respond to requests for action when they arise, connect our partners' struggles with local organizing, and strengthen networks through in-person gatherings and grassroots fundraising.
NISGUA Statements
Racial justice is essential to solidarity work and we must work towards liberation in our solidarity movements.
Read our full statement on racial justice.
Trump's election and our commitment to internationalism: Solidarity with Guatemalan social movements is an essential component of our social justice strategy here in the U.S.
Read our full statement on Trump's election.
NISGUA stands in solidarity with all struggles defending the life, dignity, and safety of Black people worldwide.
Latest in Cross-Border Organizing
Silvia Raquec, Migration Program Coordinator for Asociación [...]
Connecting Guatemalan organizers with people in the U.S. who also struggle for self-determination, respect for the Earth, and the liberation of their communities
Every year, NISGUA organizes a U.S. speaking tour featuring one of our Guatemalan partner organizations. This is one way that we respond to calls from our partners to take action and increase awareness in the U.S. about the situation in Guatemala and the harmful consequences of U.S. foreign and economic policy in their territories. In coordination with volunteers across the U.S., the annual tour engages hundreds of people every year in timely action and horizontal exchange, connecting with movements in the U.S. who are organized against many of the same systems of oppression.
2020: Ancestral Movements: Indigenous Territory and Migration
In light of the COVID-19 pandemic, we decided to cancel all in-person tour stops for our spring 2020 tour. We are incredibly grateful for all those in New Mexico, Arizona, and Los Angeles who had been organizing and planning events for months before. In April 2020, we held a webinar featuring our tour speaker, Silvia Raquec, Migration Program Coordinator of Asociación Pop No'j.
2018: How to Stop a Dam with Indigenous Resistance
Our tour in the Western and Southwestern U.S. lifted up lessons from successful organizing in Guatemala's Ixcán region, where Indigenous communities have resisted the imposition of the Xalalá Dam for over a decade. The tour will featured Maya Mam organizer José Gómez, General Coordinator of the Association of Communities for Development and the Defense of Land and Natural Resources (ACODET).
José spoke about their long-term work to build community power in the face of corporate-led development. At the request of ACODET, events prioritized direct exchange with Indigenous communities fighting for social and environmental justice.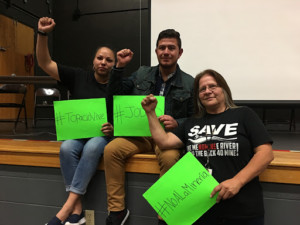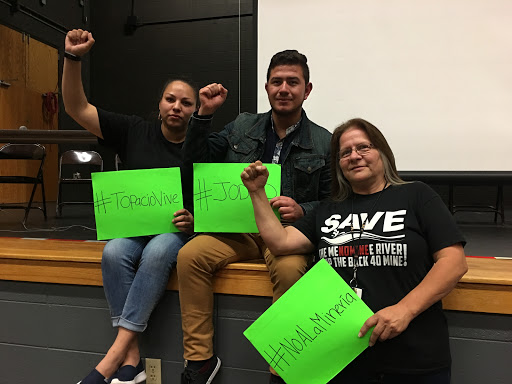 2017: Guatemalan Youth in Defense of Land and Life
Representing Youth Organized in Defense of Life (JODVID), Alex Escobar met with Latine and environmental student activists groups that are fighting for migrant rights and against environmental racism. He shared stories and perspectives from the youth in his community and their struggle to defend their territory against the Escobal mine.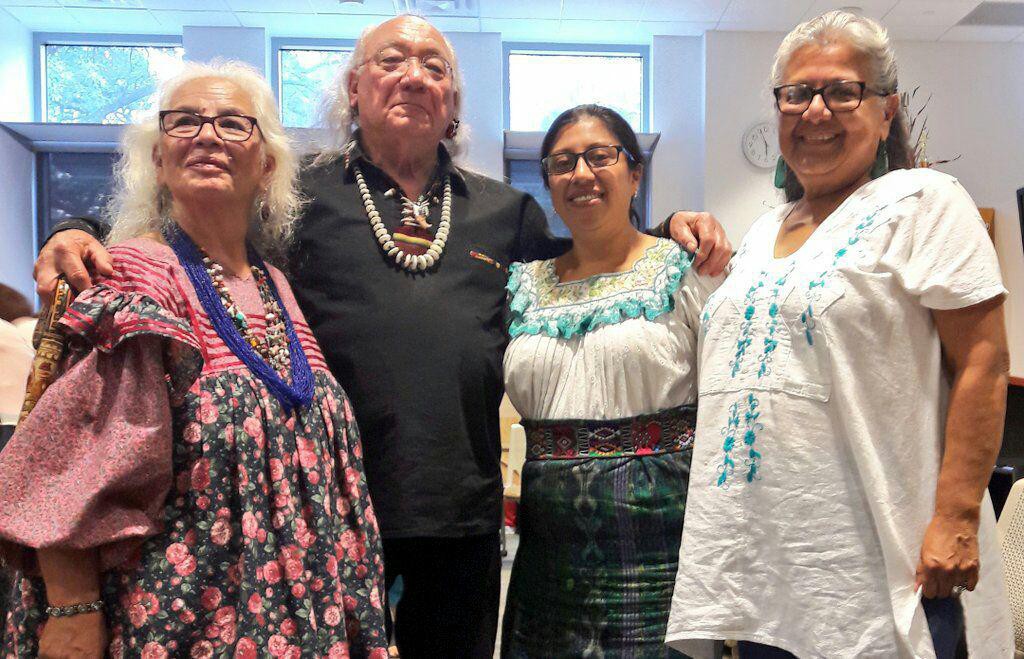 2016: Guatemalan Women Healing Towards Justice: The Case of Sepur Zarco
Community psychologist Maudi Tzay strengthened links between movements for gender justice, while she spoke about the Sepur Zarco case – an emblematic case that prosecuted, for the first time, sexual slavery as a crime against humanity in Guatemala.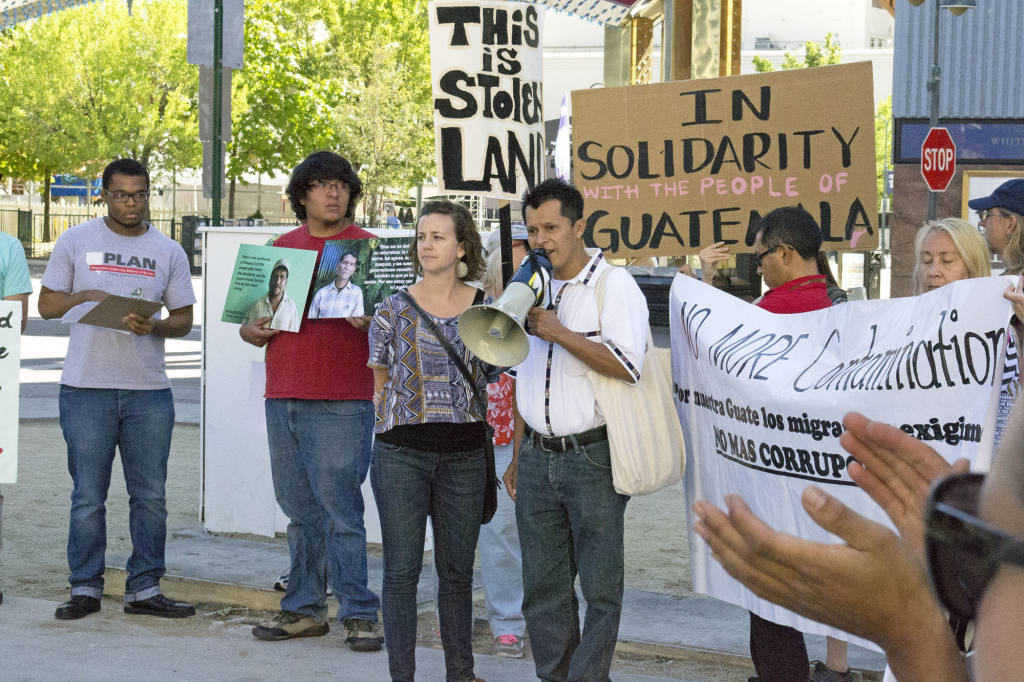 2015: Tahoe on Trial: Guatemalan Communities Defend Land and Life
Llan Carlos Dávila spoke about the work of the Diocesan Committee in Defense of Nature (CODIDENA), a religious group that is leading local efforts to educate and organize communities to protect the Earth and water against transnational mining activities in southern Guatemala – in particular, the Escobal mine.
"Having had the ability to go to Guatemala was a tremendously transformative experience that challenged me to contextualize the varied struggles that women face in the country and further inspire me to continue solidarity work here in the U.S." 
Political education for U.S. organizers who engage with Guatemalan movements and bring lessons home for critical cross-border solidarity
Our delegations are opportunities for NISGUA network members to exchange with our Guatemalan partners. Delegations respond to the call of Guatemalan organizations for international solidarity and form part of a multi-faceted strategy to protect and expand political space and obtain greater security for their organizing efforts.
Delegates are activists who are interested in integrating international solidarity into their local organizing. We support participants to connect learnings to their own political work through interactive workshops and guided opportunities for reflection. Participants return home with a deepened understanding and practice of solidarity, equipped with new resources to effectively and strategically stand with Guatemalan human rights and environmental defenders as an international community that continues to work for social change from within the U.S.
Past delegations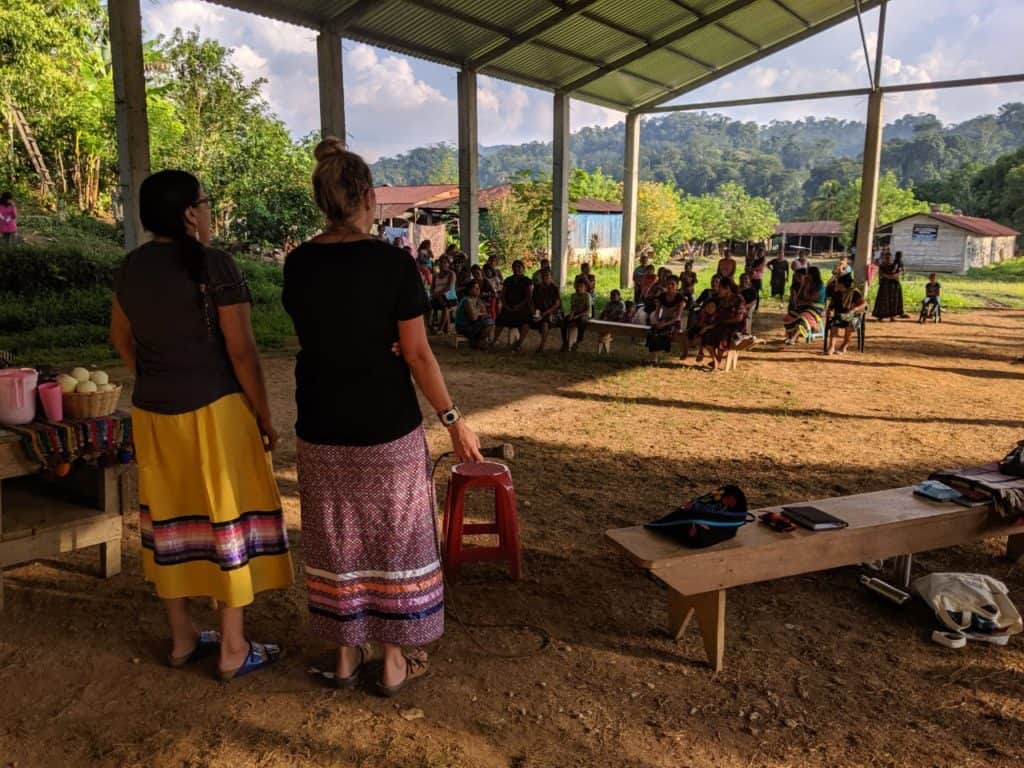 2019: Indigenous Environmental Network (IEN) Leadership Delegation
This delegation was in service to IEN's commitment to global grassroots environmental organizing, Indigenous women's leadership, and grassroots feminism aligned with Indigenous cosmovision. Read more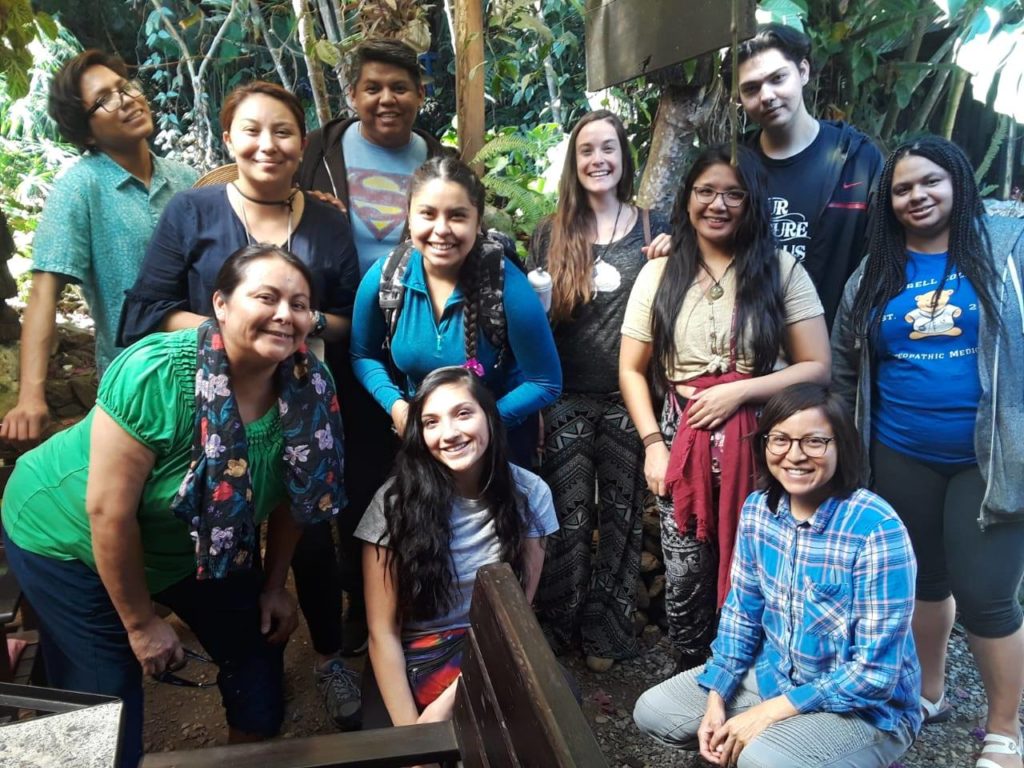 2019: NMSU Indigenous Environmental Leadership Exchange
Including a visit to Copal AA, lessons on Guatemalan history from genocide survivors, and workshops on Indigenous leadership, this delegation resourced the next generation of Indigenous leaders to have an internationalist lens in their organizing. Read more
Gathering our communities to reflect, take action, and build stronger networks in the global grassroots fight for social justice
NISGUA's grassroots base extends across the U.S. and beyond. In coordination with our advocacy and campaign work, we create opportunities for people to gather and grow our movement. Coming together in spaces such as the annual Platanos Dinner with the Guatemala News and Information Bureau (GNIB), house parties, accompanier report-backs, and photo campaigns, our gatherings focus on community-building, political education, and grassroots fundraising.
As a grassroots funded organization, we see our fundraising and political education initiatives as closely linked. Gatherings combine education with action by raising international awareness about pressing struggles for social justice in Guatemala and organizing our people to take action. At the same time, we give local organizers the opportunity to actively fund our solidarity movement and invite new people to make tangible financial contributions to NISGUA's work as donors.